Vegan Nasi Goreng (Indonesian Fried Rice) #Gazs15MinuteMeals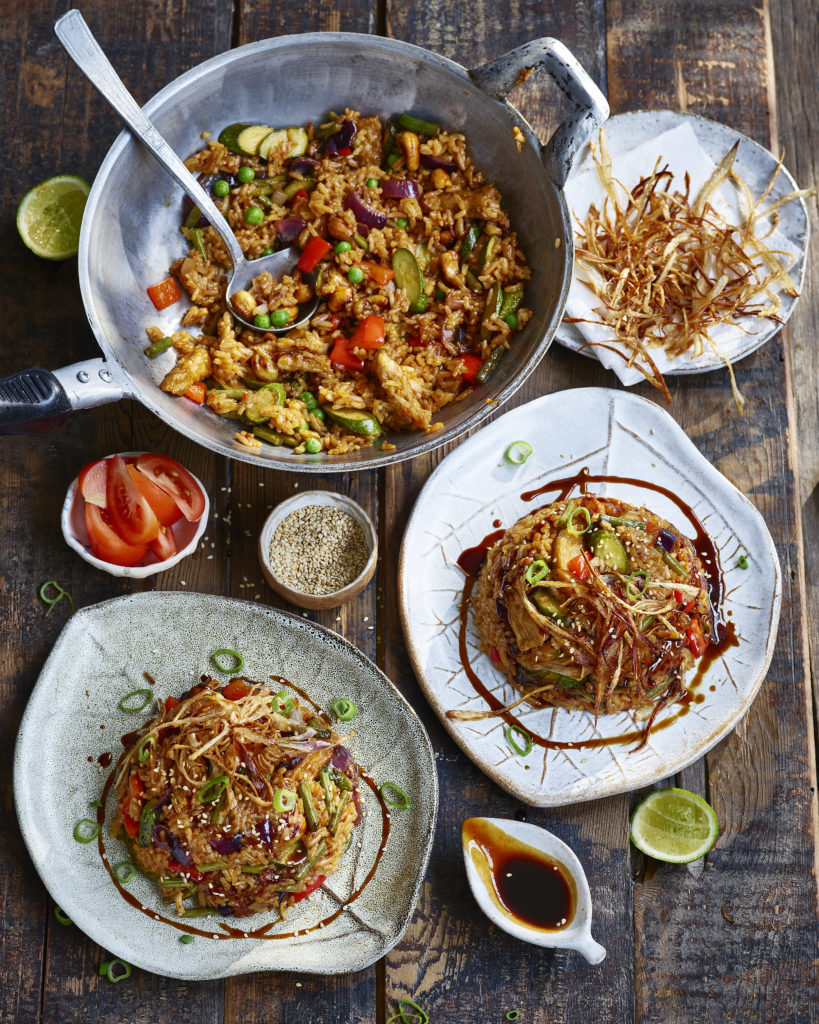 Ingredients
2 cups Long Grain Rice
1 Red Onion, sliced fine
1 cup Peas, defrosted
1 Red Pepper, sliced fine
5 Baby Courgettes, chopped small
Handful Fine Beans, chopped small
1 cup Vegan Protein, such as Tofu cubes or Vegan Chick'n
Handful Toasted Cashew Nuts
3 tbs Kecap Menis or Soy Sauce
Sambal 
3 Red Chillis
3 Cloves Garlic
1 tbs Tomato Puree
1 tbs Lemon Grass Paste
2 tbs Ground Nut Oil
1 tsp Sea Salt
Juice & Zest of a Lime 
Crispy Shallots
2 Shallots, peeled & sliced fine
500ml Vegetable Oil
Pinch Sea Salt
Garnish
Drizzle Kecap Menis or Soy Sauce
Chopped Spring Onions
Lime Wedge
First up getting your rice cooking to the packet instructions.
Add all the sambal ingredients to a blender and blitz until it's a smooth paste.
Pre heat a wok over a high heat then add the 3 tbs of the sambal. Cook for a minute or so, stirring often.
Add the vegetables and vegan protein & wok fry for 5-6 minutes.
When your rice is cooked, drain away the water and add the rice to the wok. Stir fry for 3-4 minutes. Be sure to scrape the bottom of the pan so the rice doesn't stick & burn.
Stir in the kecap menis & cashew nuts. When the rice is beautifully coated in all the flavours turn off the heat.
I served my nasi goreng with crispy fried shallots, simply heat a small pot filled half way high with vegetable oil to around 180 degrees. (or dip a wooden spoon into the oil, if bubbles form around the wood – your oil is hot enough) And carefully lower in the shallots and fry for 2 minutes, or until golden.
Remove the shallots from the oil & place onto a plate lined with kitchen paper, to drain off any excess oil.
Serve & enjoy.
Share this recipe