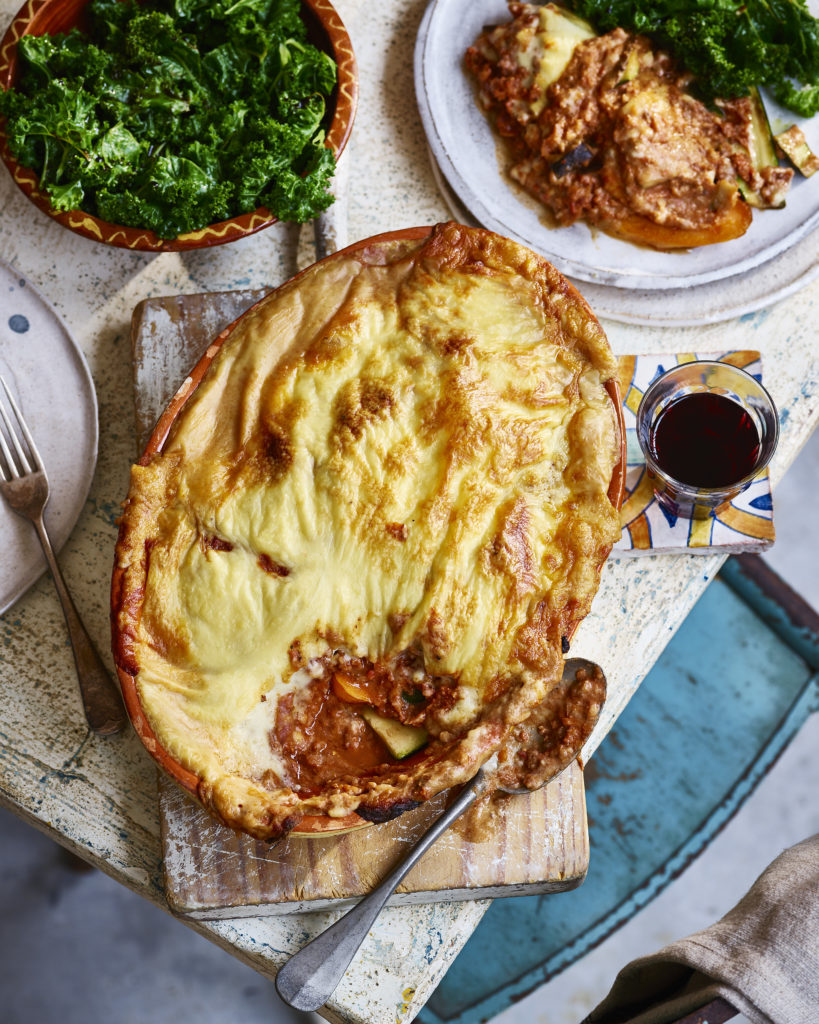 Ingredients
Ragu;
1 tbs Olive Oil
1 Onion, finely chopped
4 cloves Garlic, minced
2 sticks Celery, finely chopped
2 tsp Ground Cinnamon
2 tsp Paprika
1 tsp Ground Cumin
1 tbs Dried Thyme
2 tsp Sea Salt
2 tsp Black Pepper
2 tbs Tomato Puree
1 can Chopped Tomatoes
350g Vegan Mince, I used Future Farm or use 250g Chestnut Mushrooms, blitzed fine & 90g Walnut Halves, blitzed fine
Vegetable Layers;

1 Aubergine, sliced into 2cm slices lengthways
2 Courgettes, sliced into 2cm slices lengthways
1 Large Sweet Potatoes, peeled & sliced into 2cm slices
2 tbs Olive Oil 
Bechamel Sauce
110g Vegan Margarine
65g Plain Flour
4 cups Soy Milk
1 Onion
1 Bay Leaf
1 tsp Sea Salt
1 tsp White Pepper 
Method
First up make the ragu. Pre heat a large sauce pan over a low heat then add the olive oil. When the pan is hot add the onion, garlic & celery. Sauté the mixture for 3-4 minutes before adding the cinnamon, paprika, cumin, thyme & seasoning. Let the spices cook out for a few minutes then add the mince or mushrooms & walnuts. 
Sweat the mixture for 10 minutes to get some colour on the mince if you are using mushrooms, saute them until they have released all their water and for them to go a little golden. 
When the mushrooms have coloured add the tomato puree & chopped tomatoes. I swill out the can with a little water and add the to the pan as well. Turn the heat down low and pop a lid on. Let the ragu bubble away for 15 minutes whilst you prepare the vegetables & béchamel.
Pre heat your oven to 180 degrees C. 
Infuse the milk for the béchamel, in a medium saucepan add the soy milk followed by the onion, bay & seasoning. Place the saucepan over a low heat & stir every now and then.
Place a large non stick pan over a medium heat and add the oil. When the pan is hot first add the aubergine. Cook for 2-3 minutes on each side making sure they are getting nice and golden. Once golden remove them from the pan and place them onto kitchen paper. 
Repeat the process with the courgette & potato.  
Lay the coloured vegetables neatly into the bottom of a lightly greased large baking dish, I lay the potato first then aubergine & courgette. 
To make the béchamel, in a large saucepan add the vegan margarine and place the pan over a low heat.
When the margarine is melted, add the flour. Using a spatular mix well. Stir the mix for a couple of minutes to cook out the flour.
Gradually whisk in the infused milk, a little at a time.
Once you'd added all the milk, the béchamel should be thick & creamy.
Top the vegetables with the ragu followed by the béchamel. 
Place the dish into the oven to bake for 35 minutes. 
Once baked, let the moussaka stand for 10 minutes before dishing up. 
Share this recipe