Vegan Lentil Shepherds Pie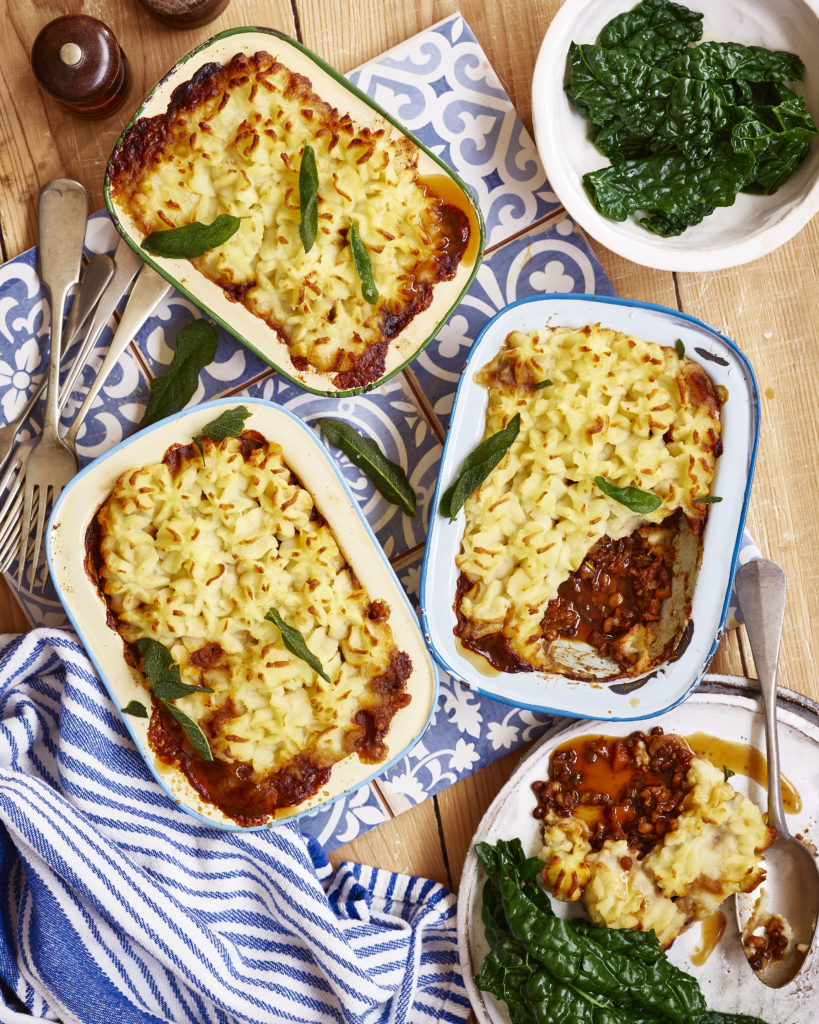 Ingredients
1 tbs Olive Oil
6 Dried Porcini Mushrooms, soaked in 1 cup/250ml Boiling Water
1 Large Onion, peeled
2 Carrots, peeled
5 cloves Garlic, peeled
2 sticks Celery
3 tbs Soy Sauce
4 tbs Tomato Puree
1 tbs Fresh Thyme Leaves
1 tbs Fresh Rosemary, chopped
2 & 1/2 cups/500g Pack Cooked Puy Lentils (I used 2 pouches of Merchant Gourmet Lentils)
1 cup/240ml Vegan Friendly Red Wine
1 cup/240ml Vegetable Stock
Pinch Sea Salt & Pepper
Topping
4 Large Potatoes
4 tbs Vegan Butter
1/2 cup/120ml Non Dairy Milk
1 tbs Olive Oil
Pinch Sea Salt & Pepper
Method
Preheat your oven to 180 celsius/356 Fahrenheit.
Place a large non-stick saucepan over medium heat & add a little oil. When the pan is hot add the onion, carrots, garlic & celery. Sauté the mixture for 4-5 minutes, stirring often.
Finely chop the re-hydrated mushrooms then add them to the pan with the tomato puree, herbs & lentils.
Keep stirring the mixture for 2-3 more minutes before adding the mushroom liqueur (soaking water) red wine, stock, salt & pepper.
Stir well, then turn the heat down & let the mixture bubble away for 15 minutes, stirring every now and then.
Meanwhile, make your mash potato for the topping.
Add your potatoes to a medium saucepan and cover over with water. Place the pan over medium heat & cook the potatoes for around 10-12 minutes or until they are soft enough to mash.
When the potatoes are cooked transfer them to a colander, draining away the water. Let the potatoes dry for 2-3 minutes, then pass them through a potato ricer to mash them.
Once you've riced all the potato, whip in the milk, vegan margarine, olive oil & seasoning. Set the potato aside until you're ready to top your pie.
When the filling mix is rich & the liquid has slightly thickened transfer it to your baking dish/dishes & top with the creamy mash. I used a piping back for an old fashioned look, but you can just spoon it on.
Place your shepherd's pie into your oven to bake for 25-35 minutes, or until the mash on top has gone crispy and golden.
Serve right away.
Share this recipe