Vegan Krispy Kreme Style Doughnuts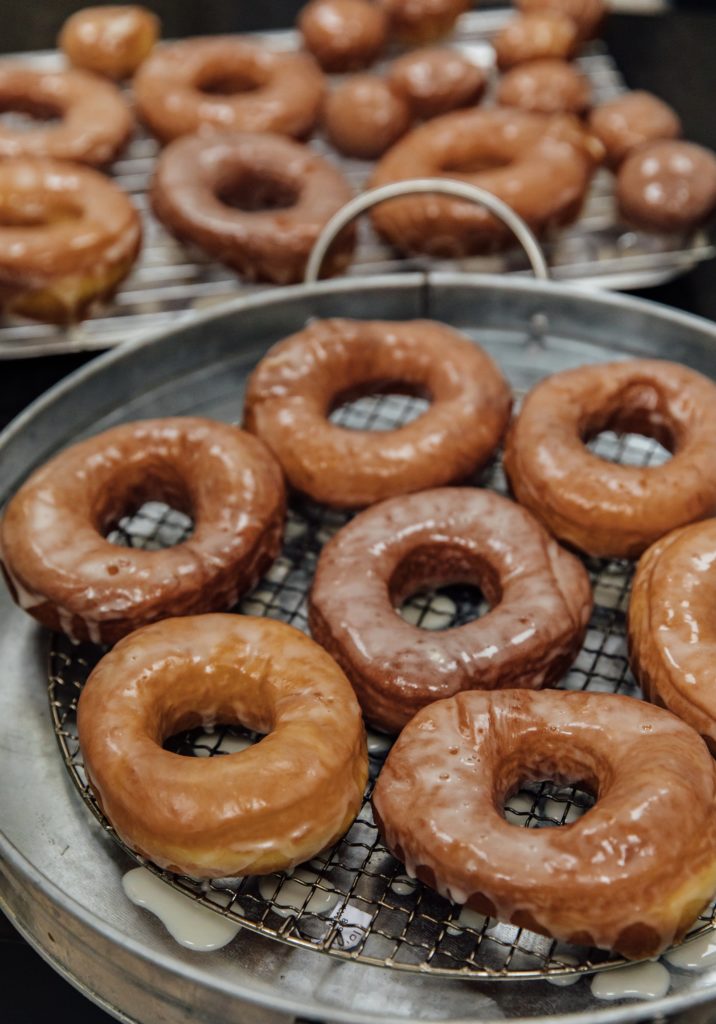 Crispy chewy fluffy glorious vegan Doughnuts, inspired by Krispy Kreme.
Ingredients
3 & 3/4 cups/435g Strong White Bread Flour
1/4 cup/55g Caster Sugar
1/4 cup/55g Vegan Butter/Margarine, melted
Pinch Fine Sea Salt
10g/2 heaped tsp Fast Active Dried Yeast
1 & 1/2 cups/375ml Non Dairy Milk (approx measurement, flours absorb liquid differently, add the liquid gradually, if the dough is way to wet add extra flour. See tutorial video below)
1.5 litre Vegetable Oil, for frying
Icing
2 cups/110g Icing Sugar
1 tbs Maple Syrup
2 tsp Vanilla Extract
1/4 cup/60ml Non Dairy Milk of your choice 
To make the doughnuts start with the wet mixture. In a jug whisk together the luke warm non dairy milk with the vegan margarine & yeast then set it aside for around 5 minutes to activate the yeast.
Meanwhile, mix together the flour, sugar & salt in a large mixing bowl or in an electric bread mixer with the dough hook attached. Make a well in the middle then add the milk mix. Stir with a fork/mix slowly until it mix starts combining. 
Once everything has come together, turn the dough out onto a lightly floured work surface & start to knead.
If you're using a bread mixer, set the speed to medium and let the machine work it's magic for 4 minutes.
By hand you want to knead the dough for around 6 minutes. The dough will be on the wet side, don't be tempted to add lots of flour. Add minimal to stop your hands from sticking. Too much additional flour will result in a dense doughnut. We want really light and fluffy doughnuts with lots of aeration. After needing the dough should be beautifully smooth.
Place the dough back into the mixing bowl this time make sure you have lightly oiled the bottom & the sides of the bowl first to stop the dough sticking.
Cover the bowl with cling film or a damp cloth and leave somewhere warm for around 1 hour or until its double in size.
After an hour, turn the the dough out from the bowl on to a lightly floured surface.
Knead the dough for a minute or so. Using a lightly floured rolling pin, roll the dough out to around 1cm thick. Then using pastry cutters, cut the dough into doughnut shapes of your choice. I used a 4inch & 1inch cutter to create ring doughnuts & doughnut balls (see video tutorial above).
Let the cut doughnuts rise on your work surface for around 45 minutes, or until they have more or less doubled in size.
Meanwhile pre heat your frying oil in a large saucepan, making sure the oil fills no more than half way high. 
When your doughnuts have risen & are ready to fry, check your oil is hot by dipping a wooden spoon in, if bubbles form around the wood then your oil is ready. Alternatively if you're using a deep fat fryer set the fryer to 180 degrees C. 
To cook, gently pick up a risen doughnut then carefully place it into the oil. Fry 1 or 2 at a time, cooking for around 2-3 minutes or until golden, flipping over the doughnut halfway through cooking.
Please be extra careful when frying, the oil is extremely hot and can be dangerous. Make sure your pan is at the back of your stove & never drop doughnuts in. Keep an eye on the temperature of your oil, if your doughnuts colour too fast turn the heat down. If they cook too fast, the centre of the doughnut may not cook in time.
Once fried use a spider to lift them out of the pan, then place the doughnuts onto a tray lined with kitchen paper to drain away any excess oil.
Repeat until you've fried all the doughnuts.
Once the doughnuts have cooled slighting, whisk together the glaze ingredients in a mixing bowl.
Individually pick up the doughnuts and dunk them in the glaze. Place the glazed doughnuts onto a wire rack & leave to set.
Once the glaze has set, enjoy them with your friends.
The doughnuts are best served right away, but do keep ok for 1-2 days if covered.
Share this recipe