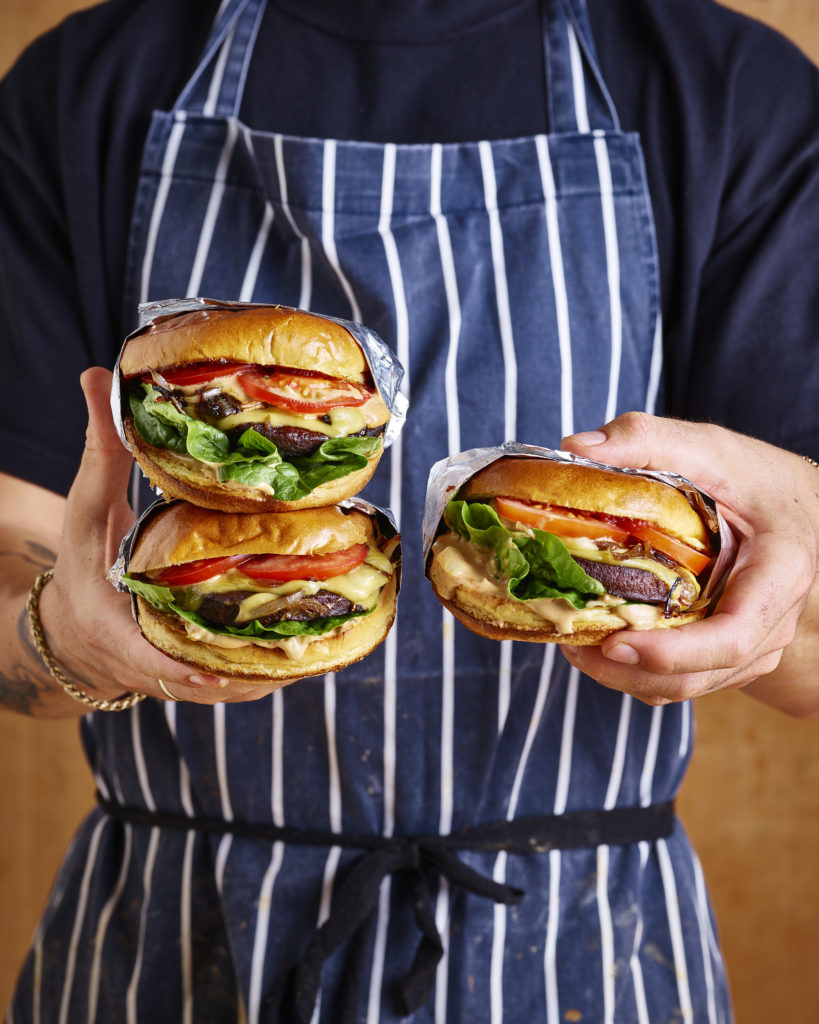 Ingredients
Burger Patties 
1 tbs Olive Oil
1 Red Onion, chopped
2 Celery Sticks, chopped
1 & 1/2 cups/120g Chopped Chestnut Mushrooms
Pinch Sea Salt & Pepper
Wet ingredients
1 & 1/4 cups Vegetable Stock, hot
1/2 cup/50g Black Beans, cooked
3 tbs Tomato Pureé
1 tbs Soy Sauce
1 tbs Balsamic Vinegar
1 Heaped tbs Miso Paste
1 Heaped tbs Marmite (optional, add additional Miso, if you don't have marmite)
1 tsp Smoked Paprika
1 heaped tbs Dried Mixed Herbs
1 heaped tbs Garlic Granules
1 tbs Dried Chilli Flakes
1 tbs Cracked Black Pepper
1 tbs Liquid Smoke (optional)
Dry Ingredients
2 & 1/4 cups Vital Wheat Gluten
Burger Sauce
1 cup/230g Vegan Mayo
3 tbs Ketchup
1 tbs English Mustard
2 tbs Gherkins, chopped really fine
Half an Onion, chopped fine
1 Clove Garlic, minced
2 tsp Tabasco
Burger Garnishes
Bun Buns, toasted
Lettuce
Caramelised Onions
Ketchup
Tomato, sliced
Vegan Cheese, sliced
Pre heat a non stick frying pan and add the olive oil. 
When the pan is hot add the onions, celery & mushrooms plus a little seasoning. Turn the heat low and allow them to soften & lightly caramelise for around 3-4 minutes, stirring often. 
Remove the pan from the heat and add the mix to a blender cup/food processor with the remaining wet ingredients. Blitz the mixture until it's super smooth.
In a large mixing bowl or stand mixer (bread mixer) add the vital wheat gluten.
Pour the wet mixture into the bowl with wheat gluten and stir with a spatula until it's well combined into a dough. Knead the dough by hand for 10-12 minutes, as firm as you can. The harder you knead the dough, the more meaty the burgers are when cooked. 
Alternitively use an electric stand mixer with the dough hook attached, knead the dough on low speed for 10 minutes. If I see the machine struggling I turn the dough out and continue kneading by hand. 
The tougher you are when kneading the more of a bite/meat like texture your burgers will have when cooked..So be firm!
Once kneaded it's to time form the dough into patties. The easiest way of doing this is to roll the dough out using a rolling pin to approximately 1 cm thick, it's quite tough to roll so put your all into it. The burgers do expand when cooking so I recommend making sure the dough is no more than 1.5cm thick.
Once your dough is rolled out, using a 11cm ring/cutter cut your dough into burger shapes. You can re-roll & cut any trimmings you may have into extra burgers.   
To cook the burgers steam them for 70 minutes. I use an old fashioned bamboo steamer placed over a wok filled with water – however any steamer will do. See tutorial video by clicking the video above.
Once steamed the burgers should feel tender & much firmer.
At this point you can either wait for the burgers to cool then refrigerate or freeze. 
Or you can cook them straight away. My favourite way of cooking the burgers is to grill them over a high heat. I love the chargrilled lines & flavour. 
The burgers are actually best grilled/fried the day after cooking, they firm up more. So often I'd make a batch of these burgers the day or night before using.
To make the burger sauce simply mix all the ingredients together in a small mixing bowl.
Serve the burgers in a bun, with caramelised onion. vegan cheese, tomatoes, lettuce, burger sauce, & ketchup.
Share this recipe