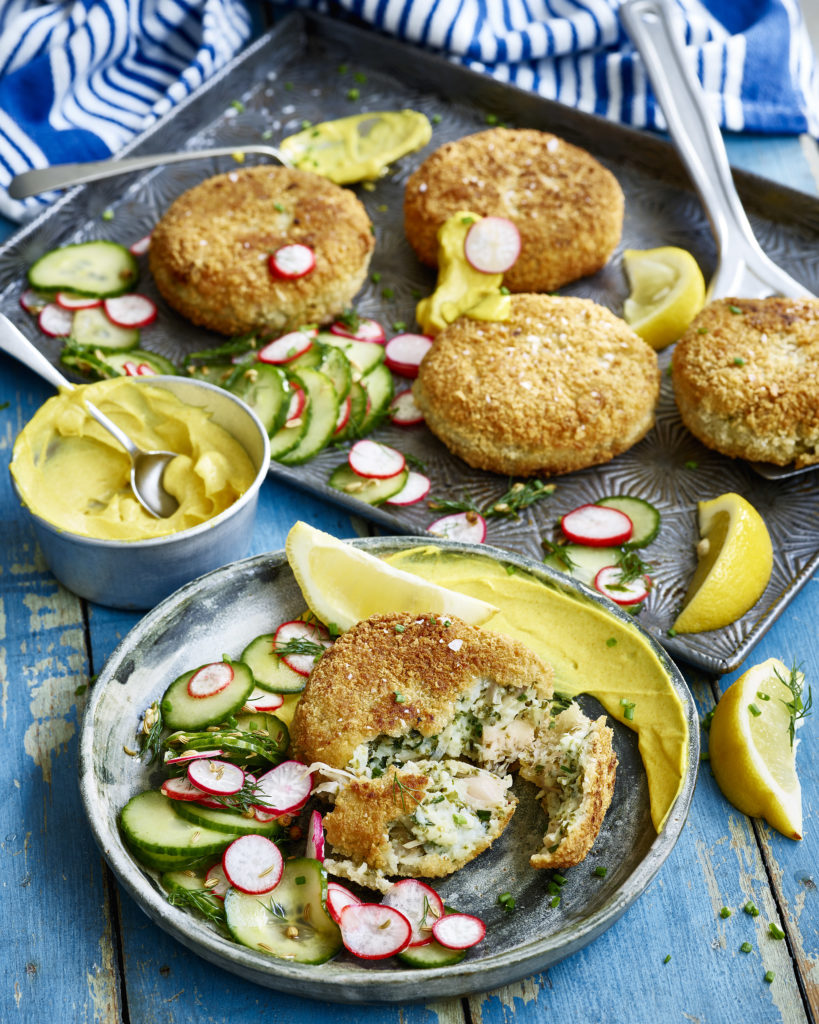 Ingredients
Filling
1 cup/250g Mash Potato
1 Large can (565g) Jackfruit, water squeezed out
1 tbs White Miso Paste
Juice & Zest 1 Lemon
2 tbs Chives, chopped fine
2 tbs Nori Flakes (or 1 sheet blitzed fine)
Coating
1 cup/120g Panko Bread Crumbs
1 & 1/2 cups/180g Plain Flour
1 tbs Olive Oil
1/3  cup/80ml Vegetable Oil, For Frying
Serve with
Lemon Wedges
Turmeric Mayo
Finely Chopped Chives
Picked Radish & Red Onion
Pre-heat your oven to 180 degrees C & line a baking tray with greaseproof paper.
Prepare the jackfruit properly by placing the drained jackfruit into a clean kitchen bowl, then gather the corners together and ring out the water. This will ensure the jackfruit is 'meaty'.
First up, add all the filling ingredients to a mixing bowl & combine well. Lightly flour your hands then form the mixture into around 4-5 patty shapes.
Once shaped prepare your coating. Mix together 1 cup/125g of the plain flour in a mixing bowl with enough water & a splash of olive oil to make it a loose pancake batter style consistency. In another bowl add the rest of the plain flour & in a third bowl add the breadcrumbs.
Individually dip the patties first into the flour, then into the batter mix and finally into the breadcrumbs. Making sure they're coated well.
Once you've coated all the fish cakes, set them aside until you're ready to cook.
Meanwhile add the oil to a non stick frying pan, Carefully fry the fish cakes until golden & crisp then transfer them to the lined baking tray & then into the oven for 15 minutes to cook through to the centre.
Serve with salad & pickles plus a dip/sauce of your choice.
Share this recipe