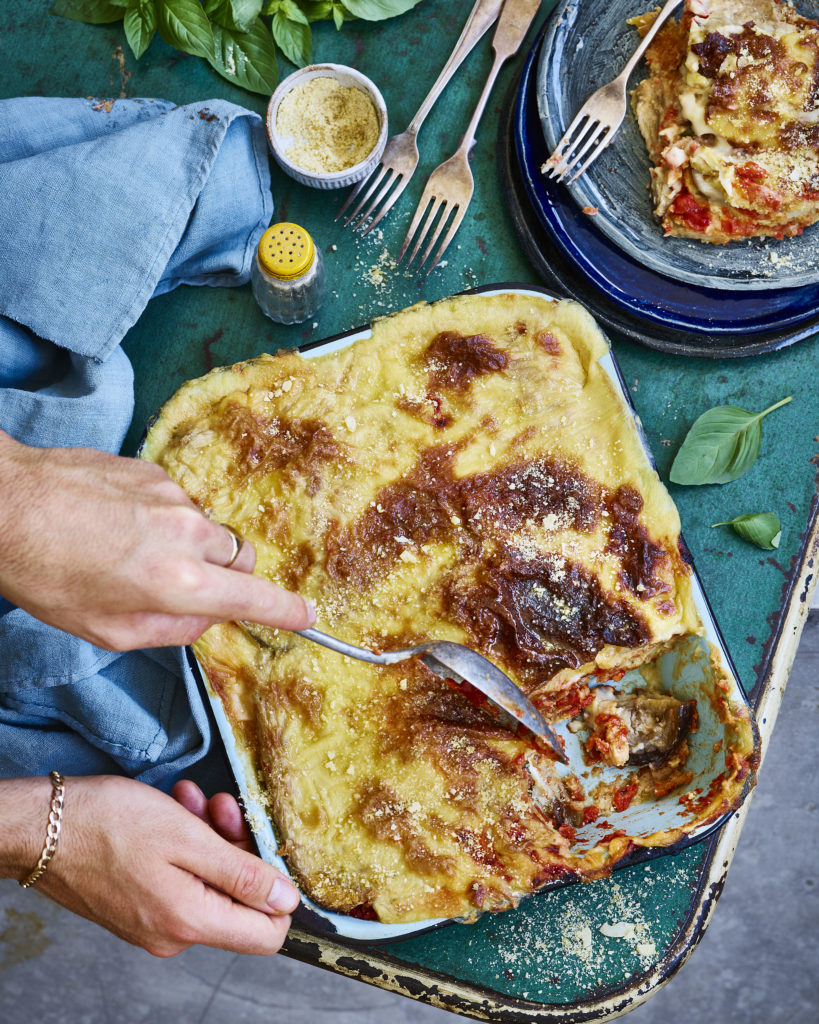 Ingredients
3-4 large aubergines (eggplants)
250g (2 cups) chickpea flour
270g (2 cups) Plain Flour
220g (2 cups) Bread Crumbs, I used panko
750ml Vegetable Oil, for frying
Sea Salt, for sprinkling

Béchamel Sauce 
900ml (4 cups) Soy Milk/Cashew Milk
1 Onion
1 Bay
Pinch Nutmeg
1 tsp Sea Salt
1 tsp White Pepper
115g (1/2 cup) vegan margarine
70g (1/2 cup) Plain Flour
100g (1 cup) Grated Vegan Cheese (optional)
Simple Tomato Sauce 
2 tbs Olive Oil
2 Onions, finely chopped
6 cloves Garlic, minced
1 tsp Sea Salt
1 tsp Cracked Black Pepper
2 cans Chopped Tomatoes
1 tsp Caster Sugar
2 tbs White Wine Vinegar 
To serve
Steamed Veg or Salad
Homemade Parmesan (recipe here)
First up prepare the eggplants, trim the stems off then cut them into 1 cm 'sheets' length ways. You should be able to get 6-8 sheets from each eggplant.
Now you need to coat them, put the gram flour in a mixing bowl and whisk in enough water to make it a beaten egg like consistency. Put the flour in another bowl & the breadcrumbs in another. 
To coat the eggplant sheets, individually dip a sheet of eggplant first in the flour, then the gram flour mixture & finally the breadcrumbs. Repeat the process until you've coated all the eggplant sheets. 
Now for the frying, in a deep frying pan add the vegetable oil, then place it over a medium heat. 
To avoid using oil, you can always place the coated eggplant on a lined baking tray and bake them for 20 minutes. 
Test your oil is hot by placing a wooden spoon in the oil, if bubbles form around the spoon your oil is hot enough. Fry the sheets in batches of 3, for 2 minutes on each side, use a spider to turn them over and to carefully take them out, once fried place them on to a plate lined with kitchen paper to soak up any excess oil. Continue to fry until you've fried all of the eggplant sheets.
Season with sea salt to keep them crisp while you prepare your tomato sauce. 
Place a large saucepan over a low heat and add the olive oil followed by the onion & garlic, sauté for around 4 minutes with the seasoning. 
Next to the pan add the tomatoes, sugar and vinegar & stir well. Pop a lid on the pan and let the sauce bubble away for 12 minutes.
Giving you time to make your batch of béchamel. Recipe on page —-
Pre heat your oven to 180 degrees C.
To build your eggplant parm, in a large baking dish, ladle some tomato sauce into the bottom of the dish, then do a layer of eggplant, then fresh basil, followed by béchamel & a sprinkling of vegan cheese, repeat the layers until you've filled your dish to the top. Making sure the last layer is béchamel & cheese. 
Place the dish into your oven on the middle shelf for 35 minutes. 
Once cooked it should be beautiful and golden on top. 
Let the eggplant parm sit for at 10 minutes before serving, make sure your serve it with lots of vegetables or a big salad. 
Share this recipe