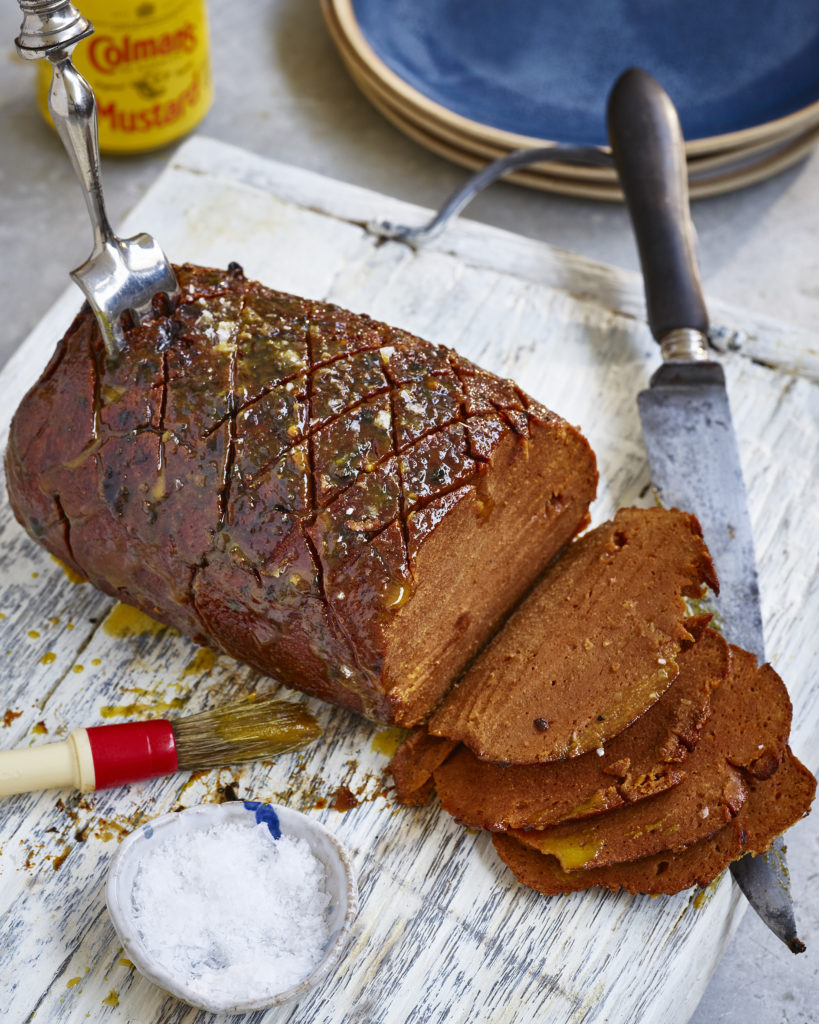 Ingredients
Dry;

2 & 1/2 cups/330g Vital Wheat Gluten 
Wet;
1 & 1/2 cups/325ml Vegetable Stock
3 tbs Soy Sauce
3 tbs Maple Syrup
3 tbs Miso Paste
4 tbs Sweet Smoked Paprika 
3 tbs Tomato Puree 
2 tbs Liquid Smoke (increase smoked paprika if you don't have liquid smoke)
1 tbs Onion Granules 
1 tbs Garlic Granules  
1 cup/150g Smoked Tofu
1 tbs Dried Sage
1 tbs Mustard 
1 tsp Sea Salt
Spice Mix Coating
1 tbs Sweet Smoked Paprika
1 tbs Dried Sage 
6 Whole Cloves 
Broth 
2 Onions, halved
2 Carrots, unpeeled, cut into 5cm/2in pieces
2 Celery Stalks, cut into 5cm/2in pieces
4 Bay Leaves
1 tbs Black Peppercorns
4 Cloves 
2 tbs Miso Paste
2 Litre Vegetable Stock 
Glaze
1/2 cup/120ml Maple Syrup
3 tbs Wholegrain Mustard
2 tsp Sea Salt 
Be sure to click the above 'See how its done' button to watch a video tutorial of the recipe.
Add all the wet ingredients to your blender and blitz until smooth. 
Place the vital wheat gluten into a large mixing bowl or electric stand mixer with the dough hook attached, then add the wet mixture. 
Mix together until it forms a dough then knead it for 10-12 minutes on medium speed. If you're kneading by hand, turn the dough out onto your work surface & firmly need it for 10-12 minutes. 
If the dough is not kneaded firmly enough, your ham will be spongey & not meaty!
Shape the dough into a rough fillet shape with your hands.
Sprinkle the herb & spice mix onto your work surface & roll the ham in it. Then poke in the whole cloves randomly around the ham. 
Wrap the ham in muslin/cheesecloth and tie the ends – this just holds the shape. Set the ham aside whilst you prepare the broth.
Grab a large saucepan bigger enough to fit the ham in. Then add all the broth ingredients. Brith the broth to a simmer then lower in the ham, pop the lid on and cook for 1 hour and 30 minutes, or until firm to touch. Make sure the broth is only ever just simmering, never boiling. I carefully turn the seitan fillet over a couple of times to make sure it cooks evenly. 
Once cooked, remove the ham from the broth & when cool enough remove the muslin.
The ham will get meatier the longer its left after cooking so I recommend letting it sit in the fridge for at least a day before serving.
When you're ready to serve, pre heat your oven to 180 degrees C. Score the ham with a sharp knife. Mix together the glaze ingredients together in a small mixing bowl. Then brushing lashings of the glaze over the ham. Place the ham into the oven to bake for 25 minutes. 
Once baked carve then serve.
The ham will keep in the fridge for up to 10 days and it is perfect for sandwich fillings. 
Share this recipe