Serves: 10-15
Cooks in: 1 hour prep, 3 hours cooking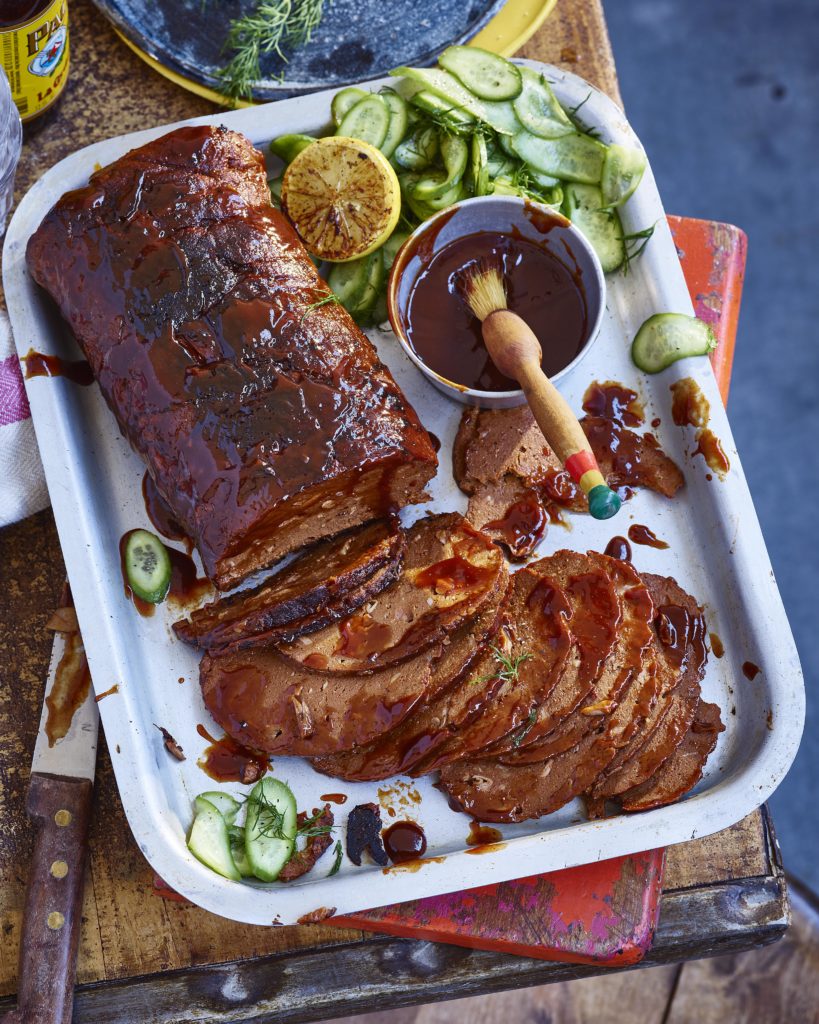 This is the ultimate vegan meat recipe. Smoky, succulent, & MEATY. It will fool all non-vegans – it's that realistic. I use vital wheat gluten (seitan) & jackfruit for a different dimension of texture. See the below video tutorial for extra tips. Makes enough to serve 10-15 people at a special occasion dinner, so half the recipe if you like or feel free to freeze portions after cooking. The meat lasts up to a week in the fridge & 3 months in the freezer (cut the meat before freezing for convenience).
Ingredients
1 tbs Olive Oil
1 Onion, peeled & chopped small
5 cloves Garlic, peeled & chopped roughly
7.05 oz/200g Chestnut Mushrooms, roughly chopped
1 & 1/2 cup Vegan Ale or Beer
3 cups/450g Vital Wheat Gluten 
2 tbs Soy Sauce 
3 tbs Brown Sugar 
2 tbs Miso Paste
2 tbs Liquid Smoke (optional)
1 tbs Smoked Paprika 
1 tbs Cumin
1 tbs Ground Ginger
1 tbs Celery Salt
3 tbs Tomato Puree  
1 cup/170g Tofu 
2 tbs Mixed Herbs 
1 tbs Black Pepper 
1 can/400g Jackfruit, drained & water squeezed out – using a kitchen towel. (see jackfruit tutorial here)
Spice Rub
1 tbs Celery Salt
1 tbs Smoked Paprika 
1 tbs Ground Cumin 
BBQ Sauce Glaze 
1/2 cup/120ml Homemade or store-bought BBQ Sauce 
Preheat a large nonstick frying pan over low heat & a little oil followed by the onion, mushrooms & garlic then saute for 5 or so minutes, making sure to get them really golden & caramelized.
Meanwhile, add the rest of the wet ingredients, except the ale to your food processor or blender.
After 5 minutes of cooking the mushroom mixture, deglaze the frying pan with the ale. Let the ale bubble away for 3 minutes, string every now and then.
Add the ale and mushroom mix to your blender and blitz the mixture for a minute or until super smooth & then set aside.
Next to a stand mixer (bread mixer/Kitchenaid), with the dough hook attached – add the jackfruit & vital wheat gluten & turn it on for 10 seconds on low speed to mix together. (alternatively, if you don't have a mixer, do this in a large mixing bowl with a spatular)
Add the blended wet mixture and then continue to mix on medium speed for 10 minutes. (alternatively, knead firmly by hand for 12 minutes).
If kneading by hand, the tougher you are the more of a bite/meat-like texture your brisket will have when cooked, so be firm!
Once kneaded, turn the dough out onto your work surface & shape it into a long rectangle shape, around an inch thick using your hands & a rolling pin if needed.
After shaping, sprinkle over then spice rub ingredients  & rub them into the brisket.
Wrap the brisket in a layer of greaseproof paper, then 2-3 layers of cling film (plastic wrap) as tightly as possible.
Set the brisket aside, whilst you fill a large saucepan with water (halfway high) & bring it to a boil.
When the water comes to a boil, place your brisket carefully in then turn down the heat to a simmer. Leave the brisket to cook for 3 hours. Make sure the water is never rapidly boiling only ever simmering.
All of the above ideally should be done the day or a couple of days before serving.
After cooking, remove the brisket from the water – it should be firm to the touch.
When it's cool enough to handle, remove the wrapping.
At this point, you can slice and freeze the brisket or serve it right away.
Before serving prepare your grill, bbq, or a large cast-iron pan placed over medium heat.
Add a little oil to the pan & when it's hot sear the brisket on all sides for a couple of minutes. Whilst you're searing, grilling, or BBQing, brush bbq glaze over the top.
I pop the brisket in the oven for 10 minutes if I'm finishing it in the pan. Just to make sure it's heated right through to the centre.
Slice, serve & enjoy.
Share this recipe