Turkish Style Pizza (Vegan Lahmacun)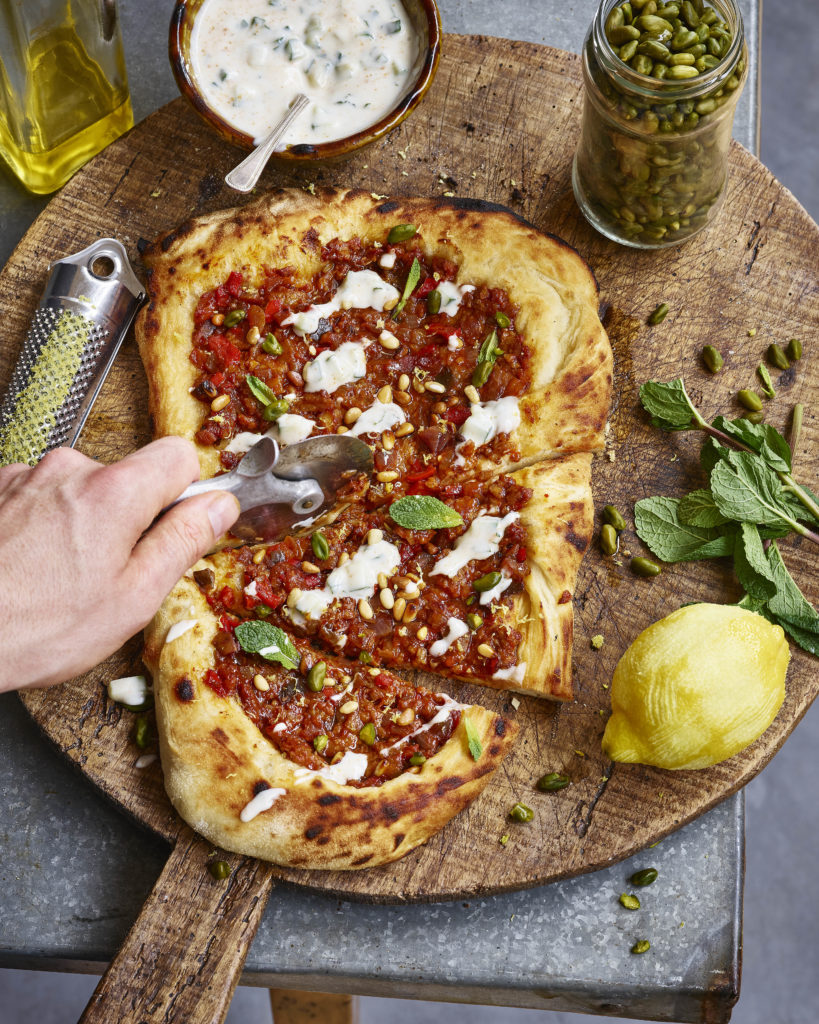 I was really inspired to create a vegan version of one of my favourite treats to eat before going vegan. This vegan version of Lahmacun is damn tasty! You can use pre-made pizza bases if you're short on time but you cannot beat homemade, especially if you're using a pizza oven. If you don't have all the dried spices, you can replace them for 2 tbs of Baharat or Ras el Hanout, which are incredible spice blends found at all good supermarkets.
Ingredients
Topping;
2 tbs Vegetable Oil
1 Red Onion, finely chopped
1 Red Chilli, finely chopped
4 Cloves of Garlic, minced
2 tsp Sea Salt
Half a Large Aubergine/Eggplant, cut small
2 cups/220g Vegan Mince, I used future farm mince
1 tbs Sweet Smoked Paprika
1 tsp Ground All Spice
1 tsp Ground Cumin
2 tsp Dried Rose Petals
2 tsp Ground Cinnamon
2 cups/480ml Vegetable Stock/Water
4 tbs Tomato Puree
Handful Fresh Thyme, roughly chopped
Handful Flat Leaf Parsley, roughly chopped
Zest & Juice of Half a Lemon
2 tsp Dried Chilli, for extra spice (optional)
Bread Dough;
7g Dried Fast Active Yeast
1 & 1/2 cups/375ml Luke Warm Water
2 tbs Extra Virgin Olive Oil
3 cups/360g Strong White Bread Flour or Bread Flour of your Choice
2 tsp Sea Salt
Mint Yoghurt Dip;
Handful Fresh Mint
Half a Cucumber, seeds removed and cubed small
1 tsp Paprika
1 cup/200g Non Dairy Yoghurt
Pinch Salt & Pepper
Garnish
Pistachio Nuts
Fresh Mint
Toasted Pinenuts
for the pizza dough;
Whisk together the luke warm water with the yeast & olive oil. Leave for around 5 mins until bubbly.
Meanwhile, mix together the flour and salt in a large mixing bowl or bread mixer. Make a well in the middle then add the water & yeast mix. Stir/Mix until the mix starts combining.
Once everything has come together, turn the dough out onto a lightly floured work surface. Now it's time to knead, if using a bread mixer, use your dough hook and mix/knead for 5 minutes.
By hand you need to knead for around 8 minutes. The dough should be beautifully smooth and elastic after the 8 mins. Add a little flour whilst kneading if you feel its way too sticky.
Once kneaded, portion the dough into 3 pieces and form each piece into a ball. Place the dough into 3 lightly oiled bowls & cover over with cling film.
Leave the dough to rise somewhere warm for around 45 minutes or until they have doubled in size.
For the topping;
Sauté the onion, chilli, garlic & aubergine over a medium heat in a large saucepan with the sea salt for 4-5 minutes.
Add the vegan mince & spices to the pan & allow everything to cook for a further 4 minutes stirring often so nothing burns.
Deglaze the pan with the water and tomato puree.
Then add the herbs & lemon.
Cook the mix for 5-6 minutes before turning off the heat.
To complete;
Roll your bread dough to around 2cm thick and spread generous amounts of the sauce over the top.
Bake on a baking tray/pizza stone in a pre heated oven set at 220 degrees C for 12-15 minutes. Or use a pizza oven for best results.
For the yoghurt dip, simply add all the ingredients to a mixing bowl & mix.
Top your cooked pizzas with a drizzle of the yoghurt, fresh mint & pistachio & pine nuts.
Share this recipe