Serves: 8
Cooks in: 2 hours 30 minutes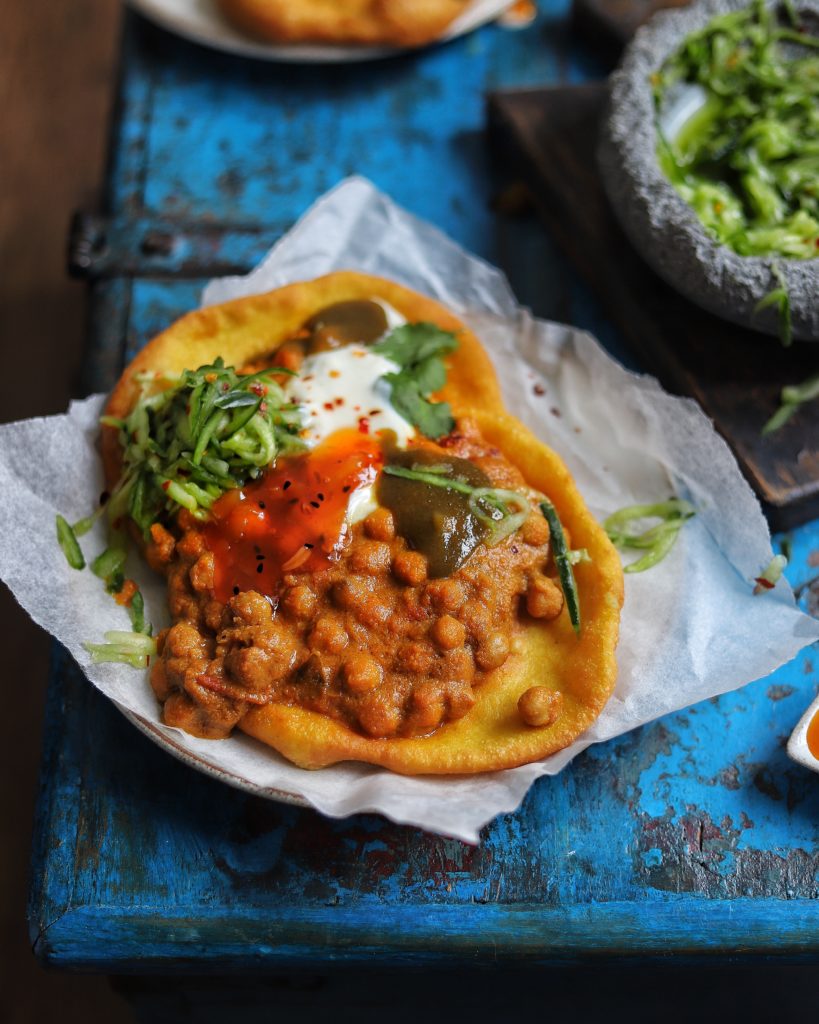 I discovered doubles whilst watching one of my biggest inspirations, Anthony Bourdain. He was in Trinidad & was served doubles on the beach. They looked slightly messy to eat but so tasty. I liked that the dish was almost a Caribbean & Indian mash up. I had to have a go at making them and this is what I came up with. The bread (Bara) is fried in oil, giving it a crisp outer coating that's soft and fluffy inside. So indulgent.
Ingredients
Bara (makes around 16)
195g/1.5 cups Strong White Bread Flour
195g/1.5 cups Plain Flour
1 tsp Sea Salt
1 tsp Ground Turmeric
1 tsp Ground Cumin
2 tsp Caster Sugar
1 tsp Baking Powder
2 tsp Active Dried Yeast
3 tbs Olive Oil
360ml/1.5 cups Luke Warm Water
1.5 Litre Vegetable Oil, for frying 
Curry 
4 tbs Vegetable Oil
1 Onion, chopped small
4 cloves Garlic, minced
1 Scotch Bonnet Chilli
Thumb sized piece Ginger
2 tsp Sea Salt
1 tsp Turmeric
1 tsp All Spice
1 tsp Ground Coriander
1 tsp Ground Cumin
1 tsp Paprika
560g/4 cups Chickpeas, from cans, drained & rinsed
1 tin Coconut Milk
2 tbs Tomato Puree
1 tbs Coconut Flour
Juice 1 Lime
Handful Chopped Coriander  
Cucumber Salsa
1 Cucumber, flesh grated, seeds removed
1/2 tsp Sea Salt
Pinch Chilli Flakes
Garnishes 
Mango Chutney
Coconut Yoghurt
Green Chilli Sauce
Fresh Coriander
Tamarind Sauce
Method
First make the dough for the bara's. I experimented with a few different types of flour & I found a mix of strong white bread flour & plain flour gave the best result. 
In a large mixing bowl or electric stand mixer (with dough hook attachment) add all the dry ingredients and mix well. Add the olive oil & warm water then mix together on a slow setting. If you're making them manually mix with a wooden spoon until you need to use your hands.
Knead the dough for 8 minutes on a medium setting, if doing this by hand, add sprinkle of flour to your work surface and hands before kneading. If your dough looks slightly too wet add more flour & if its to dry add a touch more water. (certain flours absorb water differently)
After 8 mins of kneading, lightly grease a mixing bowl with oil then place the dough into the bowl & cover with a damp kitchen cloth. Leave the bowl some where warm for 45 minutes – or until the dough has doubled in size.
Whilst the dough is proving, make your curry. 
Add the vegetable oil to a large saucepan, then place over a medium heat.
Add the onion, garlic, chilli & ginger, cook for 10 minutes – stirring often. When the onion is nice and golden. Add the spices & cook for a further 4 minutes then add the chickpeas & stir well so they are coated nicely. 
Add the coconut milk & tomato puree then stir well.
Allow the curry to simmer for 15 minutes before adding the coconut flour, lime and chopped coriander – keep warm until you're ready to serve. Alternatively the curry can be kept in the fridge for up to 4 days or freezer for 3 months.
To make the cucumber salsa, simply mix all the ingredients together in a mixing bowl.
Back to the bara's, lightly flour your work surface & take your risen dough out of the bowl. 
Roll the dough into a big sausage shape and cut it into 16 equal pieces. Roll each peace into a 1cm thick circle shape (around 5inch in diameter) using a rolling pin. I lightly flour each one then place them on to grease proof paper.
Add the oil to a large saucepan then place the saucepan over a medium heat, make sure the oil only comes half way up the side of the sauce pan, any higher and it could be dangerous. 
When the oil is hot (test by dipping a wooden spoon into the oil – if the spoon bubbles, the oil is hot enough) carefully place one piece of dough into the oil & fry for 2 minutes on each side. Use a spider to carefully turn the Barra over. Once golden & bubbly, remove the bara and place it onto a plate lined with kitchen paper, to soak up access oil. Repeat the process for the rest of the dough. Only fry 1 at a time.
To serve, place two baras on a piece of grease proof paper & top with a generous amount of the curry, cucumber salsa & the rest of the garnishes. 
Share this recipe