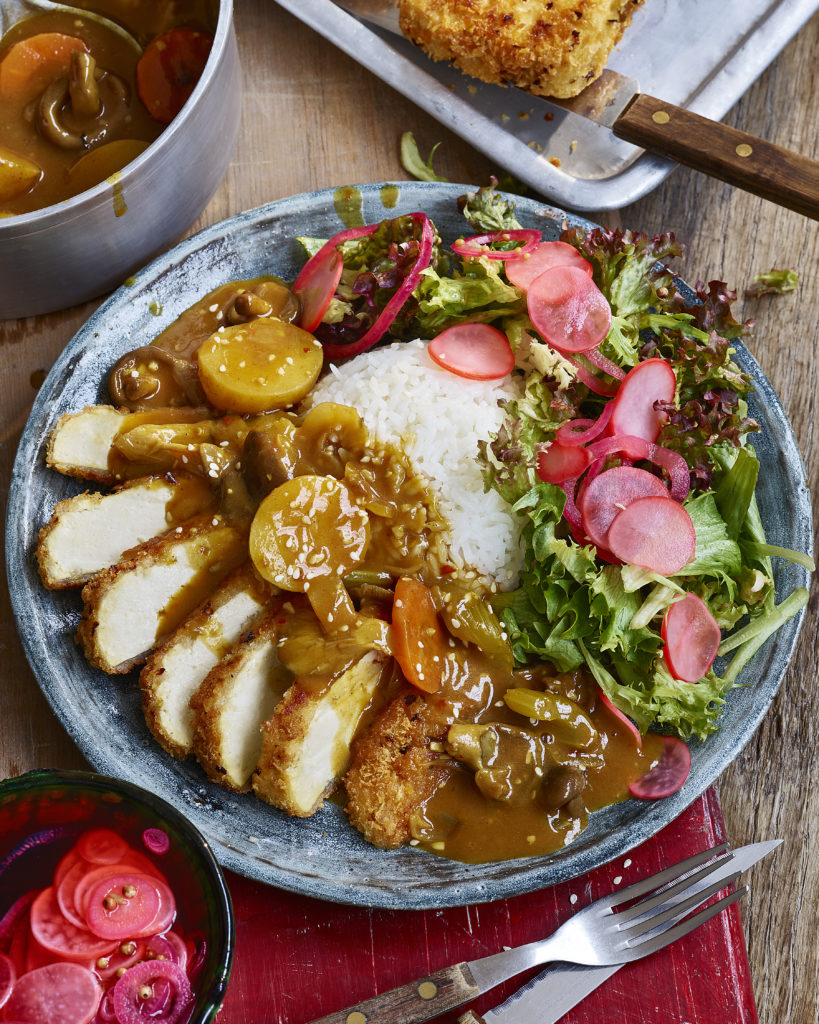 Ingredients
Katsu 
1 Extra Firm, Large Block Tofu
Batter 
1 cup/120g Plain Flour
1 tbs Vegetable Oil 
1 & 1/2 cup/375ml Water 
Crumb 
2 cup Panko Breadcrumbs 
1 tbs Chilli Flakes, I used Gochugaru (Korean chilli flakes) 
1 tsp Garlic Granules 
1 cup/120g Plain Flour 
1 cup/250ml Vegetable  Oil for frying 
Curry Sauce 
2 tbs Sesame Oil 
1 Large Onion, peeled & chopped roughly 
5 Cloves Garlic, minced 
1 tbs Fresh Ginger, minced
2 Carrots, sliced fine 
200g/7.02oz Mixed Asian Mushrooms  
2 Sticks of Celery, chopped into 1cm pieces  
1 Banana, cut small
400g/14oz Baby Potatoes 
2 tsp Chilli Flakes  
1 tsp Sea Salt 
1 tbs Tomato Puree
1 Golden Japanese Curry Block (alternative in the method below) 
2 cups/480ml Vegetable Stock 
1 can Coconut Milk 
2 tbs Dark Soy Sauce 
Pickled Radish 
1 cup/240ml Vinegar 
10 Radishes, sliced fine
1 Red Onion, sliced into rings, fine
5 Szechuan Peppercorns 
3 tbs Caster Sugar 
2 tsp Mustard Seeds 
1 tsp Fennel Seeds  
Garnish 
Sticky Jasmine Rice
Salad 
Sesame Seeds 
Crispy Onions
First up, make the curry. In a large saucepan placed over a medium heat add the sesame oil followed by onion, garlic, ginger, carrot, celery, & the mushrooms. 
Sauté the mixture with a sprinkle of salt for 4-5 minutes before stirring in the banana, potatoes, chilli & tomato puree. 
Cook the mix for a couple more minutes then add the curry block, cut into small pieces. 
If you haven't got a curry block, use 1 tbs Curry Powder, 2 tsp Garam Masala & 2 tbs Plain Flour instead. 
Deglaze the pan with the vegetable stock, coconut milk & soy sauce. Mix together well, then pop a lid on & let the curry bubble away & thicken up for at least 30-35 minutes, stirring every now and then. 
Preheat your oven to 180 degrees C. 
Meanwhile to make the pickles, add the rice wine vinegar to a saucepan with the peppercorns, fennel seeds, mustard seeds & sugar. Bring the mix to a simmer then add the radish & red onion. Turn the heat off then transfer the contents to a jar or bowl to cool completely. Once the pickle has cooled its ready to eat, but the flavour will improve the longer you leave it. To store the pickle, I recommend keeping it in a sterilised sealed glass jar in the refrigerator. 
Next coat the tofu fillets. First, make the batter, mix the flour in a bowl with enough water to make it a pancake batter style consistency then mix in the oil.
In another bowl add the panko breadcrumbs, chilli flakes & garlic powder. Then a third bowl just plain flour.
Individually dip the tofu in the flour then the batter then finally in the breadcrumbs. Make sure the tofu is really well coated, then place them onto a baking tray lined with baking paper.
To cook the tofu katsu, preheat a large frying pan over a medium heat and add the vegetable oil. Shallow from the filets when the oil is hot for around 2-3 minutes on each side – or until the breadcrumbs are golden. Once they're cooked, place the katsu back on to the lined baking tray and then into the oven for 10 minutes. 
Check the curry is ready by checking if the potatoes are tender, if they are still undercooked, let the curry cook away for a little longer if the curry starts to get too thick just add extra vegetable stock, to loosen it. 
To serve, slice the katsu tofu filets, then plate up with sticky rice, lots of curry sauce, salad & the pickles. I also garnished my dish with crispy onions & sesame seeds. 
Share this recipe