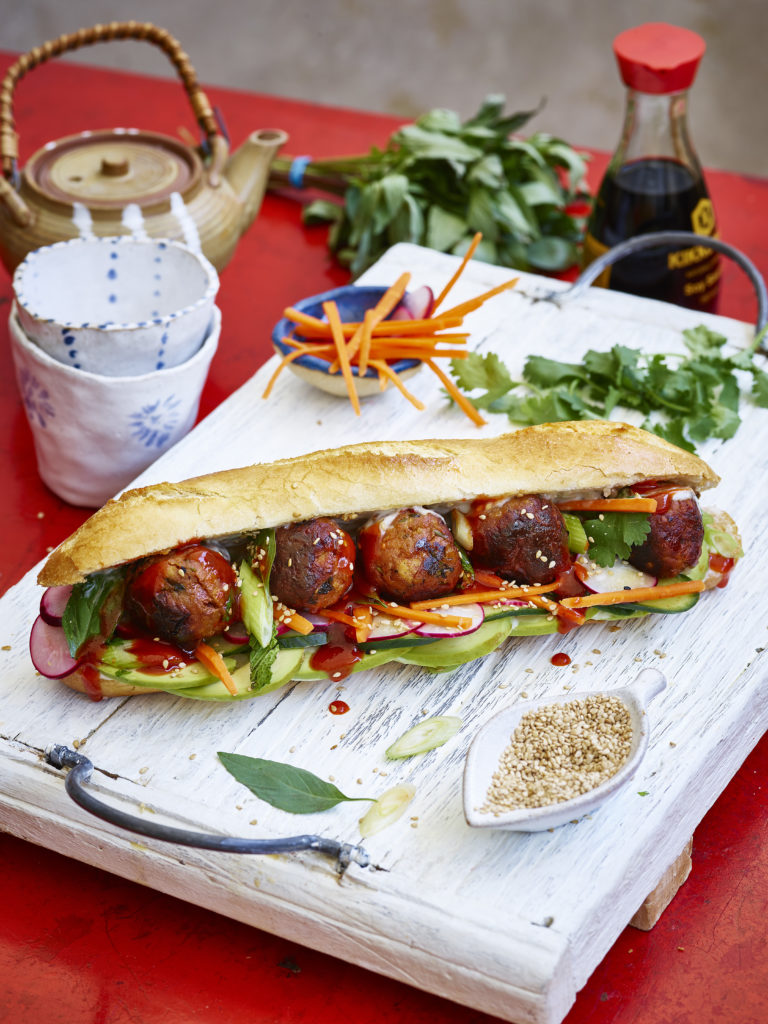 Ingredients
Meatballs
1 Block Plant Power Organic Tempeh, chopped into small pieces
3 cloves Garlic, minced
2 tsp Ginger, minced
1 Red Chilli, finely chopped
Handful Coriander, finely chopped
1 tbs Tomato Puree
1 tbs Sriracha
1 tbs Soy Sauce
2-3 tbs Buckwheat Flour
1 tbs Cooking Oil, for frying.
Serve with
1 tbs Soy Sauce
Freshly Baked Baguettes
Picked Radish & Carrot
Cucumber, sliced
Thai Basil
Avocado, sliced
Spring Onions, sliced
Vegan Mayo
Alfalfa Sprouts
Pre heat your oven to 180 degrees C and line a baking tray with greaseproof paper.
Add all the meatball ingredients to a mixing bowl except the flour, and mixed well with a spoon.
Add enough flour to help the mixture bind together then use your hands to work the mixture into a ball. If the mixture is too wet add a little more flour. Do not over work the mixture, you will end up with a mushy paste, just lightly work it with your hands until it comes together.
Form the mix into 15 small meatballs & place them onto the lined baking tray.
Pre heat a large non stick frying pan over a medium heat and add the oil.
When the pan is hot, place the meatballs into the pan to cook for 3-4 minutes, turning the meatballs over every now and then. Try and get them lovely golden. Once golden place them back into the lined baking tray and into the oven to cook through to the centre for around 10 minutes.
Meanwhile prepare your sandwich fillings.
When the meatballs have baked, drizzle over a little soy sauce to season them.
Then build your bánh mi & enjoy.
Share this recipe