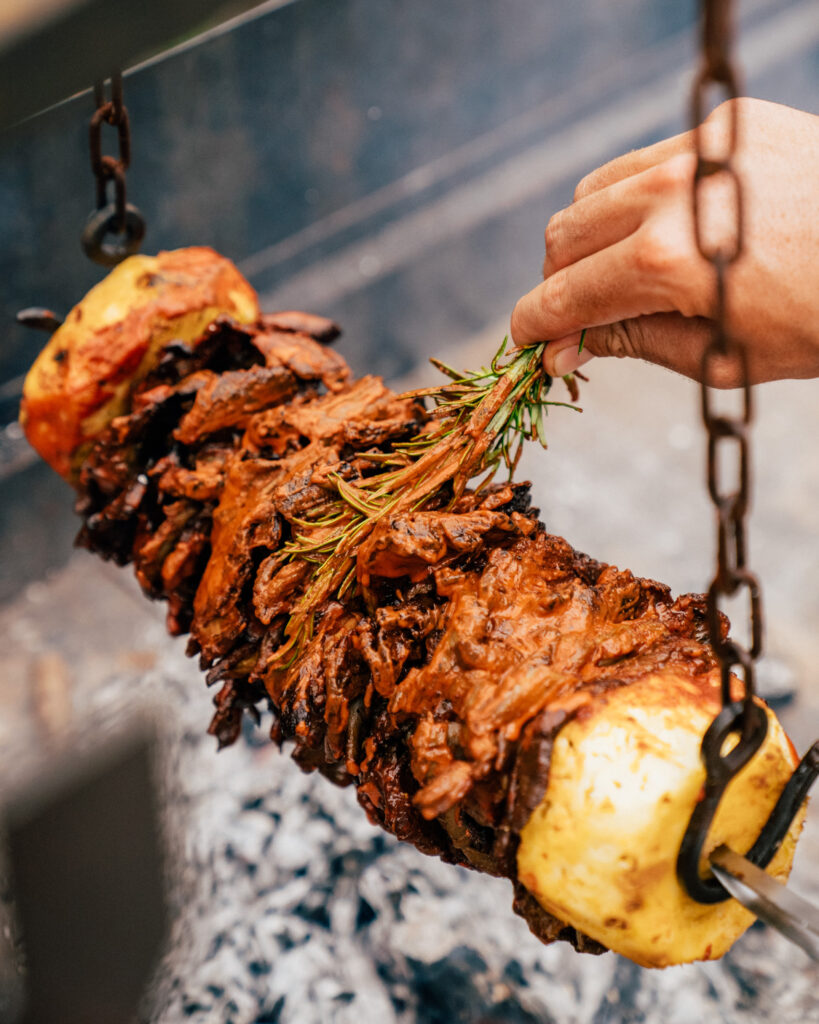 Mexico's food is up there with some of the best in the world – I know first hand because at the start of this year my crew & I travelled around Mexico making my first food/travel documentary called
Muy Rico, which you can stream for free here. I was so inspired by the people, culture & the food, I truly fell in love with Mexico & I long for it everyday.
So taco Al Pastor is  a ginormous Mexican spit roasted kebab it's made from marinated pieces of pork and originated from the central region of Mexico – Puebla but you can see them served all over Mexico these days and the method is actually very similar as a Lebanese lamb shawarma and the concept was brought to Mexico by Lebanese immigrants centuries ago.
Here is my MEAT FREE version. Full Episode & cooking tutorial here https://youtu.be/S5CRqFmgdFo
Ingredients
Tacos Al Pastor 
Ingredients
20-25 Oyster Mushroom Clusters (for a giant kebab, reduce quantities for smaller a serving)

Spice Mix for Mushrooms 
3 tbs Garlic Powder
1 tbs Chilli Powder
3 tbs Dried Oregano
2 tbs Onion Granules
2 tbs Dried Sage
1 tbs Ground Cumin
1 tbs Smoked Paprika
3 tbs Smoked Sea Salt or Sea Salt
1 tsp Ground Cinnamon
(Left over spice mix can be kept for up to 3 months)
Marinade 
3 Guajillo Chillis, toasted
3 Pasilla Chillis, toasted
5 Chile de arbol, toasted
3 Dried Cascabel Chillis, toasted
1 Onion, peeled
3 Cloves Garlic
2 tsp Cumin
2 tbs Tomato Puree
3 tbs Achiote Paste
2 tbs Dried Oregano
1/4 cup White Wine Vinegar
1 tbs Sea Salt
1 tbs Miso Paste
2 Cloves
1 tsp Coriander Seeds
2 tbs Chipotle Paste
1 cup/210g Fresh Pineapple, cubed
1/2 cup/125ml Vegetable or Olive oil
Guacamole 
2 Ripe Avocados
1 Small Red Onion, finely chopped 6 Cherry Tomatoes, finely chopped 1 tsp chilli flakes
Handful Coriander, chopped
Juice of 1 Lime
1 tbs Extra Virgin Olive Oil
Pinch of Sea Salt & Pepper 
Serve with 
Corn Tortillas
Grilled Pineapple 
First up, mixed together the herbs & spices for the spice mix in a small bowl.
Place a cast iron pan over a high heat & add a little oil, when the pan is hot add a few cluster mushrooms, being careful not to overcrowd the pan. Place another pan that is small enough to just fit inside the bottom pan on top, this compression will press then mushrooms flat – making sure the get extra meaty. If you're top pan isn't that heavy, carefully apply some pressure with your hand (using a tea towel)
After 4-5 minutes of cooking and pressing, season the mushrooms generously, then flip them over. 
Continue to press the mushrooms for a further 5 minutes, making sure all the water has evaporated & they are going golden.
Once the first batch has cooked, remove them from the pan and set aside whilst you repeat the process with the rest of the mushrooms clusters. 
When you've cooked & pressed all the mushrooms it's time to carefully place them onto your skewer (my skewer was 20"). Placing a chunk of pineapple either end of the skewer.
Meanwhile I make the marinade/dressing. Toast of your dried chillis in a dry pan over a high heat for a couple minutes then add them to a blender with the rest of the dressing ingredients and blitz to form the dressing. 
Brush the dressing over the el pastor & set aside too marinade for a couple of hours. 
Meanwhile prepare your garnishes, to make the guacamole, add all the ingredients to a mixing bowl & mash with a fork.
Cook your al pastor over a fire or on a bbq for around 30 minutes, basting on the dressing every now and then. 
Carve the al pastor & fill your warm tortillas with the mushrooms, guacamole, salsa & caramelised pineapple. 
Share this recipe