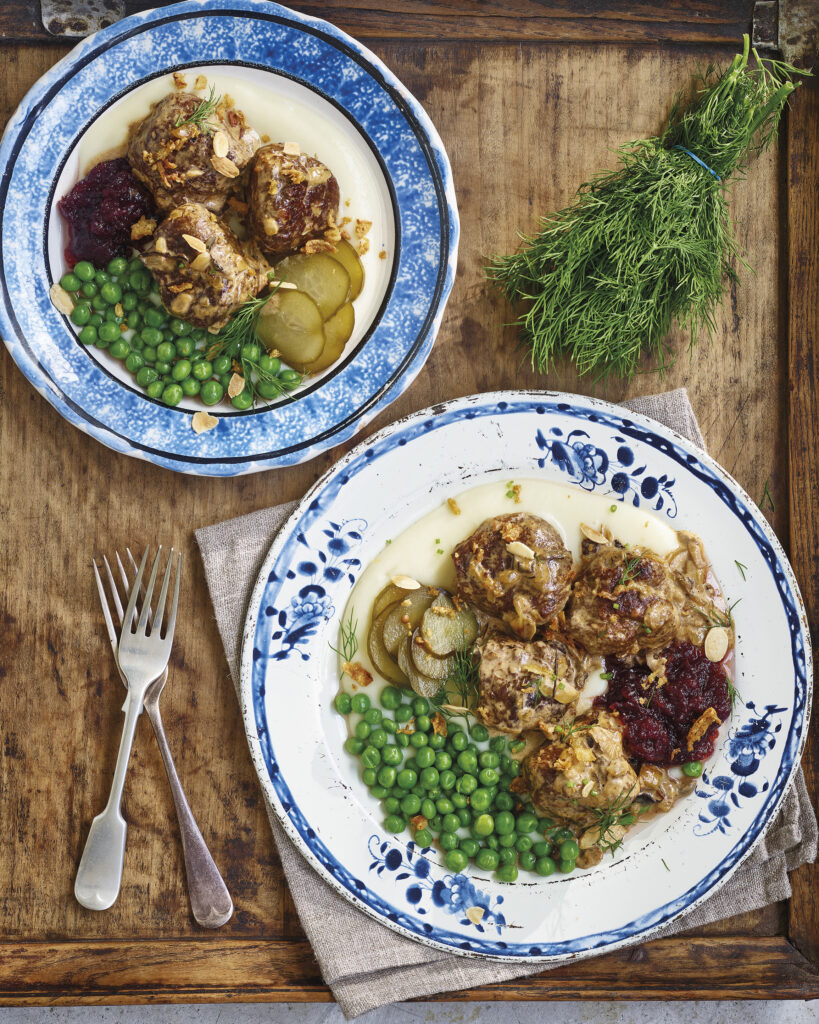 In my recent YouTube video I have a go at making Swedish meatballs better than Ikeas & of course PLANT BASED! These meatballs can be frozen after cooking for up to 3 months. They also last a week in the fridge. I really recommend making them a few days before serving.
Ingredients
Wet;
1 Onion, peeled & quartered
1 stick Celery, chopped roughly
5 cloves Garlic, peeled
2 tbs Dried Sage
1 tbs Smoked Paprika 
2 tsp Celery Salt 
2 tbs Dried Tarragon 
1 cup/30g Dried Mushrooms 
1 tsp Cracked Black Pepper
2 tsp Sea Salt
1 cup/240ml Red Wine
1 cup/240ml Vegetable Stock
3 tbs Miso Paste
3 tbs Soy Sauce 
Dry;
1 cup/200g firm tofu, patted dry & crumbled fine
3 & 1/4 cups/415g Vital Wheat Gluten
Broth Ingredients 
3 cup/750ml Vegetable Stock
1 Can Chopped Tomatoes 
1 Bay Leaf
1 tbs Sea Salt
2 tsp Black Pepper
Handful Fresh Sage Leaves
Handful Fresh Thyme
3 Sprig of Rosemary 
1 Onion, quartered 
Creamy Mash Potato 
1kg Maris Piper Potatoes, peeled & cubed
1 & 1/2 cup/375ml  Non Dairy Milk 
Half an Onion
2 Garlic Cloves, crushed 
2 Sprigs Thyme
2 Sprigs Rosemary
Pinch Sea Salt & White Pepper 
5 tbs Vegan Butter
Gravy 
1 Onion, chopped fine
3 cloves Garlic, chopped fine
1 cup/250ml Vegan Oat Cream 
1/2 cup/15g Dried Mushrooms, rehydrated in 1/2 cup/125ml Vegetable Stock
1/2 cup/125ml White Wine  
Pinch Sea Salt & Pepper 
Serve with 
Lingonberry Jam 
Fresh Herbs 
Peas
Blitz all the wet ingredients in a food processor until it forms a paste/puree like consistency.  
Add the wheat gluten to your mixer or a large mixing bowl (if hand kneading), along with the crumbled tofu. 
Transfer the wet mix to the mixer & let it mix for 10 minutes at a medium speed.
If kneading by hand, knead as firmly as you can for 12 minutes, not kneading enough will result in soft spongey meatballs. 
After kneading, ball the dough up into meatballs, I recommend balls that are 30g in weight. 
Add a touch of oil to a large ideally cast iron pan placed over a medium heat, sauté the meatballs for 4-5 minutes, turning often until caramelised.
Turn the heat down low then deglaze the pan with the stock & chopped tomatoes. Add the bay leaf, thyme, rosemary, garlic & seasoning. 
Cover over the pan with foil & leave the meatballs to gently simmer away for 90 minutes. 
Ideally for best results the meatballs should be made in advance & can be stored in your fridge for 1 week or in the freezer for 3 months.
To make the creamy mash potato, cube the peeled potatoes and add them to a saucepan of water, cook over a medium heat until soft enough a fork can crush them.  
Whilst the potatoes are cooking, heat the milk in a small saucepan with the onion, garlic & herbs. Bring the milk to simmer then turn off the heat. 
When the potatoes are cooked transfer them to a colander, draining away the water. Let the potatoes dry for 2-3 minutes, then pass them through a potato ricer & back into the saucepan. 
Once you've riced all the potato, strain in the infused milk & add the vegan butter. Stir the milk into the mash until it's full incorporated. 
To serve place a non stick pan over a medium heat & add a little oil. Finely chop the rehydrated mushrooms then add them to the pan along with the garlic & onion. Sauté until golden, then add the meatballs. Cook for 3 minutes then deglaze with the white wine & vegetable stock. Season with salt & pepper then let the meatballs bubble away in the sauce for 4-5 minutes before serving. 
Serve the meatballs up on a bed of creamy mash with jam & peas on the side. I like to sprinkle some fresh herbs over the top to garnish.  
Share this recipe