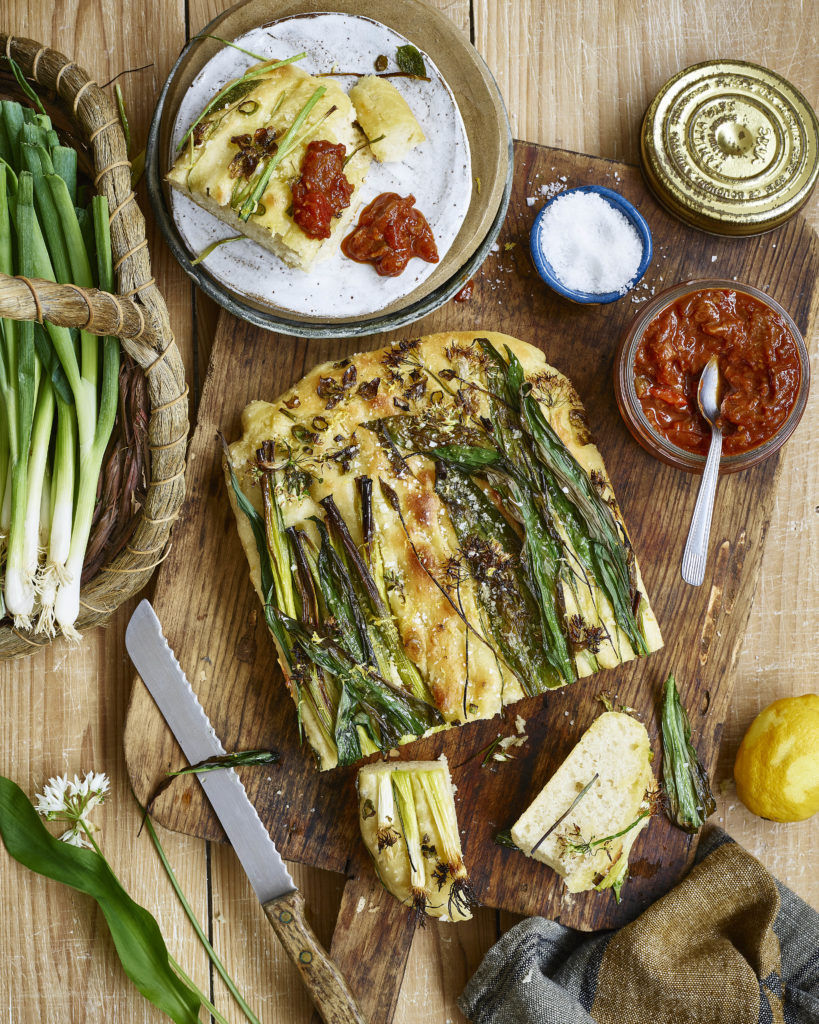 Load up the dough with the taste of spring!
Ingredients
3 & 1/2 cups/420g of Strong White Bread Flour
1 tbs Sea Salt
2 tsp of Dried Active Yeast
2 Cups of Luke Warm Water
4 tbs of Extra Virgin Olive Oil
Topping 
Handful Spring Onions 
Handful Wild Garlic Leaves & Flowers
Big Handful Fresh Herbs,
1/4 cup/60ml Olive Oil 
2 tbs Sea Salt 
Garnish 
Lemon Zest
Method
Add the flour, yeast and salt to a large mixing bowl/or bread mixer, then mix well.
Make a well in the middle then add the water & olive oil. Mix together well with a fork until it forms a wet dough. Lightly flour your hand & work/knead the dough in the bowl as best as you can. 
(If using a stand mixer, with a dough hook attached – mix then knead the dough for a 5 minutes on a low speed). 
Please do not be tempted to add more flour. The wetter the dough is the lighter and bubbly the focaccia will be. 
Transfer the dough to a baking tray/dish lined with greaseproof paper. I used a metal rectangular tray 8"x6".
Place a damp kitchen towel over the top of the bowl and leave somewhere warm for around 1 hour or until its doubled in size.
Meanwhile prepare your toppings.
When the dough has risen, press the toppings into the it. 
Once you're done decorating, cover the dough again & let it rise for a further 30 minutes. 
Pre heat your oven to 220 degrees C. 
After 30 minutes, drizzle over plenty of olive oil & sprinkle over lots of salt. 
Place into the oven to bake for 25-30 minutes or until golden on top.
Allow the focaccia too cool slightly before serving. I zest of a little lemon just before eating.
Share this recipe