Spanish Style Merchant Gourmet Croquettes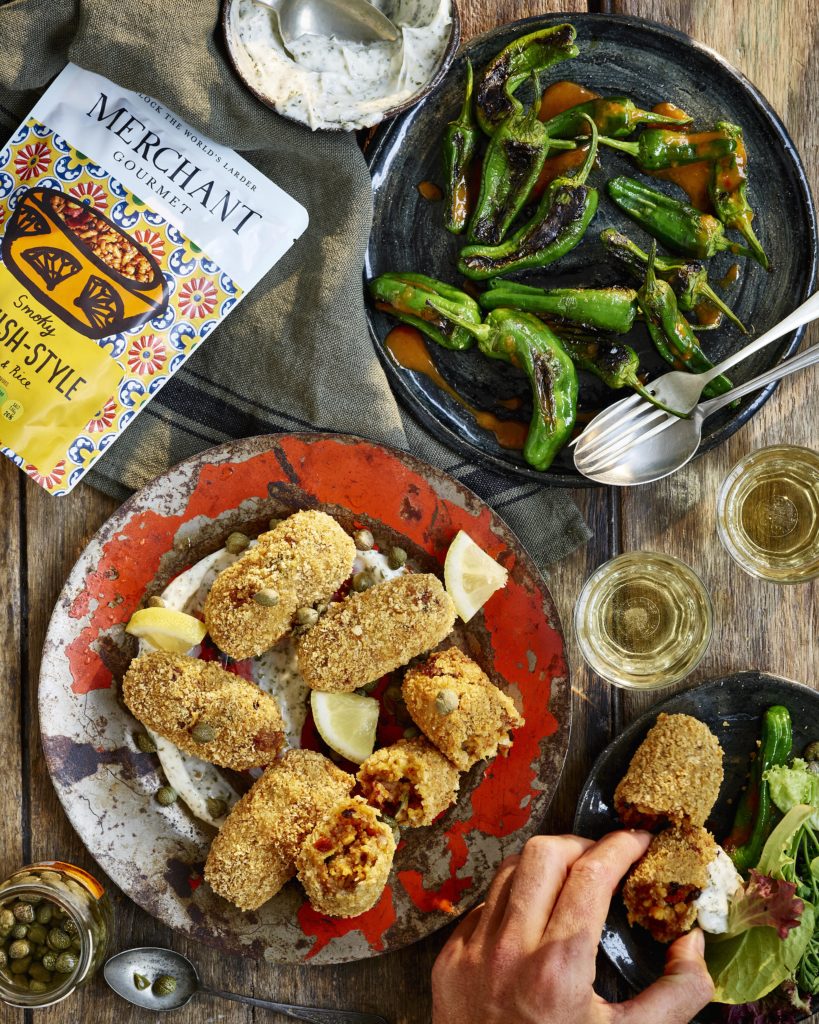 Ingredients
Filling
1 cup/250g Mash Potato
1 pouch Spanish Style Merchant Gourmet
6 Sun-dried Tomatoes, chopped small
1 cup/115g Grated Vegan Cheese
2 tbs Fresh Oregano Leaves
10 Basil Leaves, cut small
1 tbs Sweet Smoked Paprika
Pinch Sea Salt & Pepper
Zest & Juice of Half a Lemon
Coating
1 cup/50g Panko Breadcrumbs, or Gluten Free Breadcrumbs
2 cups/250g Plain Flour
2 cups/500ml Oil for Frying
Garlic Mayo
1/2 cup/120g Vegan Mayo
4 cloves Roasted Garlic Cloves
1 tbs Mixed Dried Herbs
Squeeze Lemon Juice
Serve with
Sautéed Padrón Peppers
Capers
Method
First up, add all the filling ingredients to a mixing bowl & combine well. Lightly flour your hands then form the mixture into around 10-12 croquette shapes, I use around 4 tbs of mix per croquette.
Once shaped prepare your coating. Mix together 1 cup/125g of the plain flour in a mixing bowl with enough water & a splash of oil to make it a loose pancake batter style consistency. In another bowl add the rest of the plain flour & in a third bowl add the breadcrumbs.
Individually dip the croquette first into the flour, then into the batter mix and finally into the breadcrumbs. Making sure they're coated well.
Once you've coated all the croquettes, set them aside until you're ready to cook. Meanwhile mix together the garlic mayo ingredients in a small mixing bowl.
To fry the croquettes, add the oil to a large sauce pan, making sure the oil only fills the pan half way high. Test if it's hot enough by dipping a wooden spoon in the oil & if bubbles form around the spoon your oil is ready.
Carefully fry 4-5 croquettes at a time for for 3-4 minutes or until golden & crisp. Once fried, remove them from the oil using a spider or slotted spoon then place them onto a plate lined with kitchen paper to soak up excess oil, season with a little salt.
Once you've fried all the croquettes, serve them with lots of garlic mayo, some capers & padrón peppers.
Share this recipe