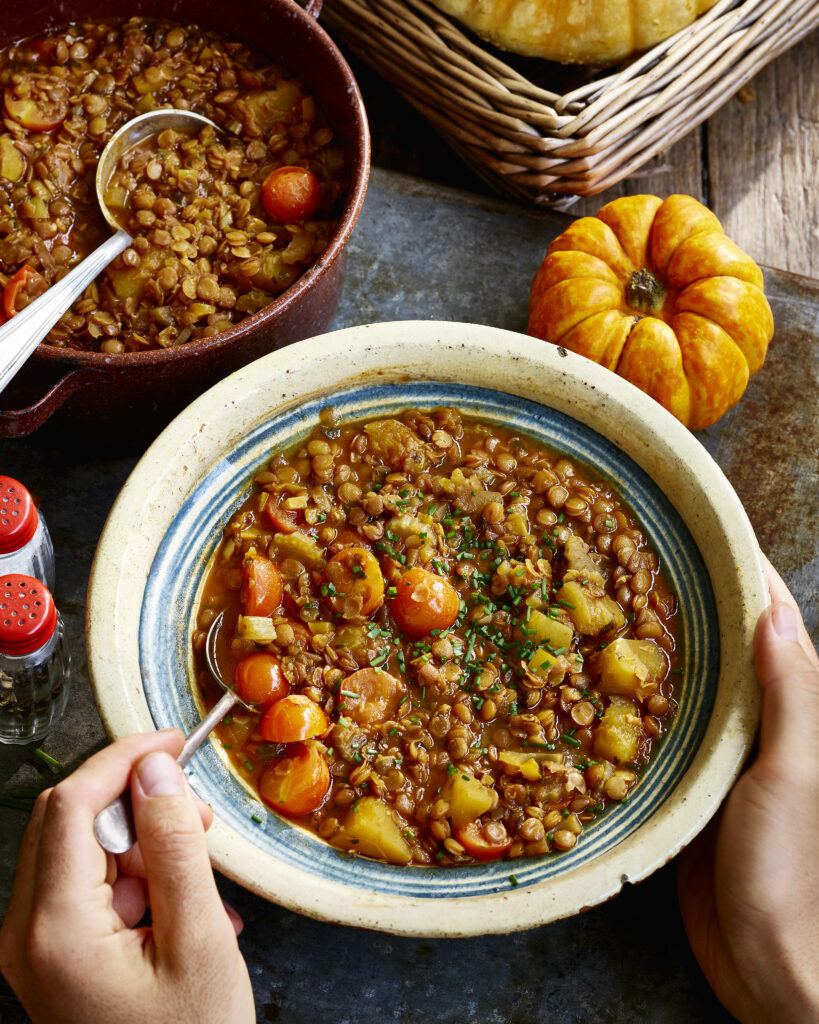 Ingredients
3 tbs Olive Oil
3 Spring Onions, chopped fine 
4 Cloves Garlic, peeled & minced 
2 Sticks Celery, chopped small
1 Yellow Pepper, deseeded & chopped small 
1 tbs Sweet Smoked Paprika 
2 tsp Ground Cumin
1/2 tsp Ground Cinnamon 
1/2 tsp Ground Fennel Seeds
2 cups/200g Squash/Pumpkin/Sweet Potato, cubed
1 tsp Sea Salt
2 tsp Dried Oregano  
1 tbs Harrisa Paste
2 tbs Tomato Puree
1 litre/4 cups Vegetable Stock
3 tbs Balsamic Vinegar
1 & 1/2 cups/270g Dry Green Lentils, rinsed 
1 cup/100g Cherry Tomatoes, halved
Handful Fresh Coriander, chopped fine
Serve with
Steamed Grains such as Rice, Bulgar Wheat, Quinoa, Pearl Barley 
Fresh Coriander 
Greens 
Sweat the shallots, garlic, red pepper, celery, squash in the olive oil over a medium heat in a large saucepan.
After 5 minutes or so once they're soften, add to the pan all the spices, dried herbs, harissa paste & tomato puree. Cook the mixture for a couple more minutes before deglazing with the vegetable stock & balsamic vinegar. Bring the liquid to a bowl then add the lentils & bay leaf. 
Turn the heat down low & pop a lid on the pan. Let the stew simmer away for 30 minutes, stirring every now and then. 
After 30 minutes or so of cooking the lentils should have softened, at this point stir in the cherry tomatoes & coriander. Cook for a few more minutes then serve up with grains of your choice, fresh coriander & greens.  
Share this recipe