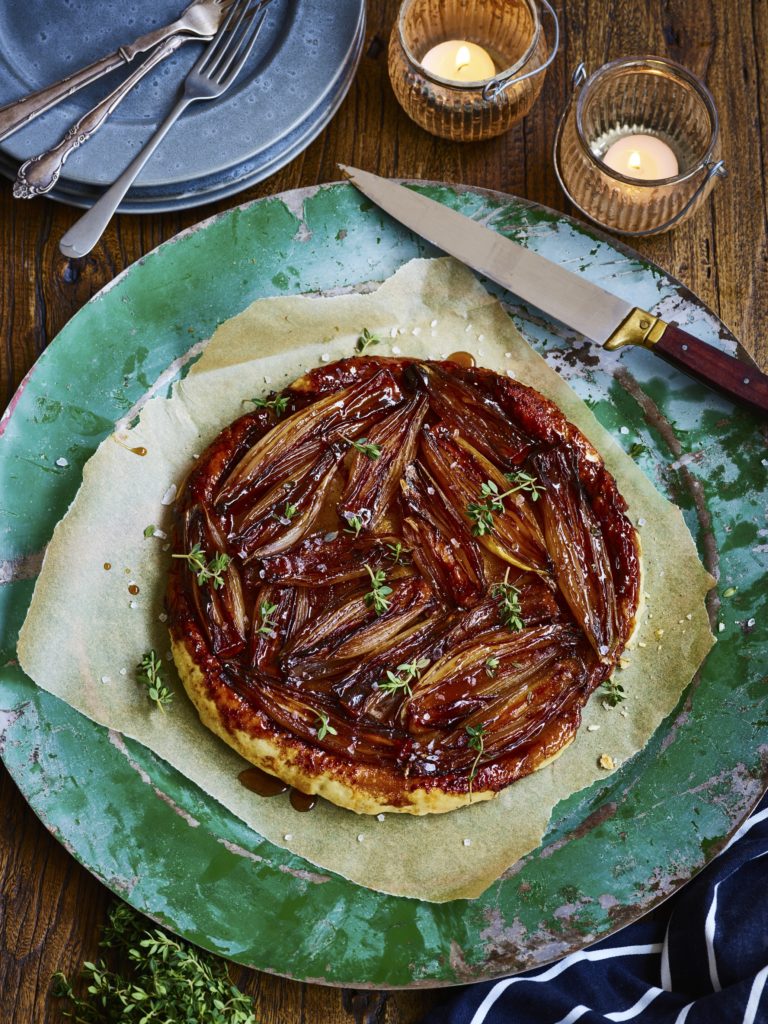 Ingredients
5-6 Banana Shallots, peeled and cut in half length ways – root trimmed
4 tbs Rapeseed Oil 
4 tbs Brown Sugar
3 tbs Balsamic Vinegar
2 tbs Vegan Friendly Brandy (optional)
2 Sprigs Fresh Thyme
1 Spring Rosemary
1/2 tsp Sea Salt
1/2 tsp Cracked Black Pepper
1 block shop bought vegan puff pastry
Sprinkle of Plain Flour for rolling
Pre heat your oven to 170 degrees C.
It's very important when making tart tatin's that you use a really good heavy bottomed non stick frying pan, it's also very important that it's oven proof.
Roll the pastry out to around 4mm thick, cut the party into a rough circle shape. I cut around the pan to make sure the pastry is big enough, I allow a little extra around 1" bigger than the pan.
Pre heat the pan over a medium heat.
Add 3 tbs of the butter & when the pan is hot add the shallots cut side up, make sure you have enough shallots to comfortable fill/cover the base of the pan. Cook the shallots for 3-4 minutes then sprinkle over the brown sugar. Flip over the shallots carefully using a pallet knife.
Try to arrange them neatly in the pan making sure that the base is covered and there aren't any large gaps.
Turn the heat down low then add the balsamic vinegar & brandy. Allow the alcohol to cook off leaving behind the sweet brandy flavour. Add the thyme & rosemary. Let the onions caramelise for 4-5 minutes. Sprinkle over the salt & pepper. Then turn off the heat & add the remaining butter.
Pick up you pastry then carefully lay it over the pan. Quickly and carefully tuck the pastry down right into the edges, use a wooden spoon so you don't have to touch the hot pan.
Place the pan into your oven for 25-30 minutes or until the pastry is lovely & golden.
Once cooked, remove the tart from the oven & allow it to cool for 2-3 minutes before placing your serving board/plate on top of the pan (make sure it's larger than the pan).
Put on a oven glove on to protect the arm holding the board (some caramel goodness may drip out and it's super hot). Then quickly, carefully and confidently turn it out.
Serve straight away, it tastes amazing with my truffle cream cheese (page —) & fresh thyme.
Share this recipe