Seared Watermelon 'Tuna' Steak Salad
Serves: 4-6
Cooks in: 60 minutes + marinading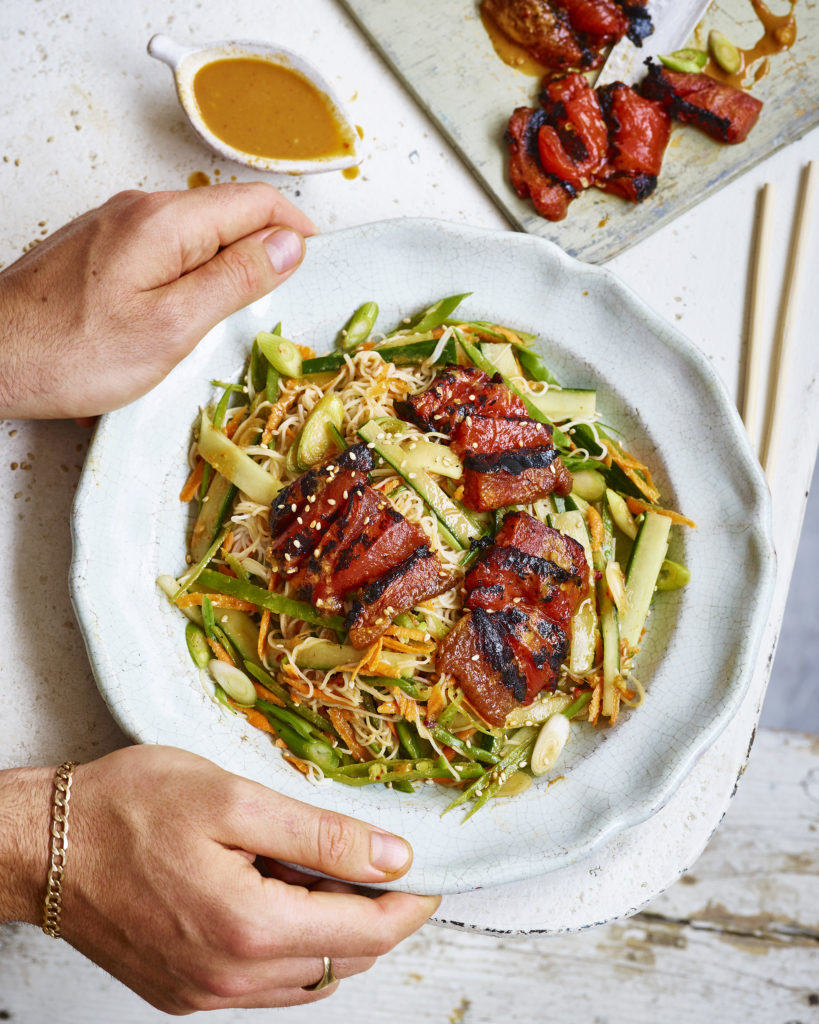 Ingredients
Watermelon
1 Medium sized Watermelon, peeled then cut into appox 6cm x 4cm x 2.5cm steaks
1 tbs Sea Salt
Marinade
2 tsp Tahini
6 tbs Soy Sauce or Tamari (to keep gluten free)
2 tbs Rice Vinegar
Juice 1/2 Lime
1 tsp Dried Chilli Flakes
1 cloves Garlic
1 tbs Sriracha
Thumb Sized Piece Ginger
2 Spring Onions
3 tbs Sesame Oil
Noodle Salad Ingredients
1/2 a Cucumber, cut into batons
5 Spring Onions, cut fine
Handful Sugar-snap Peas, sliced fine lengthways
300g/10.58oz Rice Noodles, cooked
Hand full Thai Basil Leaves
2 tbs Sesame Seeds
Pre heat your oven to 180 degrees C & line a deep baking tray with baking paper.
Add the watermelon steaks & lightly salt. Place the watermelon into the oven for 1 hour.
Meanwhile, blitz the marinade ingredients together.
Once the watermelon is 'tender' remove it from the oven.
Pour the marinade over the cooked watermelon & once cool place into the fridge to marinate for at least 2 hours.
To serve, toss the salad ingredients together with a few tbs of the watermelon marinade.
Place a non stick frying pan over a high heat. Add a little oil then sear the watermelon steaks for 2 minutes on each side.
Serve the watermelon sliced, on a bed of the noodle salad.
Share this recipe