Saffron & Leek MEGA CHIPS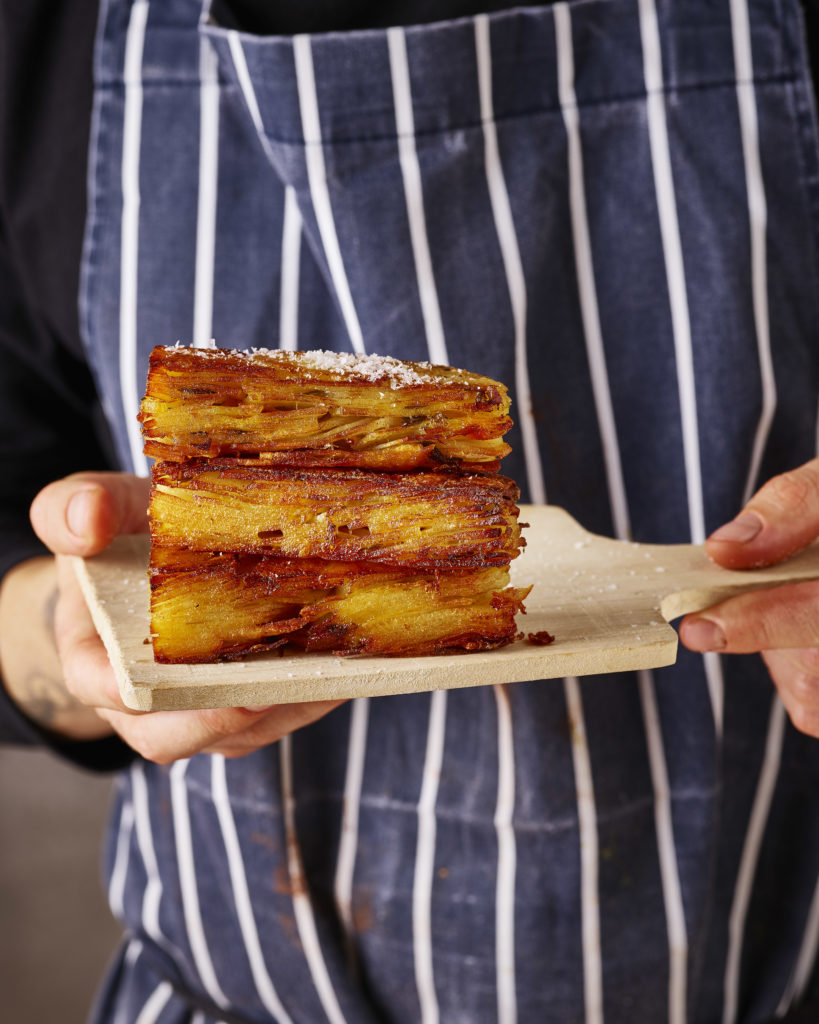 I took inspiration from the viral tiktok potato recipe by @poppycooks & made my version of the 15 hour potato, infused with saffron, leek & garlic. Mega chips!
Ingredients
1kg Maris Piper Potatoes, peeled sliced fine using a mandolin 
1 & 1/2 cup/375g Vegan Butter
1 Large Leek, sliced extra fine 
5 Cloves Garlic, minced
1 tsp Saffron Threads
3 tsp Sea Salt 
1 tsp Ground White Pepper 
2 cups/500ml Vegetable Oil, for shallow frying 
Pre heat your oven to 180 degrees C & line a baking tray with greaseproof paper.
Add the butter, garlic, leek, saffron, salt & pepper to a saucepan, placed over a low heat to infuse for 15 minutes.
Meanwhile peel & slice your potatoes. 
Place the sliced potatoes into a large mixing bowl then pour over the infused butter & mix well. Transfer the potato and butter mixture to the lined baking tray. 
Cover with a sheet of greaseproof paper then place a smiler sized baking tray on top and press firmly. Then place a few oven proof weights on top (I used a couple of ceramic baking dishes).
Place the tray into the oven for 75 minutes. 
Once baked leave the tray as is, with the weights on top. Then when it's cool place it into the fridge for at least 6 hours or overnight. 
The next day, turn the potato out of the tray & cut it into rectangles. 
Place a large non stick pan over a medium heat with the vegetable oil. When the oil is hot carefully fry a few pieces at a time, for around 3-4 minutes on each side.
When the potatoes are crisp and golden, sprinkle over a little salt then serve. 
Share this recipe