PUMPKIN SPICED CINNAMON ROLLS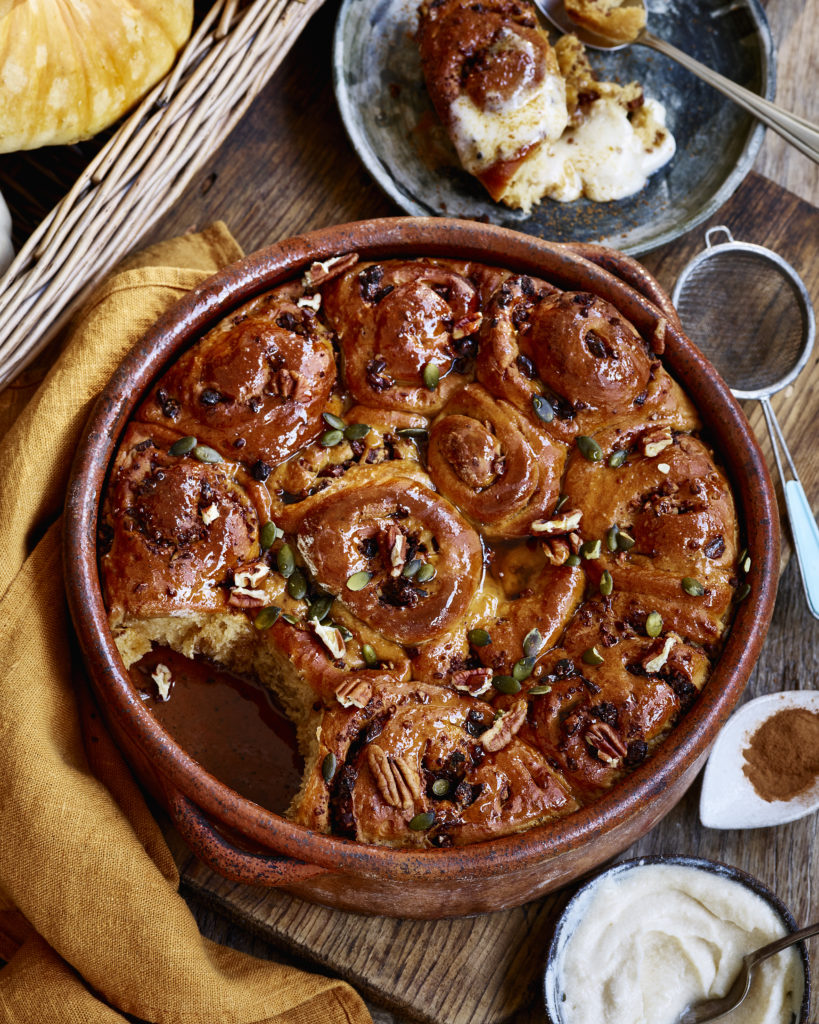 Ingredients
Dough, dry;
400g/3 & 1/3 cups Strong White Bread Flour 
1/2 cup Corn Flour/Corn Starch 
60g/1/2 cup Coconut Sugar 
2 tsp Fast Action Dried Yeast
Dough, wet; 
250ml/1 cup Non-Dairy Milk
3/4 cup/180g Pumpkin Puree
115g/1/2 cup Vegan Margarine, melted
Filling 
1 cup/110g Pecan Nuts, chopped small
4 tbs Ground Cinnamon
10 tbs Dates, chopped small
1/2 cup/105g Coconut Sugar
Icing 
1/2 cup/125ml Maple
1/4 cup/60g Pumpkin Puree 
80g/1/3 cup Vegan Cream Cheese `
56g/1/4 cup Vegan Butter  
2 tsp Vanilla Extract/Bean Paste 
First up prepare the dough.
Add all the dry ingredients to a bread mixer (with dough hook attached) or large mixing bowl, then mix well. 
Add the wet ingredients and mix until everything comes together to form a dough. 
Knead the dough for 6-7 minutes on medium speed in your mixer or by hand on a lightly floured work surface. 
Once the dough is kneaded, lightly grease a mixing bowl and place the dough in. Cover over the bowl with a clean kitchen towel & place it somewhere warm for around an hour to double in size. 
Alternatively you can place the dough in the fridge overnight to slowly rise, saving you time making the swirls the next day. 
Meanwhile, prepare the filling ingredients & lightly grease your chosen baking dish with a little vegan butter. 
Lightly flour your surface and turn the risen dough out of your bowl. Roll the dough into a long rectangular shape around 1cm thick.
Sprinkle the cinnamon, coconut sugar, chopped dates & pecans over the dough evenly. Then roll up the dough width-ways. 
Once rolled, cut the dough into 8 even sized pieces. 
Arrange the pieces cut side up in your lined tray. Cover the tray with a clean kitchen towel & place the tray somewhere warm for around 45 minutes or until nicely risen. 
Pre heat your oven to around 180 degrees C.
Once the rolls have risen, brush over a little maple syrup then place them into the oven for 35-40 minutes on the bottom shelf.
Place the rolls back into the oven for a further 10 minutes.
Meanwhile whisk together all the icing ingredients in a small mixing ball, ready to serve. 
After 35 minutes in the oven your rolls should be beautiful & golden.
Remove them from the oven then let them cool for a little while with a clean kitchen towel placed over them, this will keep them nice and soft.
Once cooled, serve them with lots of icing & topped with crushed pecans.
Share this recipe