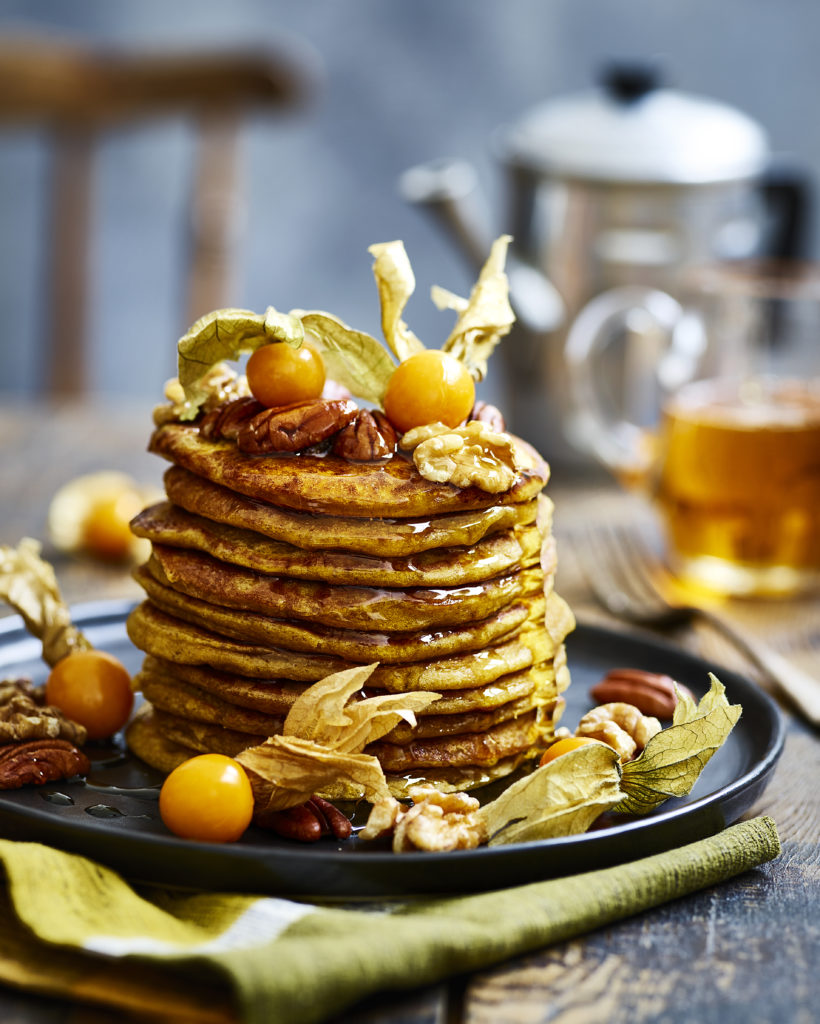 recipe extracted & updated from my book vegan 100.
Ingredients
1 cup/120g Buckwheat Flour 
1 cup/90g Porridge Oats
1 cup/120g Roasted Pumpkin Flesh
1 & 1/2 cup/325ml Non Dairy Milk 
4 tbs Maple Syrup
Pinch of Sea Salt
2 tsp Baking Powder
3 tbs Chia Seeds 
2 Scoops Nuzest Clean Lean Protein Powder 
1 tbs Coconut Oil for frying
To Serve
Nuts
Berries
Maple Syrup
Seeds
Method
I usually roast a pumpkin or squash the day before if I know I'm making these. The mix works better when the pumpkin is cold. 
First up, mash the pumpkin flesh in a mixing bowl then add all the rest of the ingredients & mix together to form a slightly thick batter. 
Pre heat a non stick pan over a very low heat and lightly grease with the coconut oil. 
When the pan is hot, ladle in the batter. I usually make 3 inch pancakes which is around 5 tbs worth of batter.
Cook for 3-4 minutes on each side.
Between cooking each pancake carefully grease the pan with coconut oil to stop them from sticking. I use kitchen paper to rub the oil into the pan.  
Once you've cooked all the pancakes, stack them up & serve with you choice of garnishes. 
Share this recipe