'Pulled Pork' Plant Based 1 Pot Chilli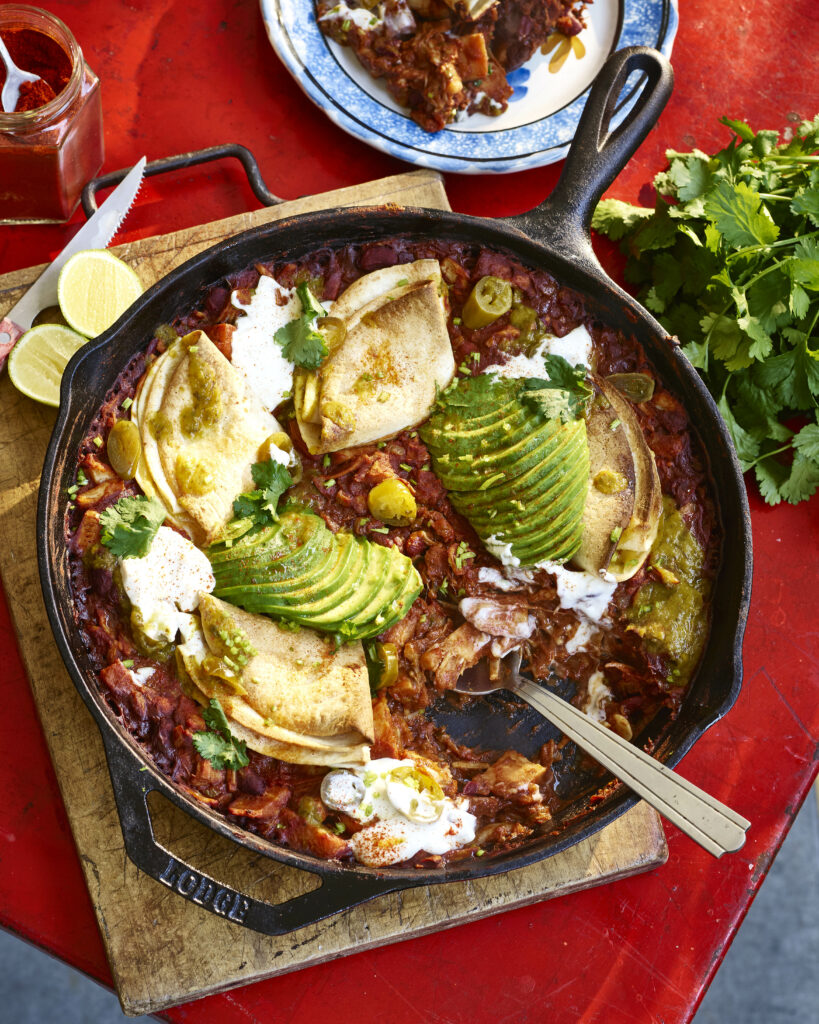 Ingredients
1 tbs Olive Oil, or water for oil free 
1 Onion, chopped small 
5 cloves Garlic, minced 
1 Jalapeño Chilli, deseeded & chopped small 
2 Cans Young Jackfruit in Brine, Water Squeezed Out (see video below)
2 tsp Ground Cumin
2 tsp Ground Coriander 
1 Cinnamon Stick or a tsp Ground Cinnamon 
1 tsp Cayenne Pepper 
1 tsp Sweet Smoked Paprika 
2 tsp Oregano 
1 Sweet Potato, peeled & cubed
1 Can Red Kidney Beans
Pinch Sea Salt & Pepper 
2 tbs Tomato Puree 
3 tbs Soy Sauce or Coconut Aminos
1/2 cup/125ml Freshly Brewed Coffee (optional)
1 Can Chopped Tomatoes 
2 cup/500ml Vegetable Stock 
2 tbs Dark Chocolate, chopped fine
Garnish 
5 Medium Tortillas 
1/2 cup/50g Grated Plant Based Cheese, optional 
Bunch Fresh Coriander (optional)
4 tbs Plant Based Cream Cheese (optional) 
1 Lime, cut into wedges
Avocado (optional)
2 Spring Onions, chopped fine
Pre-heat your oven to 180 degrees C. 
Place a large oven proof saucepan over a medium heat and add the oil.
When the pan is hot add the onion, garlic & chill. Sweat this mixture for 4-5 minutes. 
Meanwhile, drain the jackfruit from the can & place it into a clean kitchen towel, ring the liquid out of the jackfruit. Then add it to the pan.
Add all the dried herbs & spices and cook for a couple more minutes. I also season with salt & pepper. 
Add the sweet potato & kidney beans + stir through the tomato puree, soy sauce & coffee. Bring the liquid to a simmer. Add the rest of the ingredients accept the chocolate. 
Let the chilli bubble away for 15 minutes. Pre heat your oven to 180 degrees C. 
Meanwhile fold up your tortillas into quarters with a little grated cheese with-in them. 
Stir the chocolate through the chilli then place the stuffed tortillas on top. Place the chilli into the oven for 10 minutes or until the tortillas are crisp & golden. 
Serve up the chilli in the centre of your dinner table, top with avocado, lime, coriander, spring onions & cream cheese. 
Share this recipe