Portobello Mushroom Jerk Burger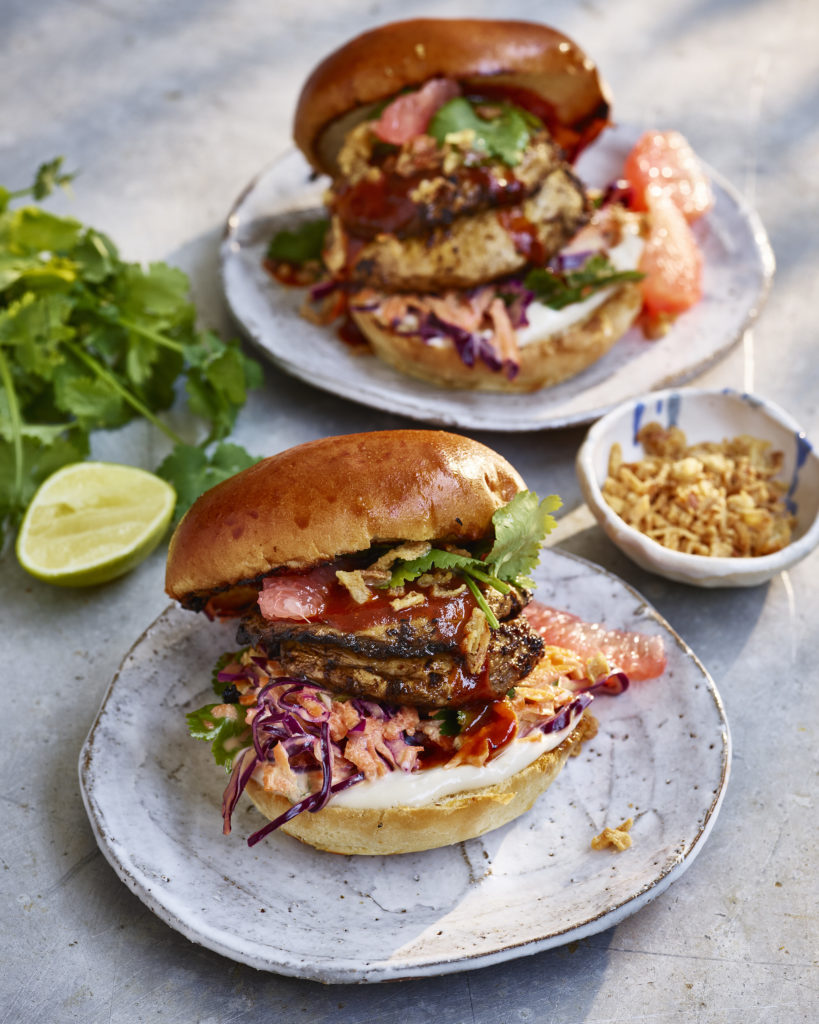 this is a quick & simple recipe for a spicy Jamaican inspired jerk burgers. Feel free to marinade the mushrooms for a deeper flavour. The grapefruit garnish cools the spice of the marinade beautifully adding a lovely zing.
Ingredients
8 Portobello Mushrooms
2-3 tbs Jerk Seasoning Paste
5 tbs Light Soy Sauce
Zest & Juice of 1Lime
2-3 tbs Olive Oil 
Slaw
1/2 Red Onion, sliced fine
1 cup/100g Red Cabbage, shredded fine 
2 Carrots, peeled & grated
2 tbs Fresh Coriander leaves 
3-4 tbs Vegan Mayonaise 
Garnishes 
1 Grapefruit, peeled & segmented 
2-3 tbs Walnuts, crushed, or Crispy Onions   
4 tbs BBQ Sauce 
4 Toasted Burger Buns 
Peel & lighting score the portobello mushroom then place them into a baking dish. In a little mixing bowl, mix together the jerk seasoning paste, lime & soy sauce.
Brush or spoon over the jerk paste mixture over the mushrooms, making sure they're well coated. 
Pre heat a griddle pan over a high heat and add the olive oil. When the pan is hot place the mushrooms into the pan top side down and grill them for 18 minutes. Pressing and flipping the mushrooms from time to time. 
Meanwhile, mix together the slaw ingredients in a small mixing bowl and prepare the rest of the garnishes. 
When the mushrooms are tender, lightly charred & meaty, serve them right away with the garnishes to create an epic burger. 
Share this recipe