PLANTAIN LASAGNE WITH RAINBOW SLAW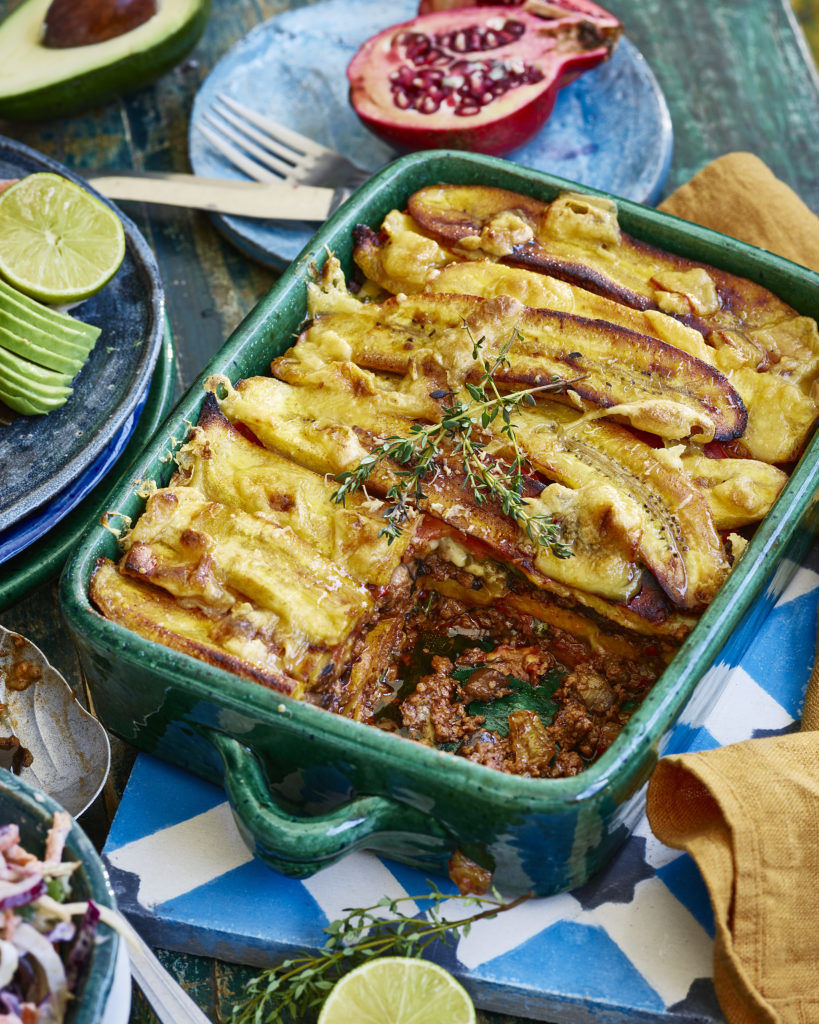 Ingredients
1 tbs Olive Oil
6 Spring Onions, finely chopped
5 Cloves Garlic, minced
Thumb-sized Piece of Ginger, minced
1 Scotch Bonnet Chilli or Red Chilli, de-seeded & chopped small
1 Yellow Pepper, deseeded & cubed
1 Eggplant, cubed small
1 tbs Fresh Thyme Leaves
2 tsp All Spice
2 tsp Ground Cumin
1 tsp Ground Cinnamon
1 tsp Sea Salt
1 tsp Cracked Black Pepper
300g/3 cups Vegan Mince or cooked Lentils 
2 tbs Tomato Puree
3 tbs Soy Sauce
2 tbs Maple Syrup
3 Large Tomatoes, sliced fine
3 Handfuls Spinach
3 tbs Vegetable Oil
6 Ripe (yellow) Plantains, peeled and sliced length ways about 1/2 cm thick `
1 & 1/2 cups/135g Vegan Cheese, Grated
Rainbow Slaw
Handful Red Cabbage, shredded
1 Carrot, peeled & grated
1 Red Onion, finely sliced
Handful of Coriander, chopped fine
1 tbs White Wine Vinegar
2 tbs Vegan Mayo
Pinch Sea Salt & Pepper
Garnish with 
Coriander
Avocado
Pomegranate Seeds, optional  
Pre heat a large frying pan over a medium heat and add the oil. Next to the pan add the onions, garlic, ginger, chilli, pepper & eggplant. Sauté the mixture for 5-6 minutes, stirring often. Try and get everything caramelised and golden. 
Once the vegetables have caramelised turn the heat down low and add the thyme, all spice, cumin, cinnamon, salt & pepper. Cook the spices out for 2-3 minutes. 
Next add the mince to the pan, and using a wooden spoon or spatula chop the mince into small pieces. Mix the mince really well into all the lovely spiced vegetables, then allow the mince to colour and cook for 3-4 minutes before deglazing the pan with tomato puree, soy sauce & maple syrup. 
After adding  & mixing in the liquids cook the mixture for 4 more minutes whilst stirring often. Once cooked set the mince aside whilst you prepare the plantain layers. 
Pre heat a large non stick pan over a medium heat and add the vegetable oil.
When the pan is hot, add a few plantain slices and cook them for 2-3 minutes on each side or until golden. Once golden remove the slices from the pan and place them on to a plate lined with kitchen paper, to soak up excess oil. Repeat until you've fried all the plantain slices. 
Pre heat your oven to 180 degrees C.
Now it's time to build your lasagne, first layer I add a generous amount of the mince mixture into my oven proof baking dish. Next a layer of grated cheese, then slices of tomato & layer of spinach and then a layer of plantain slices, repeat until you've filled your baking dish. I press everything down using my spatular to make sure it's really compact & I've gotten in as much as I can. 
Make sure you finish with a layer of plantain on top & sprinkle over some grated cheese. 
Bake the lasagne in your pre heated oven for 25 minutes.
Meanwhile mix together the slaw ingredients in a little bowl
Once baked, let the lasagne cool for 5 minutes before serving with the slaw & avocado. 
Share this recipe