Persian Style Beetroot Burgers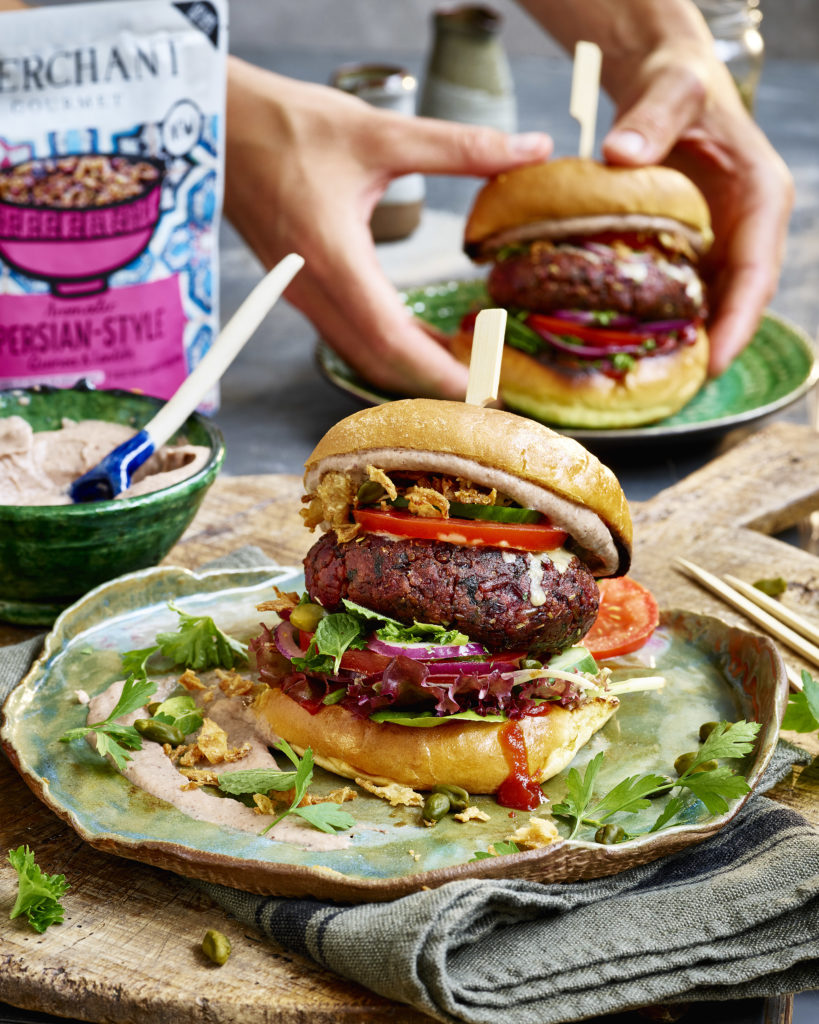 Persian Style Beet Burger with charred aubergine & sumac purée. Using merchant gourmet amazing Aromatic Persian-Style Quinoa & Lentils. Incredible summery, easy to make burgers for you to try when the weather is good.
Ingredients
Burgers
1 Pouch Merchant Gourmet Aromatic Persian-Style Quinoa & Lentils
Handful of Fresh Coriander
Handful of Fresh Parsley
1 cup/170g Cooked Beetroot
3 tbs Balsamic
1 Onion, chopped fine
3 Cloves Garlic, minced
Zest & Juice of Half a Lemon
6 Tbs Buckwheat Flour
2 tsp Sea Salt
2 tsp Black Pepper
Aubergine Puree
2 Aubergines, cut into 4
5 tbs Olive Oil
1 tbs Mixed Dried Herbs
Zest Juice 1 Lemon
1/2 tsp Sumac (optional)
Salad
1 Beef Tomato, Sliced Fine
3 inch Cucumber, sliced
Handful Fresh Parsley Chopped
1/2 Red Onion, sliced
Handful Fresh Mint, chopped
Serve with
4 Toasted Burger Buns
4 tbs Crispy Onions
4 tbs Tangy Tomato Sauce
4 tbs Tahini
Method
Pre heat your oven to 180 degrees C & line a baking tray with grease proof paper.
Place a non stick medium frying pan over a medium heat and add a little oil, when the pan is hot – add the onion & garlic. Sauté the mix for 5 minutes, or until the onion has softened & caramelised. Once cooked transfer the mixture to a large mixing bowl.
To your food processor add the herbs, beetroot & merchant gourmet Persian style grains. Pulse the blender a couple of times just to lightly break up the ingredients, don't over blend as it will turn into a puree!
Add the contents of the food processor to the mixing bowl then add the balsamic, salt + pepper & buckwheat flour. Mix lightly then form the mixture into 4 burger patties using your hands. You may need to lightly flour your hands to stop the mixture from sticking. Place the patties onto your lined baking tray.
Next make the puree, place a griddle pan or large non stick pan over a high heat.
Add a little oil then the aubergine flesh side down, grill the aubergines until lightly charred for 2-3 minutes on all sides – season with salt whilst they're cooking. Once grilled transfer them to a baking tray and place them into the oven to bake for 20 minutes.
After 20 minutes, remove the aubergines from the oven and let them cool slightly before carefully removing the skins. Place the flesh into your blender along with the rest of the puree ingredients, then blitz until smooth. Check it is seasoned ok, then set the puree aside until you're ready to serve. This dip can be stored in a sealed container in the fridge for 2-3 days.
When you're ready to serve your burgers, place a non stick pan over a medium heat & add a little oil. When the pan is hot cook the burgers for 3-4 minutes on each side. Then transfer them back to the baking tray & place them into the oven for 12 minutes to cook through to the centre.
Meanwhile toast your burger buns and get your salad ingredients together.
When the burgers are cooked, build your burgers making sure to get lots of salad and aubergine puree in.
Share this recipe