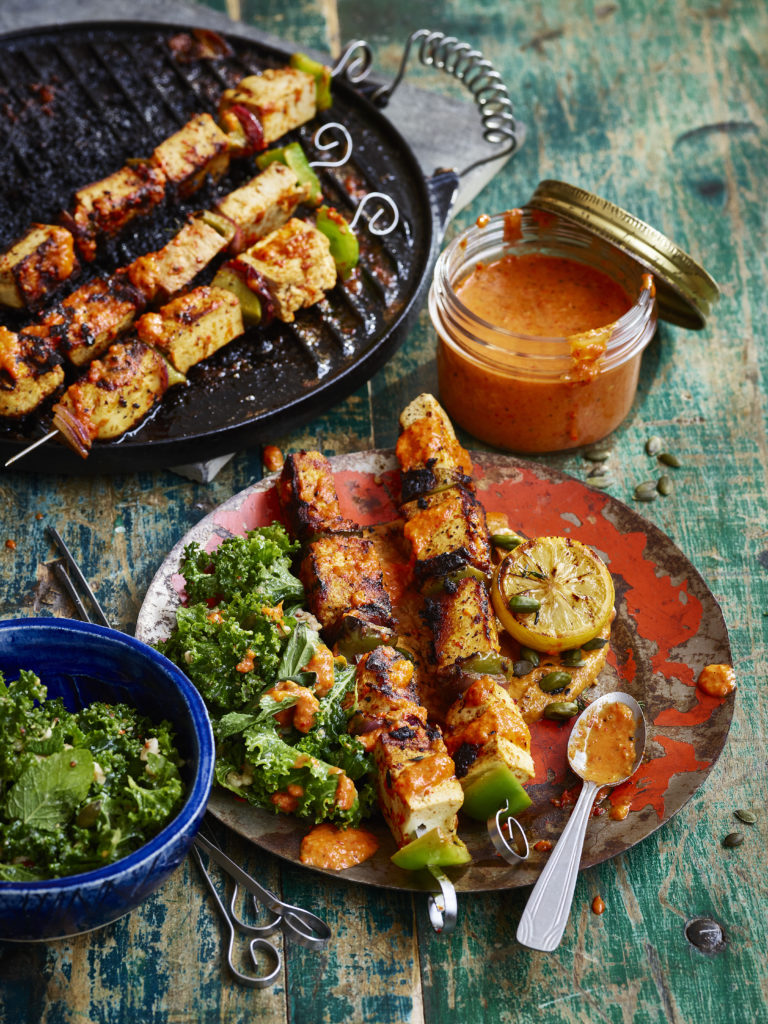 Ingredients
Peri Peri Sauce
3 Red Peppers
5 Red Finger Chilli's (or less for a more mild sauce), chopped roughly
1 Red Onion, chopped roughly
3 Cloves of Garlic, chopped roughly
1 tsp Dried Sage
1 tsp Paprika
1 tsp Oregano
1 tsp Cracked Black Pepper
1 tsp Sea Salt
Zest of 1 Lemon
Juice of 2 Lemons
1/4 cup/120ml White Wine Vinegar
1/2 cup/125ml Vegetable Oil
Skewers
1 Block Extra Firm Tofu, cubed
1 Green Pepper, cubed
1 Red Onion, cubed
Serve with
Place a large non stick pan over a high heat with a little oil, when the pan is hot add the red peppers, whole. Char the peppers until blackened on all sides. Once they are charred transfer the peppers to a bowl and cover over with cling film. This will sweat the peppers and make it easier for your to remove the skins.
In the same pan placed over a medium heat add a little oil followed by the chillis, red onion & garlic. Sauté the mixture for 3-4 minutes or until they're lightly coloured & have softened.
Remove the peppers from the bowl, then using the back of your knife scrape away the skins, seeds and stalks as best as you can.
Place the flesh into your food processor or blender along with the chillis, onion & garlic. Next into the food processor add the remaining ingredients. Blitz the mixture until smooth.
And thats the peri peri sauce done.
Now to make the kebabs, simply add some pieces of tofu, pepper & onion to your wooden or metal skewers (or what ever vegetables you enjoy) & place them onto a baking tray. Spoon over a generous amount of the peri peri sauce &  then let the kebabs marinade for at least 2 hours.
When you're ready to serve fire up your griddle pan or even your bbq! And grill the kebabs for 8-10 minutes. I add additional sauce as they're cooking. The kebabs can also be baked in your oven set at 200 degrees C for 25 minutes.
I recommend serving the kebabs with my massaged kale salad.
Any left over sauce can be stored in a sealed container in the fridge for up to 3 weeks.
Share this recipe