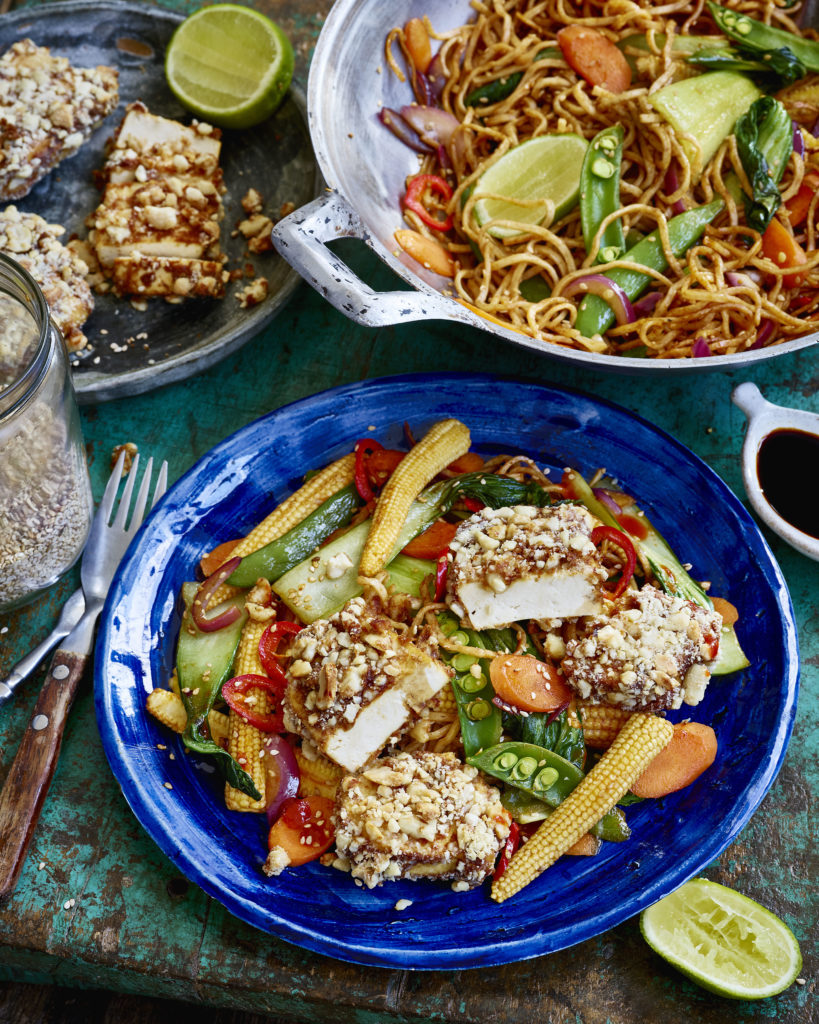 Ingredients
Tofu
1 block of Extra Firm Tofu
1 tbs Smooth Peanut Butter
2 tbs Soy Sauce
Juice 1 Lime
Pinch Dried Chilli Flakes
1/2 tsp Dried Garlic
3/4 cup/75g Shelled Roasted Peanuts, blitzed to a crumb
Noodles
340g Egg Free Noodles, cooked to the packet instructions
1 Carrot, sliced fine
1 Red Onion, sliced fine
1 Red Chilli, sliced fine
1 Punnet Baby Corn
Handful Mangetout
1 Head Pak Choi
3 tbs Soy Sauce
3 tbs Sriracha
First up drain & pat dry the tofu using kitchen paper. Cut the block into 1inch by 1/2 inch rectangles.
Mix together the peanut butter, soy, lime, chilli & garlic.
Dip the tofu fillets into the peanut butter mixture then into the peanut crumb & make sure they are all nicely coated.
Once you've coated all of the tofu, place the tofu on to a baking tray lined with greaseproof paper.
Pre heat your oven to 180 degrees C.
Next lightly colour the coated tofu in a dry non stick frying pan placed over a medium heat for around 2 minutes on each side.
Once golden place the tofu back onto the baking tray and then into your preheated oven for 15 minutes.
For the noodles, pre heat a wok over a medium heat. When the pan is hot & a little oil or water followed by the vegetables. Wok fry for 3-4 minutes. Add the cooked noodles followed by the soy & sriracha. Make sure everything is coated in the sauce before serving.
To serve, slice the tofu fillets on angle and serve them on a top of a bed of noodles.
Share this recipe