My Dads Tofu Tikka Sizzler
Serves: 4
Cooks in: 1 hour plus marinading
Gluten free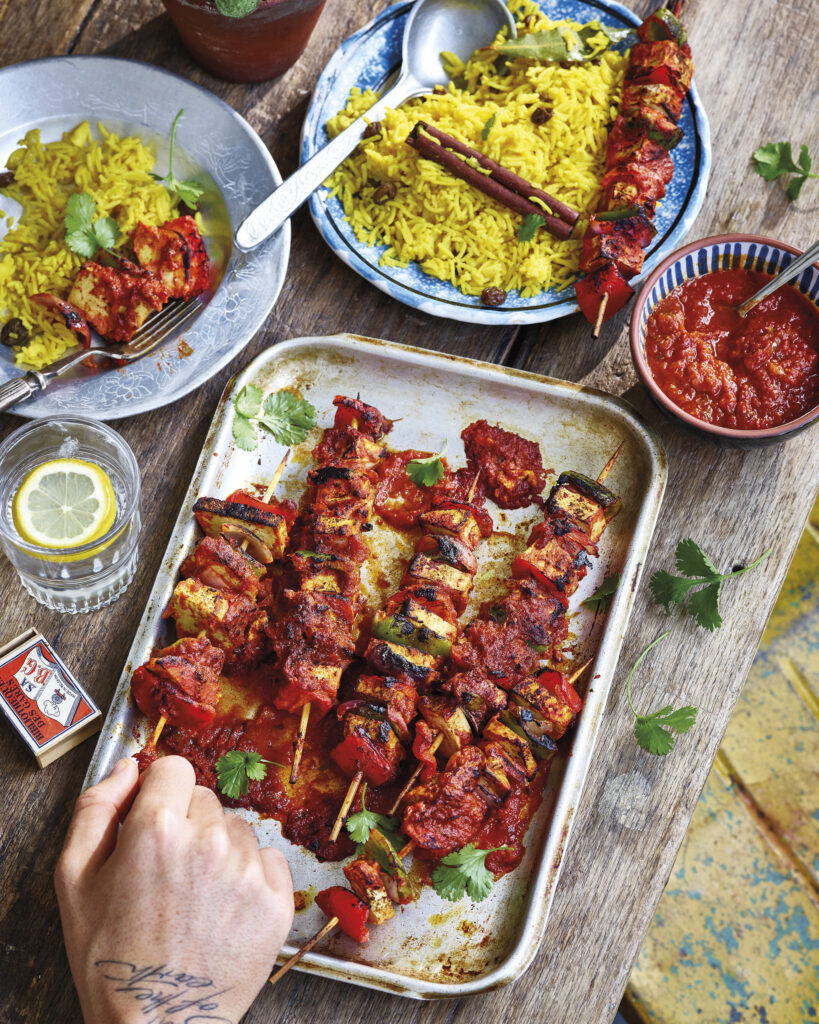 Ingredients
Skewers 
Marinade 
3 tbs Plant Based Yoghurt  
3 Cloves Garlic, minced 
1 thumb-sized Piece Ginger, minced 
2 tsp Garam Masala 
1 tsp Ground Turmeric
1 tsp Ground Cumin
1 tsp Mild Chilli Powder
1/2 tsp Sea Salt
Handful Fresh Mint, chopped fine
Handful Fresh Coriander, chopped fine
1 Block Extra Firm Tofu, cubed 
1 Red Onion, cubed 
1 Red Pepper, cubed
Masala Sauce 
2 tbs Vegetable Oil
2 tbs Plant Based Butter
1 Large Onion, roughly chopped 
3 Garlic Cloves, roughly chopped 
1 thumb-sized Piece Ginger, minced 
1 Green chilli, chopped fine
2 tsp Garam Masala 
1 tsp Ground Cumin
1 tsp Ground Turmeric
1 tsp Ground Coriander  
1/2 tsp Mild Chilli Powder 
1 Cardamon Pod, crushed
1 Can Chopped Tomatoes 
2 cups/500ml Vegetable Stock
1 tbs Caster Sugar
2 tbs Tomate Purée 
Handful Fresh Mint, chopped fine
Handful Fresh Coriander, chopped fine
Juice of a Lemon 
Garnish 
Lemon Zest 
Fresh Coriander 
Drizzle Plant Based Cream 
Method
Add all the marinade ingredients to a large mixing bowl & stir well. Mix in the tofu, red onion & pepper. Leave too marinade for at least 2 hours or overnight if you can.
Once marinaded, skewer the marinaded tofu, pepper & onion. 
To make the sauce in a sauce pan gently fry the onions, garlic, ginger & chilli until softened, transfer them to a blender & blitz until smooth, then add the mixture back to the saucepan with the dried spices. Cook for a few minutes before deglazing the pan with the chopped tomatoes, vegetable stock, sugar, salt & tomato puree. Stir through the mint, coriander & lemon. Then let the sauce bubble away over a low heat with a lid on for 30 minutes.
To serve, place a large non stick or cast iron pan over a high heat and add a little oil. Sear the skewers for 8-10 minutes, letting them get golden & crisp on all sides before pouring over the sauce & letting it sizzle for a few minutes. 
Serve up right away with a little lemon zest, plant based cream & fresh coriander over the top. 
Share this recipe