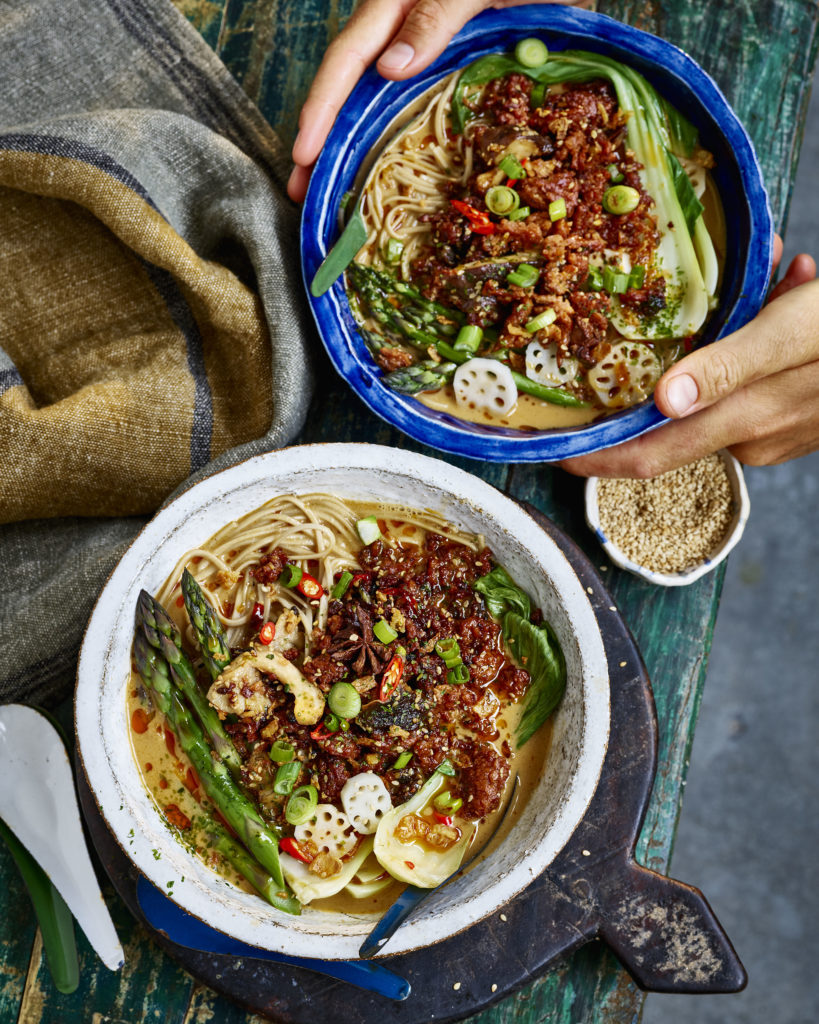 Ingredients
Broth
1 Onion, quartered
2 Sticks Celery, chopped small
1/2 Bulb Garlic, crushed 
1 Leek, chopped small
2 Carrots, chopped small
250g Shiitake Mushrooms 
2 Tomatoes 
2 Sticks Lemon Grass, bashed  
1 Chilli, halved 
Thumb-sized Piece Ginger 
1/4 cup/60ml Chinese Rice Wine 
3 tbs Soy Sauce 
3 tbs Tomato Puree 
6 cups/1.5L Boiling Water
1/2 cup/20g Dried Mushrooms
2 Sheets Nori
1 Star Anise
1 cup/250ml Coconut Milk 
1 tbs Miso Paste
Mushroom Mince 
300g Mushrooms, of your choice, I used oyster 
6 Spring Onions 
1/4 cup/60ml Ponzu (Lemon infused Soy Sauce)
1/4 cup/60ml Maple Syrup 
3 Cloves Garlic, sliced fine
1 tbs Gochugaru (Chilli Flakes)
My Dad's Chilli Oil 
5 cloves Garlic 
1/4 White Onion 
2 cups/500ml Flavourless Oil, like sunflower
Thumb-sized Piece Ginger, minced
2 cups/150g Dried Chilli Flakes 
1 heaped Tbs Dried Garlic
1 heaped Tbs Dried Onion 
1 Tbs Fermented Black Soy Beans, chopped small (optional ingredient)
1 tbs All Purpose Seasoning 
1 tbs Brown Sugar
2 tsp Sea Salt 
2 Cardamon Seeds 
Serve with 
Seared Pak Choi 
Seared Asparagus 
Spring Onion, chopped
Sesame Seeds 
Noodles, tossed in chilli oil 
Method
Broth 
For the broth, place a large saucepan over a medium heat & add a little oil followed by the whole tomatoes. Let the tomatoes cook away for 5 minutes, letting them go golden. Next add the onion, celery, leek, carrots & mushrooms. Sauté for 15 minutes or until they're all golden brown & everything has melted down. Add the lemon grass, chilli, garlic, ginger & a pinch of sea salt. Keep sautéing for a few minutes before deglazing the pan with the rice wine, tomato puree & soy sauce. 
Cook the mix for another two minutes before adding the boiling water, star anise, dried mushrooms & nori.
Let the broth bubble away for at least 90 minutes over a low heat, stirring every now and then. 
Strain the broth through a fine sieve into another saucepan & just before serving stir through the coconut milk & miso paste. 
Mushroom Mince
For the mushroom mince, sauté the mushrooms in a large non stick pan until they are golden & slightly crisp. Meanwhile grill or roast your spring onions (scallions) until lightly charred. 
When the mushrooms & spring onions are cooked, place them onto your chopping board & chop finely. Place them back into the pan, this time over a high heat. After a couple minutes of cooking add the ponzu (lemon soy sauce), maple syrup, garlic & chilli flakes. Stir fry for a further 5 minutes before serving. 
My Dad's Chilli Oil 
Heat the oil gently in a small saucepan over a low heat with the garlic & onion. Leave to infuse for 5 minutes. 
Meanwhile add all the rest of the ingredients to a mix bowl and stir well. When the oil has infused, carefully pour it into the bowl & stir really well. 
Transfer the chilli oil to a jar once cooled & store in your fridge for up to a month. 
To finish the ramen
First toss your noodles in a little chilli oil and sesame oil then bowl up. Pour over lots of broth, then top each bowl with lots of mushroom mince, grilled vegetables, chopped spring onion, sesame seeds & more chilli oil. 
Share this recipe