Mushroom 'Prawn' Cocktail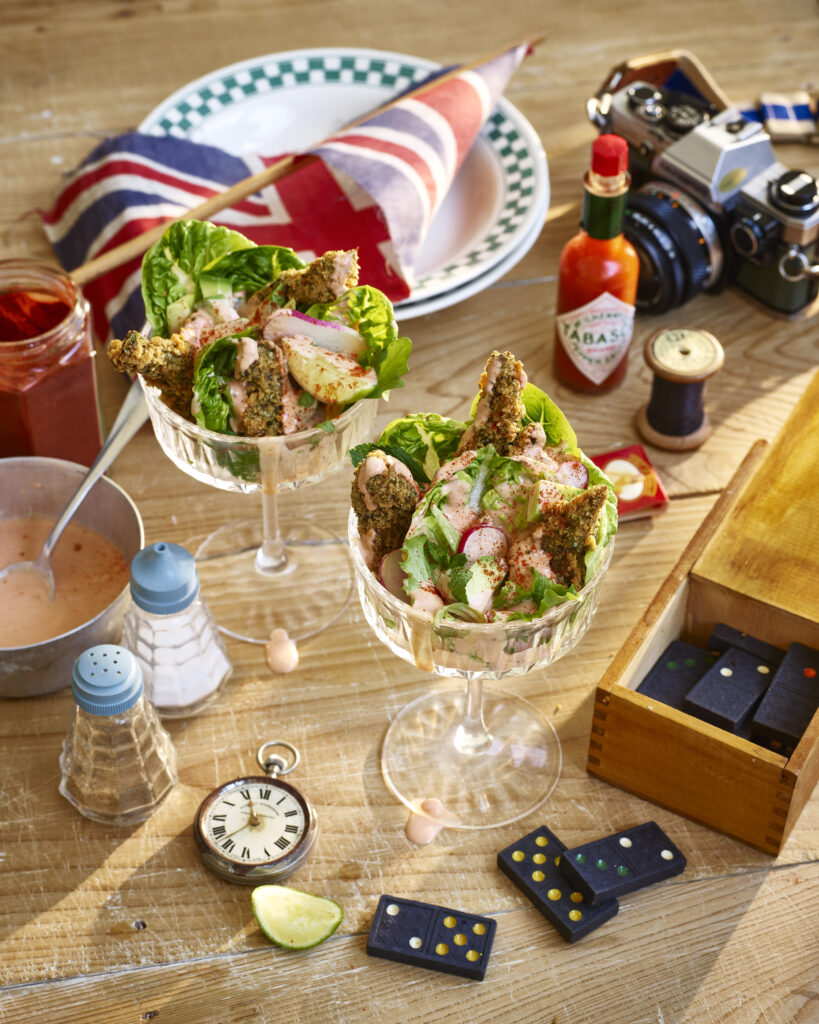 Ingredients
300g/10oz Oyster Mushrooms 
1 cup Plain Flour
2 tbs Olive Oil
Water, enough to make the flour a pancake batter style consistency
2 cups/200g Panko Breadcrumbs
3 tbs Nori Powder
2 tbs Dried Tarragon
2 cups/500ml litre Vegetable Oil, for Frying
Marie Rose Sauce 
1 cup Mayonaise 
1/2 cup Ketchup 
2 tsp Soy Sauce 
Pinch Sea Salt & Pepper 
2 tbs Tobasco 
1 tbs Brandy 
Pinch Cayenne 
Squeeze Lemon Juice 
Garnishes
Crisp Lettuce
Fresh Herbs, like mint & dill
Radish
Lime
Avocado 
First up coat the mushrooms by mixing together the flour, olive oil & water to make a pancake batter style consistency. In a separate bowl mix together the breadcrumbs, tarragon & nori. 
Dip the mushrooms into the batter first, then into the breadcrumbs making sure they are coated well.
Shallow fry the mushrooms in a large frying pan for 5-6 minutes or until crisp & golden. Alternatively bake the mushrooms in your oven set at 180 degrees C, for 35 minutes. 
To make the marie rose sauce, simple stir everything together until well incorporated. Check for seasoning, then build your cocktail.
Use lovely crisp lettuce, fresh radish & herbs. Even avocado & lime works well with the crispy mushrooms and sauce. Serve your mushroom 'prawn' cocktails right away.
Share this recipe