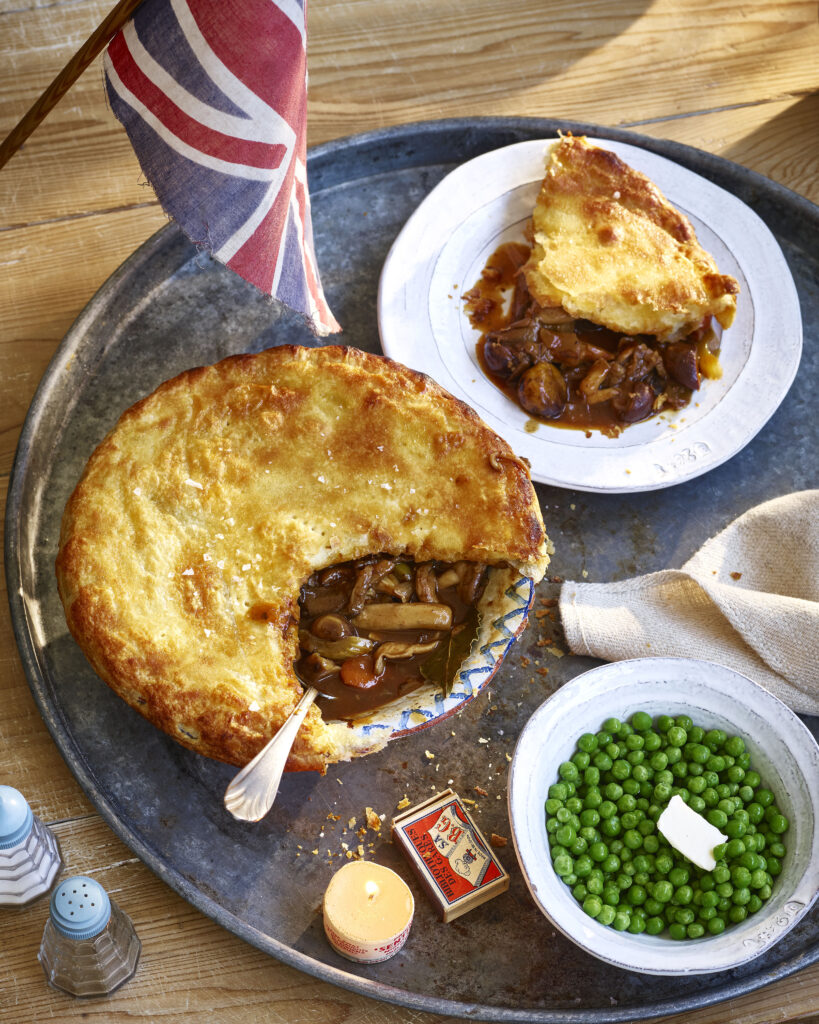 Ingredients
Pastry
2 cups/250g Plain Flour
Pinch of Salt
2 cups/250g Ice Cold Plant Based Butter, cubed 
5 tbs Water
Filling 
3 tbs Olive Oil 
3 Punnets Mixed Mushrooms 
2 Onions, chopped fine 
2 Carrots, chopped fine 
2 Sticks Celery, chopped fine 
1 Bay Leaf 
3 Sprigs Thyme 
3 Sprigs Rosemary 
3 Tbs Tomato Puree 
3 Tbs Soy Sauce 
2 tbs Marmite 
1/2 cup/125ml Brewed Coffee
2 cups/500ml Vegetable Stock 
1 cup/250ml Ale
Pinch Sea Salt & pepper 
1 Pack Vac Pac Chestnuts 
Glaze
3 tbs Maple Syrup 
3 tbs Non Dairy Milk 
2 tbs Olive Oil 
I recommend watching the above tutorial video to see how I make the pastry. 
Sift the flour and salt into a large bowl. Add the butter in small cubes, and stir until each piece of butter is coated in the flour.
Make a well in the mix, and pour in enough water to form the mix into a ball of dough. 
Lightly flour your work surface & turn the dough out onto it.  
Roll the dough into a large rectangle around 20cm x 50cm will do. Use a pallet knife & the rolling pin to keep the edges neat and square. 
Fold the top end into the centre, then the other end over the top. Then wrap in plastic wrap & place into the fridge for 15 minutes. Repeat this process of rolling, folding & chilling 4-5 times (or until you can no longer see and chunks of butter within the dough). Wrap and refrigerate your pastry until you're ready to use. 
For the filling, place a large saucepan over a medium heat & add a little oil, followed by the mushrooms. Sauté the mushrooms for around 6-8 minutes or until they are golden. Season with salt & pepper whilst they're cooking. 
Meanwhile prepare your onion, garlic, garlic & celery by chopping them fine, then add them to the pan with the thyme & rosemary. 
Cook the mixture for a couple of minutes before stirring in soy sauce, tomato puree & a couple tbs plain flour. Cook out the flour for two minutes then stir through the coffee, marmite, chestnuts & the ale. 
Add a bay leaf & the vegetable stock then let the filling bubble away for 20 minutes. 
Transfer the filling to your pie dish and allow to cool to room temperature. 
Pre heat your oven to 180 degrees C. And mix together the glaze ingredients in a small bowl with a whisk. 
Roll out your pastry to around 4mm thick and cut it to the size of your pie dish. Lay it over your pie dish then seal the pastry by crimping the edges. Prick some air holes in the pastry with a fork, then brush over the glaze. 
Place the pie into the oven for 30 minutes. Then serve up with greens. 
Share this recipe