Serves: 4
Cooks in: 1 hour (plus marinading)
Gluten free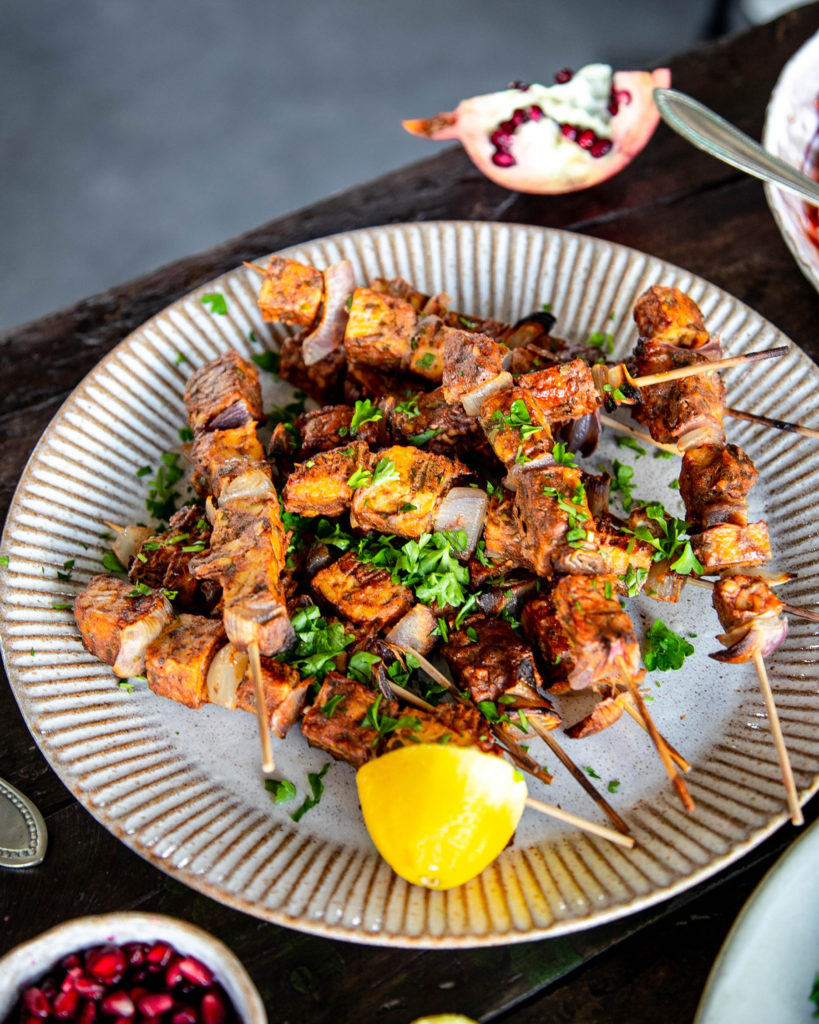 Ingredients
Important equipment
Small Wooden Skewers
Moroccan Skewers
1 Block Tempeh or 1 block extra firm tofu
1 tub Dairy Free Yoghurt
2 Cloves Garlic Minced
2 tsp Dried Cumin
1/2 tsp Dried Chilli Powder
2 tsp Smoked Paprika
1 tsp Dried Cinnamon
Pinch Ground Nutmeg
Zest & Juice of a Lemon
Pinch Sea Salt & Cracked Black Pepper
3 Shallots, peeled & cubed
Handful Fresh Parsley
Garnish
Mixed Seeds
Coconut & Coriander Wild Rice
260g/1 & 1/2 cups Wild Rice
1 can Coconut Milk
1 tsp Ground Coriander
240ml/1 cup Water
Pinch Sea Salt & Pepper
1 Bay Leaf
Garnish
Toasted Coconut Flakes
Raw Cabbage, Carrot, Mint & Apple Slaw with Pomegranate
150g/1 cup Red Cabbage, shredded fine
2 Carrots, peeled into ribbons
1 Apple, sliced fine or grated
Handful Pomegranate Seeds
Cooked Vegetables
Chard/Kale/Cavolo Nero
Tenderstem Brocoli
For the skewers, pre heat your grill to 180 degrees C.
In a mixing bowl mix together the yoghurt with the garlic, spices, lemon & seasoning. Stir in the tempeh cubes & ideally leave the tempeh to marinade for at least an hour in the fridge.
Skewer your marinaded tempeh cubes onto your skewers, alternate between shallot & tempeh then place the skewers on to a lined baking tray.
Once you've skewered all the tempeh place the tray under the grill on the lower shelf to grill for around 20 minutes or until golden.
Meanwhile add the soaked rice to a saucepan with the rest of the rice ingredients, place a lid on the pan and then pop the pan over a low heat to bubble away for 15-20 minutes, but stir the rice every now and then and check if its cooked.
For the slaw simply toss all the ingredients together in a mixing bowl.
Once the skewers are beautiful and golden & the rice is cooked, serve them up with the slaw and some steamed vegetables. See the below video for additional info & how to cook vegetables perfectly.
Share this recipe