Maple Sesame Smoked Tofu Salad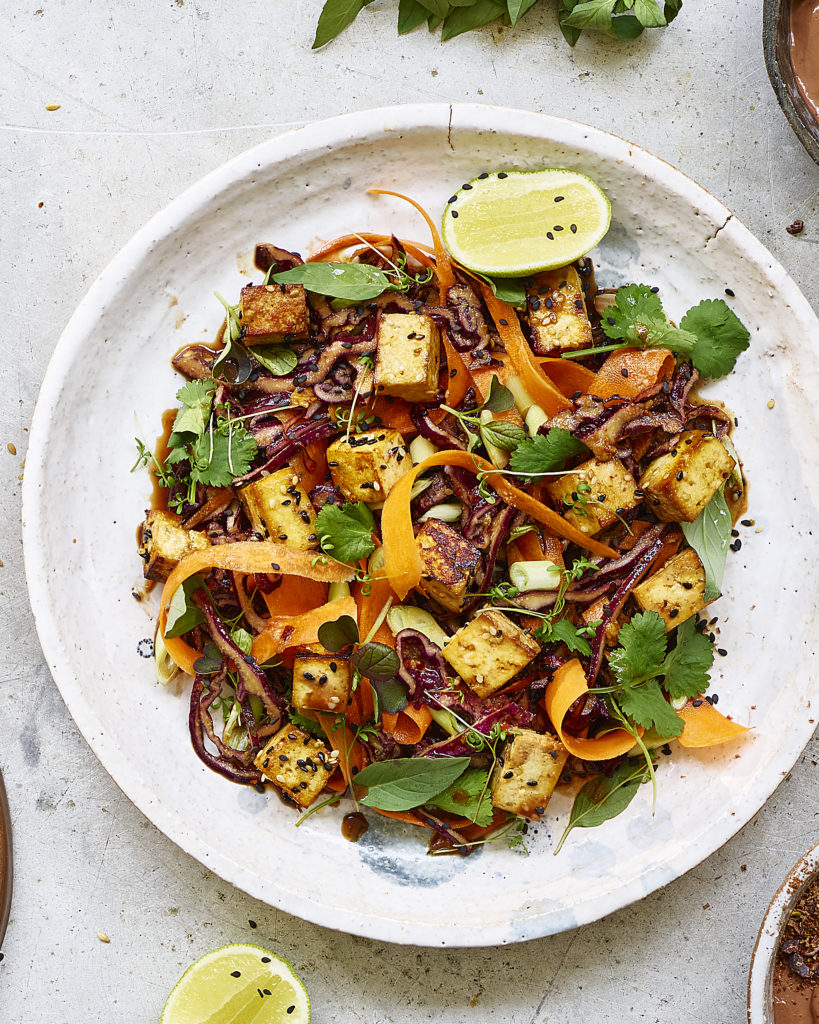 Ingredients
Tofu 
1 pack Smoked Tofu, cubed  
2 tbs Sesame Oil 
2 tbs Maple Syrup 
3 tbs Mixed Sesame Seeds 
Dressing 
2 tbs Soy Sauce 
2 tbs Tahini 
Juice & Zest of a Lime 
1 tsp Dried Chilli Flakes 
1 tbs Coconut Sugar 
Salad
1/2 Red Cabbage, shredded fine
2 big Handfuls Baby Lettuce or Spinach 
Small Handful, Thai Basil
Small Handful, Fresh Coriander 
2 Carrots, Ribboned 
4 Spring Onions, sliced fine on an angle 
Add the cubed tofu to a mixing bowl then stir in the sesame oil, maple syrup & sesame seeds. When all the tofu is coated, transfer to a non stick baking tray, then place into the oven for 8 minutes. 
Meanwhile in the same bowl add the dressing ingredients and whisk together. 
Add the shredded red cabbage and mix well. Set aside for a few minutes for the dressing to work its magic. 
When the tofu is golden, plate up. I like to plate my salad in layers, first red cabbage, then carrot ribbons, followed by the tofu, herbs & spring onions. 
Before eating mix the salad together & add any left over dressing. 
Share this recipe