LENTIL DAL WITH 'TOFU CHICKEN'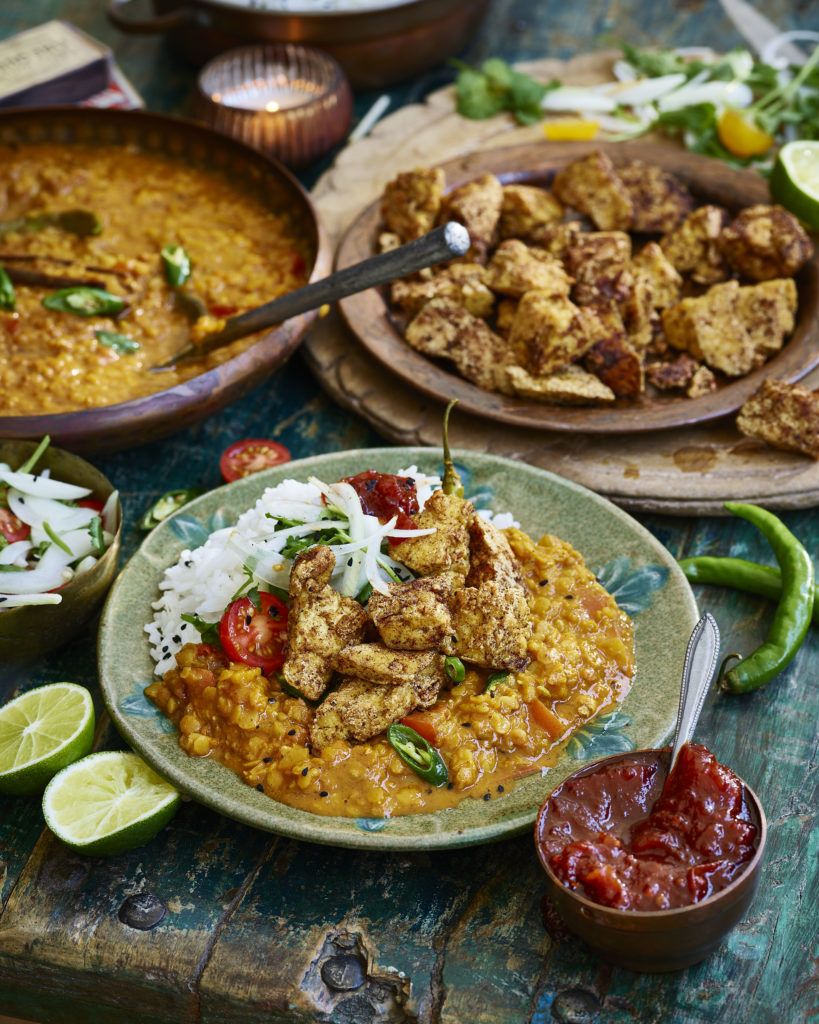 Ingredients
Lentils  
2 cups Red Split Lentils, rinsed  (other lentils of your choice can be used)  
1 Green Chilli, halved  
Thumb size Piece Ginger
Half an Onion, cut into 4 
Dal Masala 
2 tbs Vegetable Oil
1 tbs Fennel Seeds
1 Cinnamon Stick 
1 tbs Mustard Seeds
2 tsp Chilli Powder
2 tsp Turmeric 
2 tsp Fenugreek 
1 tsp Ground Coriander 
2 tsp Ground Cumin 
1 large Onion, chopped small
5 Cloves Garlic, minced
1 Green Chilli, halved length-ways
1 tsp Sea Salt 
3 Large Tomatoes, cubed 
1 cup/250ml Vegan Cream (such as oat or soy) or creamy non-dairy Milk 
Tofu Chicken 
1 tbs Vegetable Oil 
1 Large Block Extra Firm Tofu, water pressed out & torn into small chunks
2 tbs Soy Sauce
1 tbs Garam Masala
Pinch Sea Salt 
Serve with
Rice
Salad 
Chutney  
Lime
First up add the rinsed lentils to a medium-sized saucepan and add enough water to cover the lentils by about half an inch. Add the onion, ginger & chilli. Pop a lid on the pan & then place the pan over a low heat to cook for 10-12 minutes.
Meanwhile, to another saucepan or frying pan placed over a low heat add the vegetable oil followed by the fennel seeds, mustard seeds & cinnamon stick to infuse the oil. Let the mix cook away for a minute, you will hear lots of popping!
Next to the pan add the chopped onion, garlic & ground spices. Cook the mixture, whilst stirring constantly for 2-3 minutes before adding the chilli, salt & tomatoes. Let the mixture bubble away for a few minutes before adding the cooked lentils, with around 1 cup/250ml of the lentil cooking water & the vegan cream.
Pop a lid on the pan & let the dal bubble away for 10 minutes.
Just before serving to make the tofu chicken.
Place a non stick frying pan over a medium heat & add a little oil. Add the tofu & saute it for 5-6 minutes, tossing the pan often. Try and get some lovely colour on the tofu. When the tofu is golden & has gone crispy add the garam masala, soy sauce & salt. Cook the tofu for 3 more minutes before serving.
Serve your dal on a bed of rice, with the tofu chicken & salad.
The dal is perfect for meal prep, see the above video for a tutorial. Dal will keep fresh in your refrigerator for up to 5 days.
Share this recipe