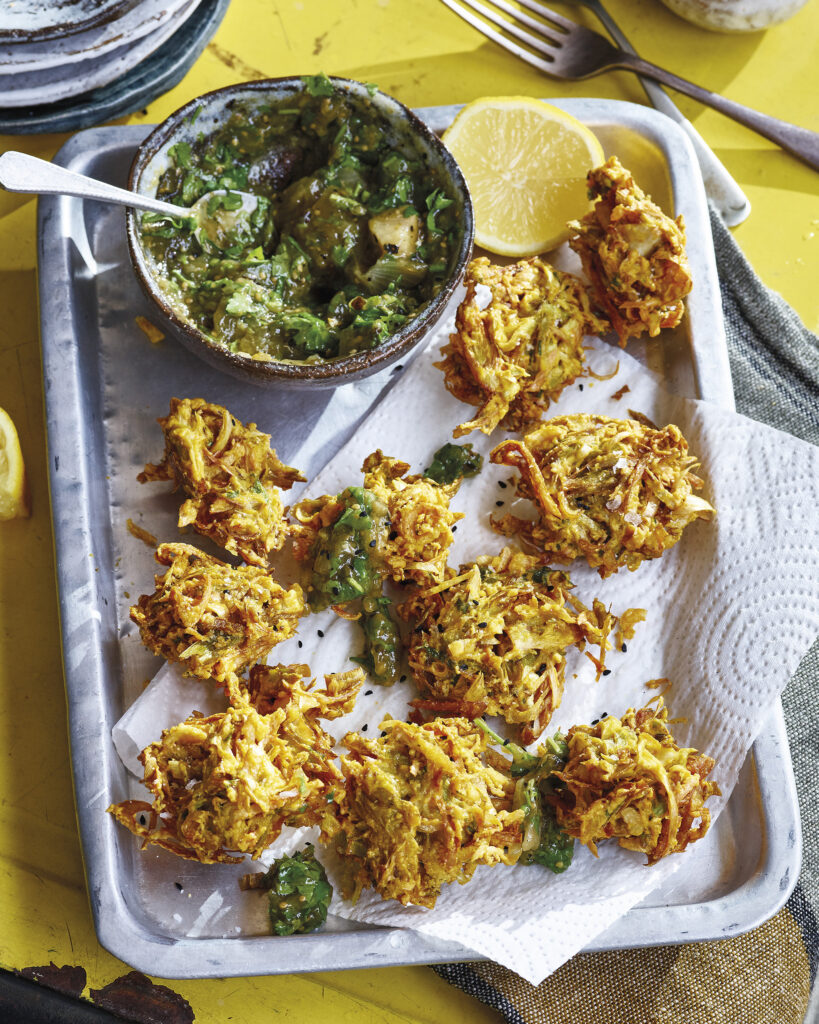 a recipe I made in collaboration with cobra, check out my instagram reel here to see me making them.
Ingredients
2 large Leeks, sliced finely
3 Cloves Garlic, minced
Thumb-sized Piece Ginger, minced
1 tbs Garam Masala
1 tsp Ground Turmeric
1 tsp Ground Cumin 
1 Green Chilli, cut fine
Handful of Fresh Coriander, roughly chopped
3-4 tbs of Gram (chickpea) flour
3-4 tbs of Water
1 tsp Sea Salt
750ml/3 cups Vegetable oil, for frying
Chutney
bunch mint, leaves picked
bunch coriander, chopped
1 green chilli, chopped
thumb-sized piece ginger, chopped
pinch ground cumin
1 lemon, juiced
Method
Add all the pakora ingredients to a mixing bowl & stir well until the mix slightly comes together & is sticky.
Add the oil to a saucepan & place over a medium heat & when the oil is hot, pick up a few tablespoons of the leek mixture at a time and carefully place them into the oil. Fry for 4-5 minutes, or until crisp & golden.
When cooked remove them from the oil with a spider & transfer to a plate lined with kitchen paper. Season with salt & black onion seeds (optional).
To make the chutney, chop all the herbs super fine, then mix them in the bowl with the lemon juice, chilli, cumin & a pinch of salt.
Serve right away.
Please be careful when frying, don't over-fill the pan & for an oil free version, simple place them until a hot oven until crisp instead of frying.
Share this recipe