Crispy Mushrooms with Korean Style Sauce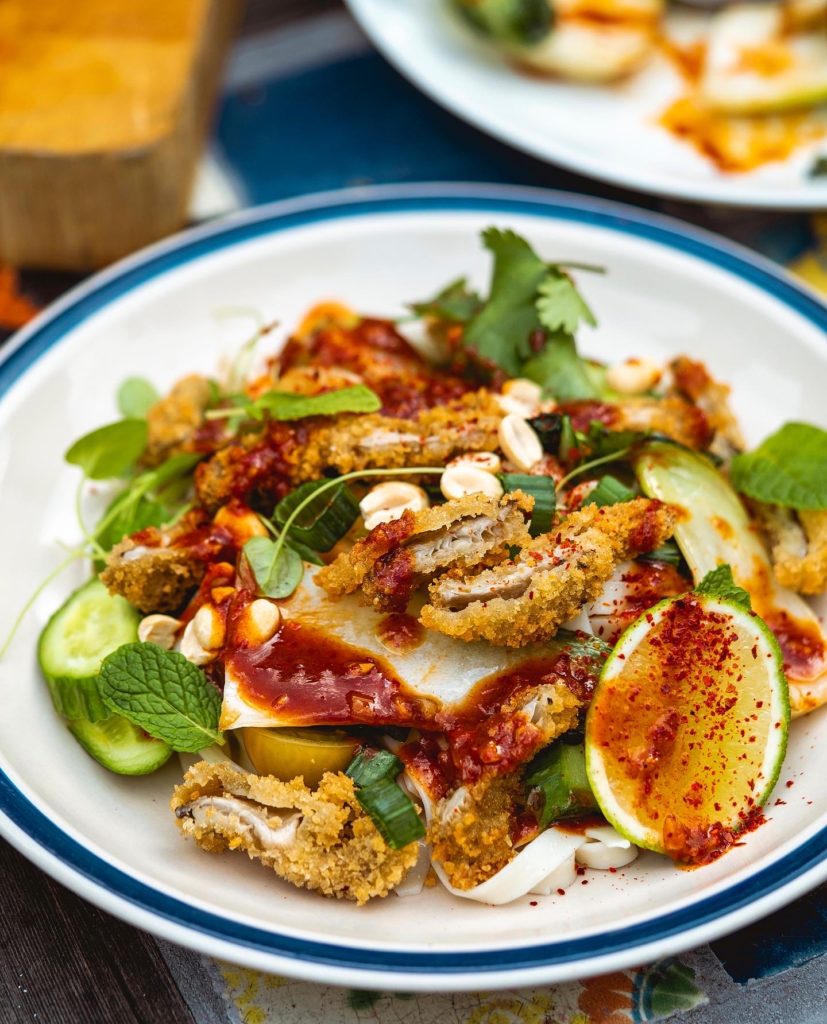 Ingredients
300g/10oz Oyster Mushrooms &/or Shiitake 
1 & 1/2 cups/190g Plain Flour
2 tbs Vegetable Oil
Water, enough to make the flour a pancake batter style consistency
2 cups/200g Panko Breadcrumbs
3 tbs Umami Blend or Ground Mushroom Powder, like porcini (optional)
1 litre Vegetable Oil, for Frying
Sauce 
3 tbs Gochujang (korean red pepper paste)
3 tbs Gochugaru (korean chilli flakes)
2 Lemongrass Sticks or 1 tbs Lemongrass Paste
4 cloves Garlic, minced
3 tbs Maple Syrup
3 tbs Soy Sauce or Tamari
2 tbs Sesame Oil
Juice of a Lime
Juice of an Orange
1 & 1/2 cups/360ml Vegetable Stock
Serve with
Noodles
Thai Basil
Fresh Mint
Sliced Cucumber
Sautéed Pak Choi
Cherry Tomatoes
Roasted Peanuts 
First up coat the mushrooms, mix together the flour with the oil & water to make a pancake batter style consistency. In a separate bowl mix together the panko & umami powder.
Dip the mushrooms into the batter first then into the breadcrumbs making sure they are coated well. Once you've coated all the mushrooms, place them into the freezer until you're ready to fry.
To make the sauce add all the ingredients to a saucepan & whisk together. Place the pan over a low heat & let the sauce bubble away & thicken up for 20 minutes. Stir every now and then.
To cook the mushrooms, heat your frying oil in a large saucepan (filled no more than half way high) over a medium heat. To test your oil is hot enough, dip a wooden spoon in the oil and if bubbles form around it, the oil is hot enough.
Fry the mushrooms for 4-5 minutes until crisp and golden, once fried remove the mushrooms & plate them onto a tray lined with kitchen paper.
Once the mushrooms are fried and your sauce has reduced, you're ready to serve up.
I wok fried pak choi with a little garlic & soy sauce also.
Top your noodles with the herbs, cucumber, tomatoes, mushrooms, pak choi sauce, peanuts
Left over sauce can be kept in a sealed container in the fridge for up to 2 weeks.
Share this recipe