KOREAN STYLE VEGAN 'SHROOM BURGER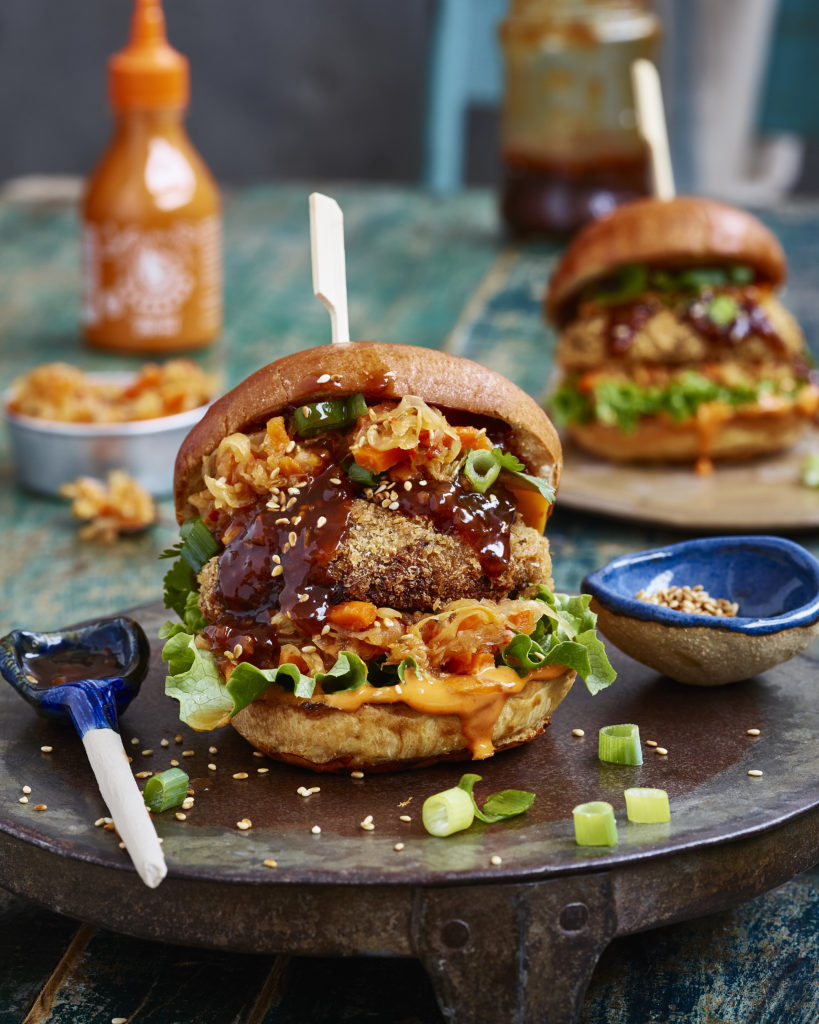 A special Korean inspired Gourmet Vegan Burger. Crispy portobello mushroom with a sticky apple & soy glaze.
Ingredients
4 Portobello Mushrooms
1 tbs Vegetable Oil
Pinch Sea Salt & Ground Pepper
Batter 
1 cup/120g Plain Flour, plus extra for dusting
1 cup/125ml Water
1 tbs Vegetable Oil
Coating
1 cup/50g Panko Bread Crumbs
1 cup/120g Plain Flour
1 tsp Ground Ginger
1 tsp Sea Salt
1 tbs Sesame Seeds
1 tbs Gochugaru Chilli Flakes (or any mild dried chilli flakes)
2 tsp Garlic Granules
1 tbs Onion Granules
1 cup/250ml Vegetable Oil for shallow frying
Sticky Apple & Soy Glaze
3/4 cup/180ml Light Soy Sauce
3/4 cup/120g Brown Sugar
3/4 cup/180ml Apple Juice
5 cloves Garlic, minced
1 tbs Fresh Ginger, minced
3 Spring Onions, chopped fine
1 tbs Sesame Oil
1 cup/250ml Water
2 tbs Cornflour mixed with 1/2 cup/125ml water
Serve with
4 Toasted Burger Buns
8 tbs Sriracha Mayo
4 heaped tbs Kimchi
1 head Lettuce Lettuce
4 Spring Onions, chopped fine
Handful Fresh Coriander
4 Slices Vegan Cheese
Grab a large heavy based non stick frying pan & place it over a high heat, add the oil. When the pan is hot – add the mushrooms.
Grab another frying pan or saucepan thats slightly smaller than the mushroom pan & place it directly on top of the mushrooms. It will flatten the mushrooms and make sure they are being seared completely. Leave the mushrooms for 4-5 minutes to cook, applying some pressure to the top pan, which will squeeze the water out of them, making them extra meaty.
After 5 minutes, remove the top pan and season the mushrooms with sea salt and pepper. Flip the mushrooms over then place the pan back on top & cook + press for a further 4 minutes.
Once the mushrooms have cooked remove them from the pan and set them aside to slightly cool.
Meanwhile add all the glaze ingredients (accept the cornflour) to a saucepan and place over a medium heat, bring the mix to a simmer.
Allow to simmer for 5 minutes before whisking in the cornflour mixture.
The liquid should thicken up into a lovely glaze like the consistency. If it becomes too thick add some water, and if too thin, slightly more cornflour/water mix or just allow it to reduce down.
Next mix together the coating ingredients in a shallow bowl.
Whisk together the batter ingredients in another bowl – adding enough water to make it a pancake batter style consistency.
When the mushrooms are cool enough to handle, individually dip each mushroom first into the flour /panko mix then into the batter then back into the coating mixture, making sure they are coated all over evenly. Feel free to double dip them to get a thicker coating.
To make them extra crispy, pre heat a large non stick frying pan over a medium heat with the frying oil. When the oil is hot (you can test by dropping in a bread crumb) add a couple of the coated mushrooms. Fry them on both sides for 3-4 minutes. When they're golden & crisp, remove them from the oil & place them on to a plate lined with kitchen paper to soak up any excess oil.
Alternatively, for a healthier alternative, you can bake the mushrooms until crispy in an oven set at 180 degrees C/356 degrees F for approximately 25 minutes.
Sprinkle over a little salt to keep them crisp until you're ready to serve.
When your glaze is ready and your mushrooms are crispy, build your burgers. I fill mine with sriracha mayo, kimchi, fresh coriander, spring onions, lettuce, vegan cheese & a sprinkle of sesame seeds.
Share this recipe