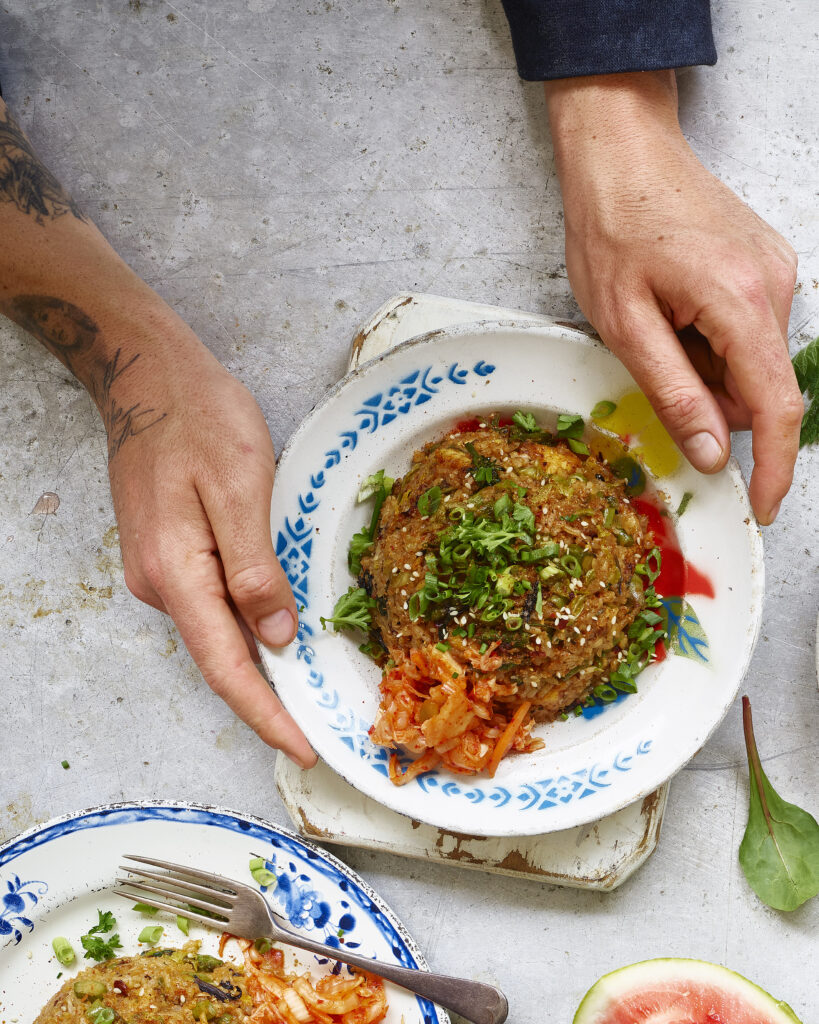 Ingredients
1 Onions 
3 cloves Garlic, minced 
Thumb-sized Piece Ginger
1/2 cup Kimchi 
1 Chilli 
1 tbs Tomato Paste 
2 tbs Soy Sauce 
3 tbs Olive Oil 
4 Spring  Onion, 
Handful Tender-stem Broccoli 
Handful French Beans, chopped fine 
1/2 cup Shredded Cabbage 
Handful Chard
2 cups Cooked Rice 
1 Block Tofu, patted dry 
4 tbs Cornflour 
1 tsp Gochugaru 
1 tsp Garlic Granules 
To a food processor add the onion, garlic, ginger, kimchi, chilli, tomato paste & soy sauce. Blitz to form a smooth paste. 
Tear the tofu into chunks add add to a mixing bowl add the cornflour, chilli flakes & garlic granules. Stir well making sure each piece is coated. 
Place a large frying pan or wok over a medium heat & when its hot add the oil followed by the coated tofu pieces, cook them stirring every now and then until they're golden and crisp. 
Add the spring onion & vegetable of your choice to the pan, stir frying for a few minutes before adding the kimchi paste. 
Stir fry for a few more minutes coating everything in the lovely paste then stir through the rice. 
Cook for 4-5 minutes then serve up. 
Share this recipe