Kentucky Fried Shrooms & Waffles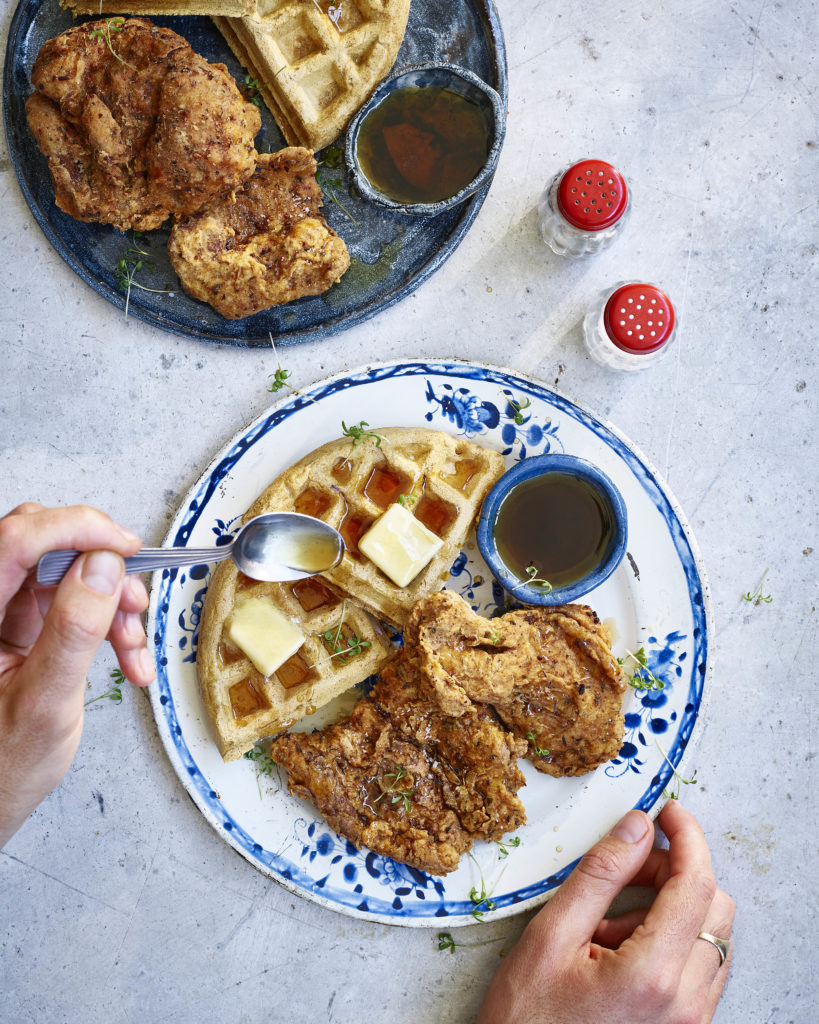 this recipe came about after my recent YouTube video in which I conduct an experiment to test which plant based ingredients makes the best vegan fried chicken. The mushrooms were victorious! They work so well to create this classic dish.
Ingredients
Oyster Mushrooms 
4-6 Oyster Mushrooms Clusters, if you can't get hold of the clusters, individual oyster mushrooms will work – 6-7 per person
Coating 
Buttermilk
2 cups/500ml Soy Milk
4 tbs White Wine Vinegar or Juice of 1 Lemon Juice 
Dry Spice Mix
1/2 cup/60g Plain/All Purpose Flour
1/2 cup/60g Cornflour 
2 tsp Cracked Black Pepper
2 tsp Ground Ginger 
2 tsp Cayenne Pepper
2 tsp Dried Oregano
2 tsp Smoked Paprika
3 tsp Garlic Granules 
1 tsp Dried Basil
1 tsp Dried Thyme
2 tsp Celery Salt
2 tsp Onion Granules
2 tbs Caster Sugar 
1 litre Vegetable Oil, for frying
Savoury Waffles 
1 cup/100g Buckwheat flour
1 cup/80g Chickpea Flour 
2 tsp Baking Powder 
1 tsp Sea Salt
1 tsp Sweet Smoked Paprika
1 tsp Dried Thyme
1 tsp Cayenne Pepper
1 tsp Garlic Granules
1 cup/240ml Non Dairy Milk
Garnish with 
Maple Syrup
Fresh Thyme
For the fried mushrooms, first up whisk together the soy milk with the vinegar or lemon juice in a bowl to make the 'buttermilk'. Set it aside for 5 minutes.
Meanwhile in another bowl combine all the coating ingredients.
Before coating the mushrooms, if you're using clusters, be sure to trim off any hard parts of the stem & cut the clusters so they're all a similar size.
Individually dip the clusters first into the flour mix, then the buttermilk then back into the flour mix. Make sure they're well coated & double dip them for a thicker coating.
Once you've coated all the mushrooms. Add the oil to a large saucepan. Only fill the saucepan half way high, as the oil will rise when you place the mushrooms into the pan.
Place the oil over a medium heat & check if it's hot enough by placing a crumb of the batter into the oil, if it bubbles – you're ready to fry.
Cook the mushrooms in the oil in small batches for 5-6 minutes on both sides.
Make sure they're really crisp & golden before removing from the oil & place them straight onto a plate lined with kitchen paper.
Season with a little salt to keep them crisp. Please note that if you oil is too hot, the coating will cook too fast leaving the mushroom uncooked, so be sure to cook them slowly over a medium heat.
For oil free cooking, simply bake the mushrooms for 35 minutes, in an oven set at 180 degrees C.
To make the waffles, combine all the dry ingredients in a mixing bowl. Whisk in the milk, until there are no lumps & its's a thick batter consistency.  
Set the batter aside to rest for at least 10 minutes.
Pre heat your waffle machine to medium heat & add a spray of oil (oil in a spray bottle works great for waffle machines)
Laddie in half the mixture, then close the waffle machine. Allow the waffle to cook for 7 minutes at medium heat. Do not open the waffle machine.
After 7 minutes turn up the heat too high, and cook for a further 4 minutes.
Top the hot waffles with your fried mushrooms, along with a garnish of vegan butter, maple syrup & fresh herbs.
Share this recipe