Kale, Leek & Butterbean Stew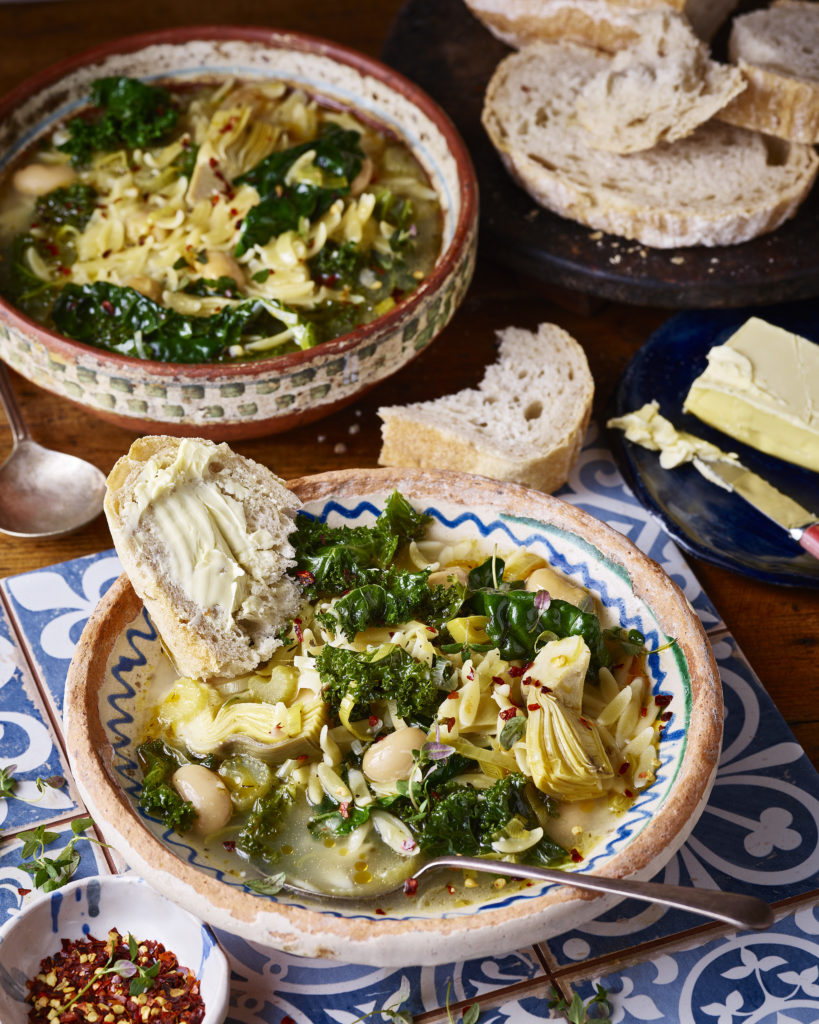 You can get very creative with this stew, add extra ingredients like artichokes, squash, tomatoes and much more!
Ingredients
2 tbs Extra Virgin Olive Oil
1 Leek, chopped fine
2 cloves Garlic, minced
2 sticks Celery, slice fine
2 tbs Fresh Thyme Leaves
1 tsp Sea Salt
1 tsp Cracked Black Pepper
1 tsp Dried Chilli Flakes
1 cup/250ml White Wine
3 cups/750ml Vegetable Stock
1 tbs White Miso Paste
1 can Butter Beans
1 & 1/2 cups Orzo Pasta
120g/4.23oz Curly Kale, removed from stem & washed
4 tbs Pine Nuts, toasted or nuts of your choice.
Juice of Half a Lemon
Preheat a large saucepan over a medium heat and add the oil, when the pan is hot add the leak, celery and garlic then season with salt & pepper.
Add the fresh thyme & sauté the mixture for 3-4 minutes before deglazing the pan with the white wine. Let the wine bubble away for 2-3 minutes to cook off the alcohol then add the chilli flakes, miso paste and vegetable stock.
Stir in the pasta and pop a lid on the pan then it it cook away for 8 minutes. Stirring every now and then.
Meanwhile prepare the kale by washing it and cutting it into small pieces,
Add the miso paste to a small bowl with 1 cup/250ml of boiling water and mix it to a paste then add it to a stew with the butterbeans. Continue to let the stew bubble away for a few more minutes to let the pasta finish off cooking.
2-3 minutes before serving/before the pasta is cooked, stir in the kale.
Serve the stew topped with toasted pine nuts & drizzle over a little lemon juice.
Share this recipe