Jackfruit Stuffed Pepper Tacos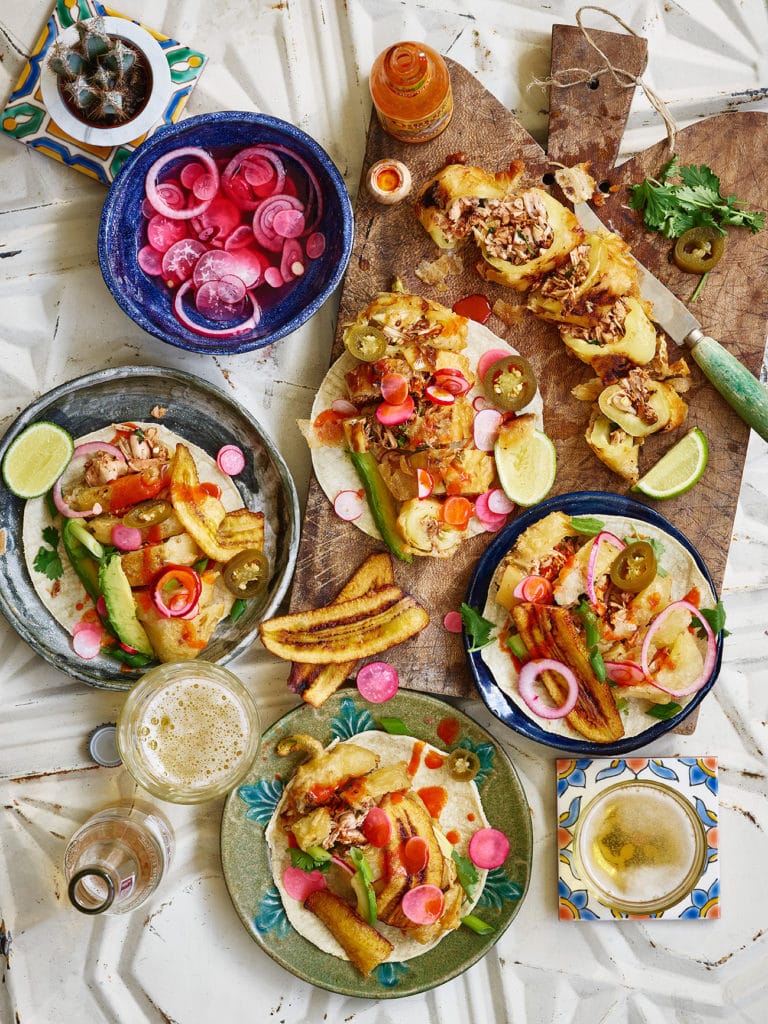 Packed full of Mexican flavours & awesome textures. The are simply the best tacos I've ever eaten. I stuffed sweet peppers with jackfruit, the coated them in a Mexican beer batter. Served with pickled radidsh & red onion, fried plantain, and hot sauce.
Ingredients
Jackfruit Filling 
2 tins Young Jackfruit in brine, drained & water squeezed out
1/4 tsp Garlic Powder
1 tbs Chipotle
1 tsp Sea Salt
1 tsp Black Pepper
Handful Fresh Coriander, chopped
Juice of 1/2 Lime 

8 Large Jalapeños or Small Sweet Peppers, sliced down one side, seeds removed. (see video for guide)
Batter 
1/4 cups Buckwheat
1 cup Cornflour
1/4 cup Gram Flour
1 tsp Baking Powder
1 tbs Malt Vinegar
1 tsp Sea Salt
3/4 of a Bottle of Mexican Beer
Serve with
Slice of Fried Plantain
Pickled Radish & Red Onion 
Chopped Fresh Coriander
Tortilla's
Add the jackfruit to your food processor. Blitz the mix until its chopped up fairly small.
Place the chopped jackfruit into a clean tea towel & use the towel to squeeze out as much of the liquid out as possible.
Add the jackfruit to a mixing bowl with the chipotle, coriander, garlic, seasoning & lime juice. Mix well.
Stuff the jackfruit mix until your hollowed out peppers, compacting as much in as possible – I use a spoon for this. Its important that its pressed in so that it doesn't fall out during cooking.
Set the stuffed peppers aside and prepare the batter.
Add the flours to a mixing bowl along with the seasoning, baking powder & vinegar.
Whisk in enough beer so that its a pancake batter style consistency – see video for more info.
Pre heat your oil over a medium heat. Only fill a large saucepan half way high. See above video for important frying safety tips – and oil free cooking alternative.
To test the oil is hot enough, dip a wooden spoon into it – if it bubbles around the wood the oil is out enough.
Dip a pepper into the batter then carefully into the oil. Do not drop the pepper in and only fry 2 at a time.
Fry the peppers for around 4-5 minutes. Turing them over now and then using a slotted spoon or spider.
When the peppers are golden, remove them from the oil & place them onto a tray lined with kitchen paper – to soak up any excess oil.
Once you've fried all the peppers serve them in warm tortillas/tacos with a slice of fried plantain (See video for demo) pickled vegetables such as red onion & raddish, hot sauce, coriander & lime juice.
Share this recipe