GREEK STYLE STUFFED PEPPERS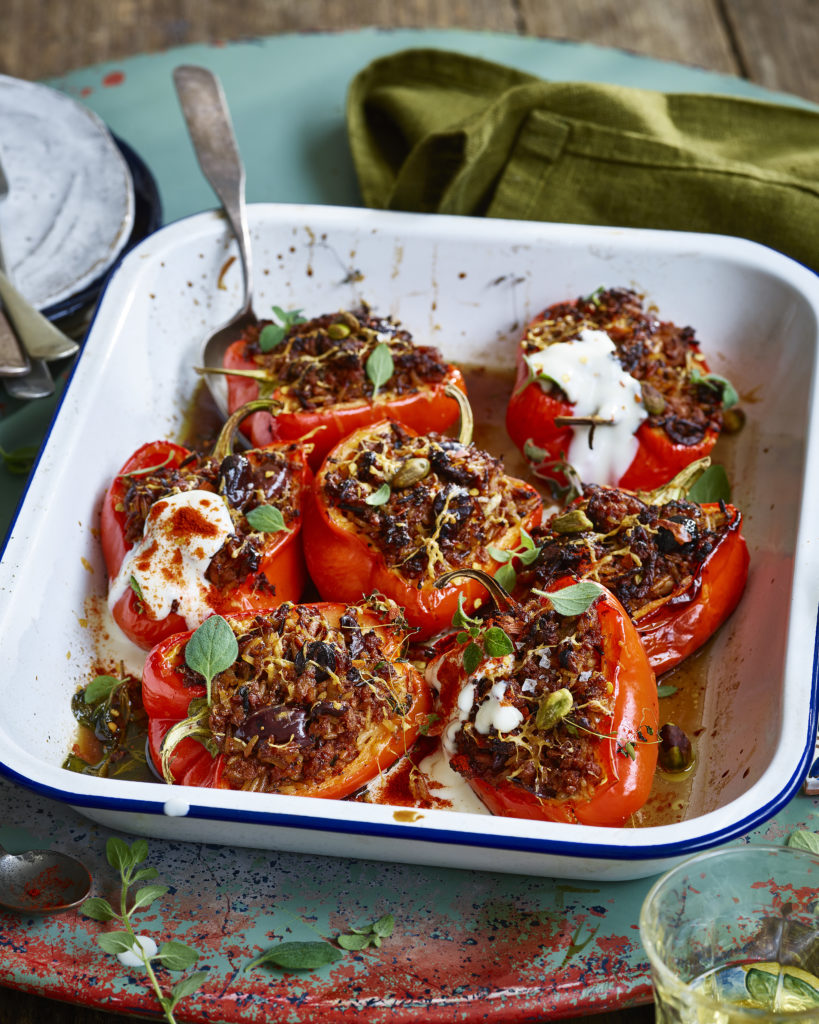 Ingredients
Ingredients
2 tbs Olive Oil
1 Onion, finely chopped
5 Cloves Garlic, minced
2 Sticks Celery, finely chopped
2 tbs Tomato Puree
3 Sprigs Fresh Oregano Leaves, chopped fine / 2 tsp Dried
1 Sprig Fresh Rosemary chopped fine / 1 tsp Dried
8 Sage Leaves, chopped fine / 2 tsp Dried
Handful Fresh Mint, chopped fine
Pinch Dried Chilli Flakes
Pinch of Sea Salt & Cracked Black Pepper
1 Packet/250g Vegan Mince, I used Future Farm
4 Sun-dried Tomatoes, chopped small
3 tbs Balsamic Vinegar
1/2 cup/50g Olives, sliced
1 Can Chopped Tomatoes
1/2 cup/125 ml Vegetable Stock
Zest & Juice of 1 Lemon
1 & 1/2 cups/200g Cooked Long Grain Rice
6 Red Peppers, halved & deseeded
2 Sweet Potatoes, peeled & sliced
Garnish
2 Sprigs Fresh Thyme or Oregano
1 tbs Vegan Yoghurt Per Pepper
3 tbs Toasted Flaked Almonds
2 tsp Sweet Smoked Paprika
Pre heat your oven to 180 degrees C.
Place a non stick pan over a medium heat and add a little olive oil followed by the onion, garlic, celery & salt + pepper. Sauté the mixture for 2-3 minutes before adding the herbs, tomato puree, & chilli flakes. Stir well and cook for another minute or so, then add the vegan mince.
Keep stirring the mixture until the vegan mince has coloured then add the olives & sun dried tomatoes followed by the chopped tomatoes & balsamic.
Stir well, then turn the heat down low, pop a lid on the pan and then let the ragu bubble away for 10 minutes.
Add a ladle worth of the ragu to the bottom of your baking dish & place your sliced sweet potato on top. Place the dish into your oven to bake for 10 minutes.
Meanwhile remove the saucepan with the rest of the ragu in off the heat then stir in the cooked long grain rice + the zest & juice of the lemon.
Evenly fill each red pepper half with the ragu/rice mixture.
Remove the baking dish from the oven & top the sweet potato with your filled red pepper halves.
Bake the stuffed peppers for 20 minutes. After 20 minutes remove them from your oven and sprinkle over flaked almonds. Then place the peppers back into the oven for a further 10-15 minutes or until the peppers are tender.
Once baked serve the peppers topped with vegan yoghurt, fresh thyme or oregano leaves & a sprinkle of smoked paprika.
Share this recipe