Greatest Mac & Cheese Ever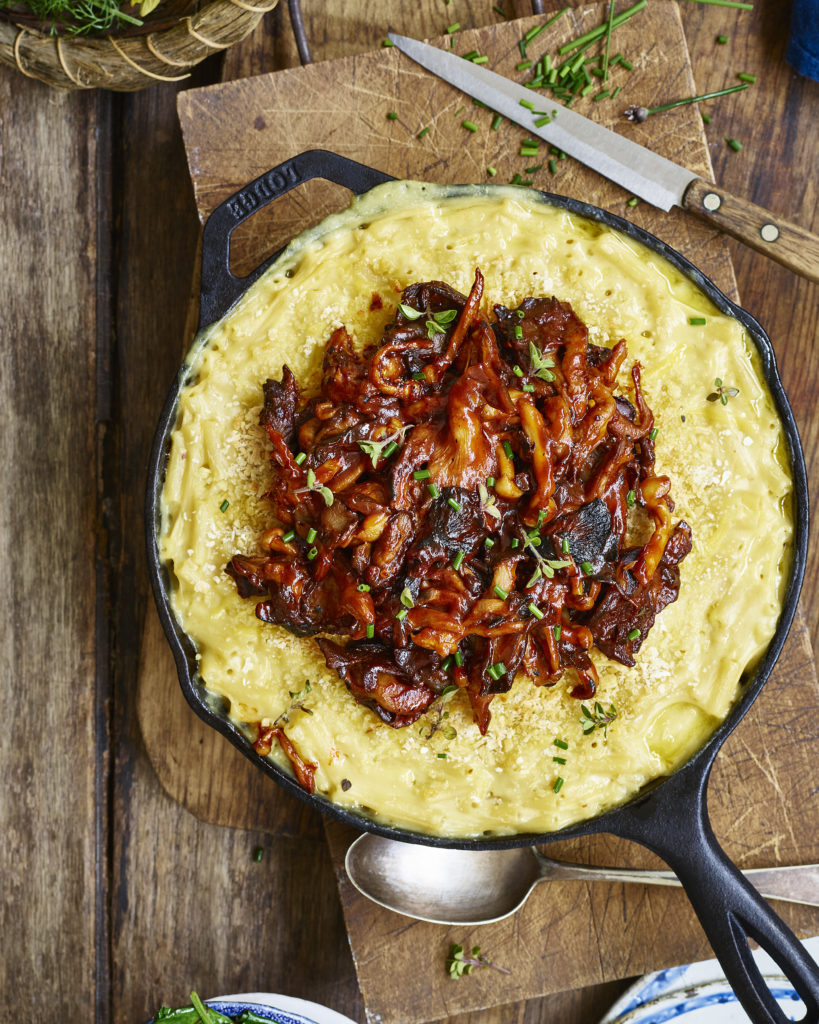 Ultimate cheesy, creamy mac & cheese! Topped with pulled bbq mushroom brisket!
Ingredients
Cheese Sauce
1/4 cup/55g Plant Based Butter
1/4 cup/30g Flour 
3 cups/750ml Non Dairy Milk
1 Onion, halved 
2 cloves Garlic, crushed  
2 tbs Tapioca Starch mixed with a splash non dairy milk 
1 tbs Miso Paste
1 & 1/2 tsp Sea Salt
1 tsp Ground White Pepper 
2 cups/100g Grated Vegan Cheese + extra for topping, I used Applewoods & Bute Island Cheese  
Squeeze Lemon Juice
1/2 cup/10g tbs Nutritional Yeast
1 tbs Dijon Mustard 
1 cup/30g Panko Breadcrumbs 
500g/3 cups Macaroni Pasta, cooked to the packet instructions 
Pulled Shroom Brisket Topping 
500g Mixed Mushrooms, such as Oyster, King Oyster, Shiitake or Portabello (oyster mushrooms can be bought from Smithy Mushrooms, Big Tesco stores, London Grocery, Waitrose)
225g Tomato Ketchup
1 tsp English Mustard
4 tbs Maple Syrup
360ml Dandelion & Burdock Soda or Cola
1 tbs Cumin
1 tsp Garlic Powder
2 tsp Sea Salt
1 Star Anise 
Garnish with 
Fresh Thyme Leaves
Steamed Greens 
Method 
Pre heat your oven to 180 degrees C. 
First in a medium saucepan add the non dairy milk followed by the onion & garlic. Place the saucepan over a low heat to infuse for 15 minutes.
In a separate large saucepan, add the vegan butter and place the pan over a low heat.
When the butter is melted, add the flour. Using a spatular mix well. Stir the mix for a couple of minutes to cook out the flour.
Then, gradually whisk in the infused milk, a little at a time. (Removing the onion & garlic)
Once you'd added all the milk, the sauce should be thicker & creamy. Whisk in the tapioca mixture, miso, mustard, cheese, nutritional yeast, lemon juice & seasoning. 
Once the cheese has melted through & the sauce is resembling a custard like consistency, stir through all the pasta. 
Top the mac & cheese with a little extra grated cheese & the breadcrumbs, then place into the oven to bake for 15 minutes. 
Meanwhile to make the mushroom brisket, place a large non stick pan over a high heat, add a little oil & the mushrooms. Sauté for 10-15 minutes, pressing & moving the mushrooms every now and then. Try to let them crispy up & go golden as best as you can. Seasoning with salt whilst they're cooking. 
For the bbq sauce, in a small saucepan add all the bbq sauce ingredients & stir well. Let the sauce bubble away for 10-15 minutes. 
Once the mushrooms are golden, remove them from the pan and shred them with a fork on your chopping board. Once shredded, stir them through the bbq sauce. 
Serve the Mac & cheese right away topped with the bbq pulled mushrooms & a side of greens. 
Share this recipe