GRAB & GO SAVOURY VEGAN MUFFINS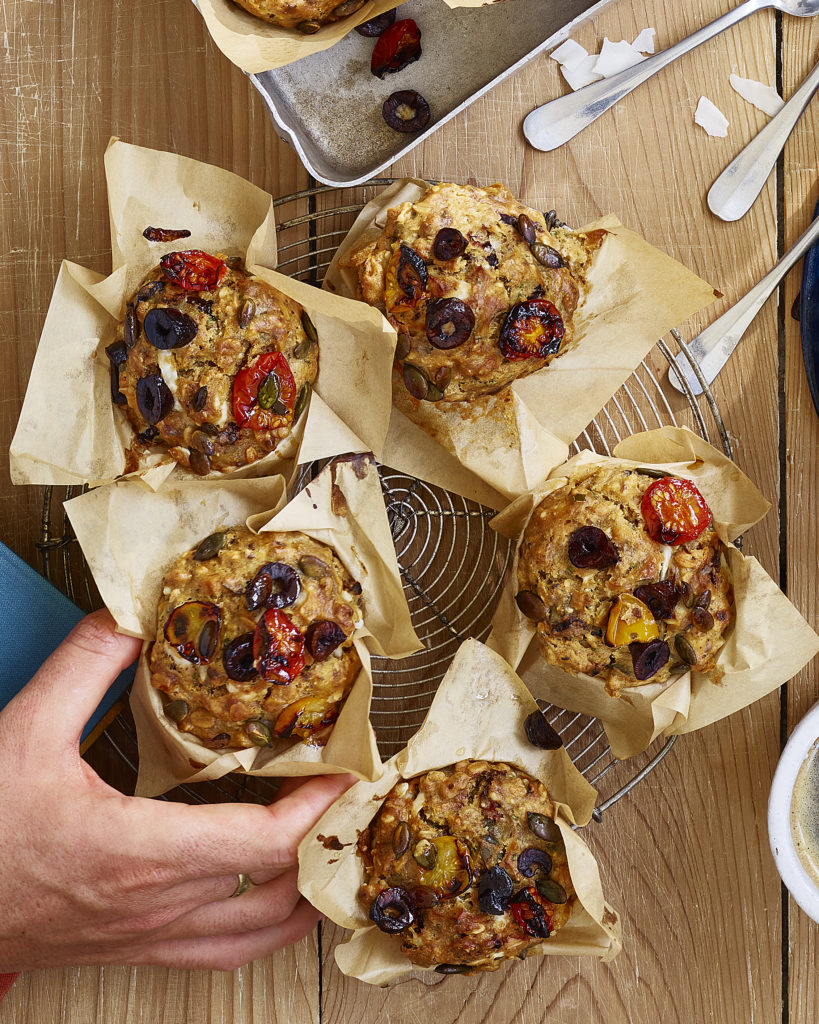 Ingredients
Dry 
1 & 3/4 cups/210g Self Raising Flour
1 tsp Baking Powder
1 cup/100g Oats
1/2 tsp Sea Salt
1 tbs Chopped Chives
9 Sun-dried Tomatoes, chopped small
8 Olives, chopped small, plus a few extra for toppings
1/2 tsp Garlic Powder
1 tsp Cayenne Pepper
2 tbs Hemp Seeds
3 tbs Pumpkin Seeds, plus a few extra for topping
1 cup/140g Extra Firm Tofu, patted dry
1/2 cup/50g Vegan Cheese, Grated
Wet Mixture
3 tbs Chia Seed or Flax Seed, ground
1 & 1/2 cups/360ml Non Dairy Milk
1/2 cup/120ml Extra Virgin Olive Oil
Toppings 
8 Cherry Tomatoes
Olives
Pumpkin Seeds 
Pre heat your oven to 180 degrees C & line your muffin tray with 9 muffin cases. 
In a large mixing bowl, add all the dry ingredients & mix well. 
In a separate bowl or jug mix together the wet ingredients. 
Add the wet mixture to the dry and mix together well. 
Spoon around 3 tbs of the muffin mixture into the muffin cases, the top with half a cherry tomato, a few pieces of olive & some pumpkin seeds. 
Place the tray into the oven for 25-30 minutes. 
Share this recipe