French Onion & Lentil Soup with Cheesy Croutons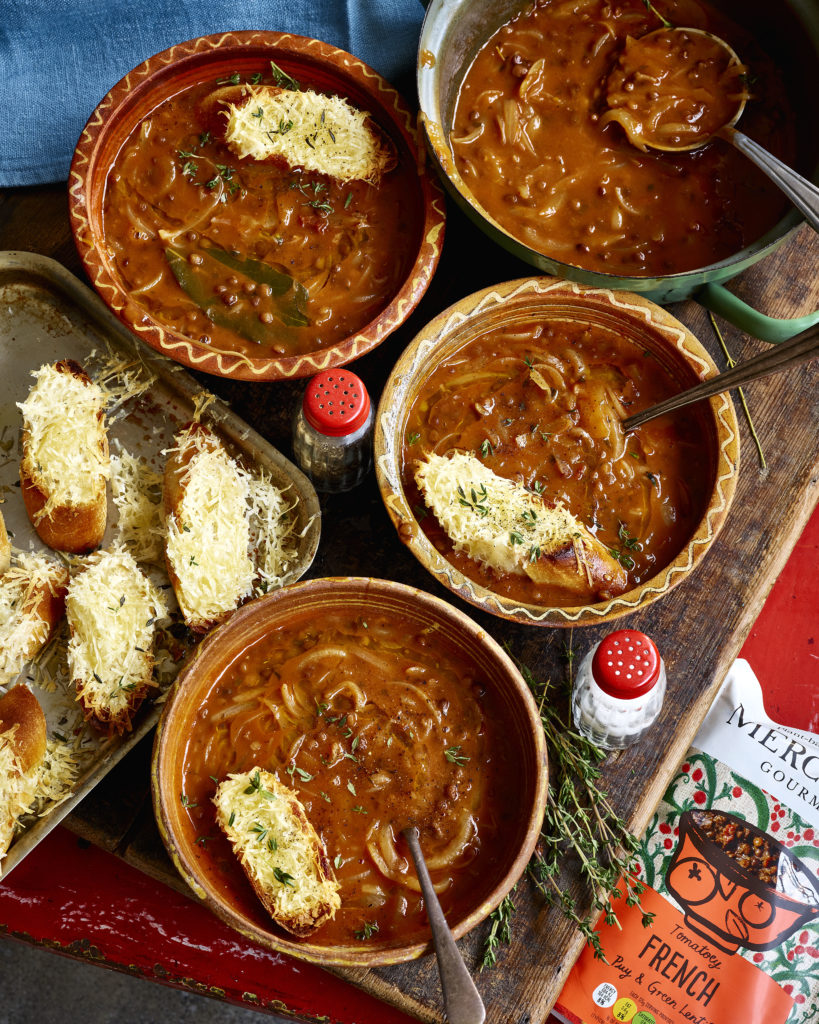 a new recipe in collaboration with Merchant Gourmet, this time with their delicious & convenient French Tomatoey Puy & Green Lentil Pouch.
Ingredients
Ingredients 
2 tbs Olive Oil 
3 Large White Onions, halved then sliced fine
3 tsp Sea Salt
1 tsp Ground White pepper
1 tbs Fresh Thyme Leaves 
2 tsp Dried Sage
1 tbs Plain Flour/GF flour
1 cup/240ml Vegan Friendly White Wine
1 tbs Tomato Puree 
6 & 1/2 cups/1.5 litres Hot Vegetable Stock
1 Bay Leaf
1 Sprig Rosemary 
1 Pouch Merchant Gourmet Tomatoey French Puy & Green Lentils 
6 Slices French Baguette, day old bread works best, cut to the size of your bowls.
1 Clove Garlic
Grated Vegan Cheese
Method
First up place a large heavy based sauce pan over a low heat and add the olive oil. 
When the pan is hot, add the onions with the salt, pepper, thyme & sage. Allow the onions to sweat down & caramelise for approximately 15-20 minutes. 
At first it will look like there's way to many onions in the pan, but after a little while they will shrink right down.
When the onions are golden, add the flour & stir well. Cook out the flour for a minute or so before deglazing the pan with the white wine. Bring the liquid to a boil before adding the hot vegetable stock, bay leaf, rosemary & Merchant Gourmet Tomatoey French Puy & Green Lentils. 
Place a lid on the sauce pan & let the soup cook away for 15-20 minutes. 
Pre heat your grill to 180 degrees C.
Before serving your soup. Toast your slices of baguette. Cut the garlic clove in half and rub the cut side on both sides of the toasted bread.
Ladle the soup into your bowls and float a slice of toasted baguette on the surface of the soup in each bowl. Add a handful of vegan cheese on top of each piece of bread. Place your bowls on to a flat baking tray then place them under the grill for 2 minutes.
Once the cheese has melted and gone nice and golden, serve up. 
Share this recipe