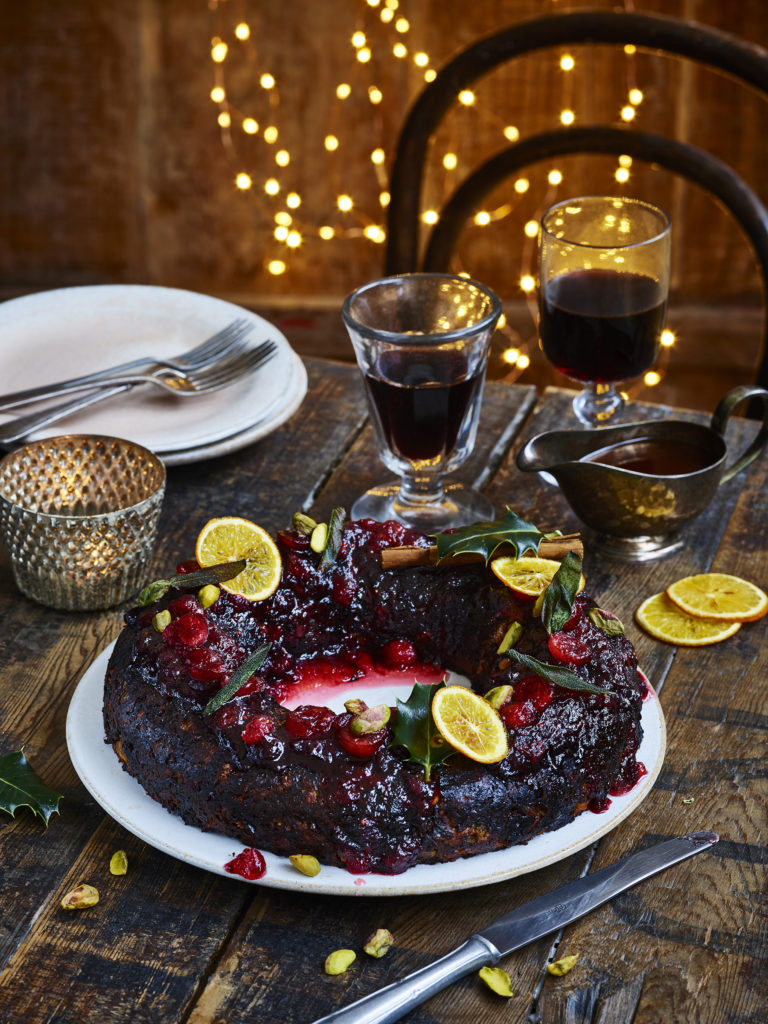 Ingredients
3 tbs Olive Oil
1 Red Onion, chopped fine
1 stick Celery, chopped fine
2 Cloves of Garlic
1 Leek, washed, chopped fine
1 cup/200g Butternut Squash, peeled & cubed small.
1 Small Aubergine, chopped small
1/2 cup/60g Vacuum Packed Chestnut, roughly chopped
1/2 tsp All Spice
1/4 tsp Ground Cinnamon
1 Sprig of Fresh Rosemary, chopped fine
10 Fresh Sage Leave, chopped fine
Zest & Juice of 1 Orange
1 cup/165g Chickpeas, Cooked
1 cup/140g Mixed Nuts (such as Brazil Nuts, shelled Pistachios, pine nuts, walnuts, pine nuts)
1/3 cup/50g Gluten Free Breadcrumbs
1/4 cup/50g Dried Cranberries, roughly chopped
1/3 cup/50g Dried Apricots, roughly chopped
1/3 cup/50g Sun Dried Tomatoes, roughly chopped
3 tbs Balsamic Vinegar
1 tbs White Miso Paste
3 tbs Nutritional Yeast
1 tbs Marmite
Topping
Cranberry Sauce (recipe in my Christmas book)
Optional Garnishes
Fried Sage Leaves
Shelled Pistachio Nuts
Dried Oranges
Fresh Rosemary
Preheat your oven to 180 degrees, grease & line a your tin – I used a circular non stick smooth Bundt style tin to get a wreath shape. My tin was super non stick so didn't have to line it.
Preheat a large saucepan over a medium heat & add the olive oil. Sauté the onion, garlic, celery, leek, squash, aubergine & chestnuts for 2 minutes. Stirring often.
After a few minutes of cooking, add the spices, herbs, some seasoning & lemon zest.
Turn the heat down, and allow to cook for 8-10 minutes. Stirring every now and then. You just want all the flavours to marry together & the vegetables to slightly soften.
Whilst the vegetables are cooking, blitz the nuts until they are a crumb like consistency. Once blitzed at the chickpeas to blender & pulse it a couple times just to break them down slightly.
To the saucepan add the nuts, chickpeas, breadcrumbs, cranberries, apricots & tomato. Stir really well then add the balsamic, miso paste, marmite & vegetable stock.
Cook the mix for 3-4 minutes. Stirring often. Then turn off the heat.
Compact the mix into the tin, try and compress it down as much as you can.
Once you've filled your tin, cover it over with foil then place in the oven to roast for 30-35 minutes.
After roasting, allow the roast to cool slightly before turning out of the tin, serve the roast topped with your chosen garnishes.
Share this recipe