Creamy Coconut Yellow Curry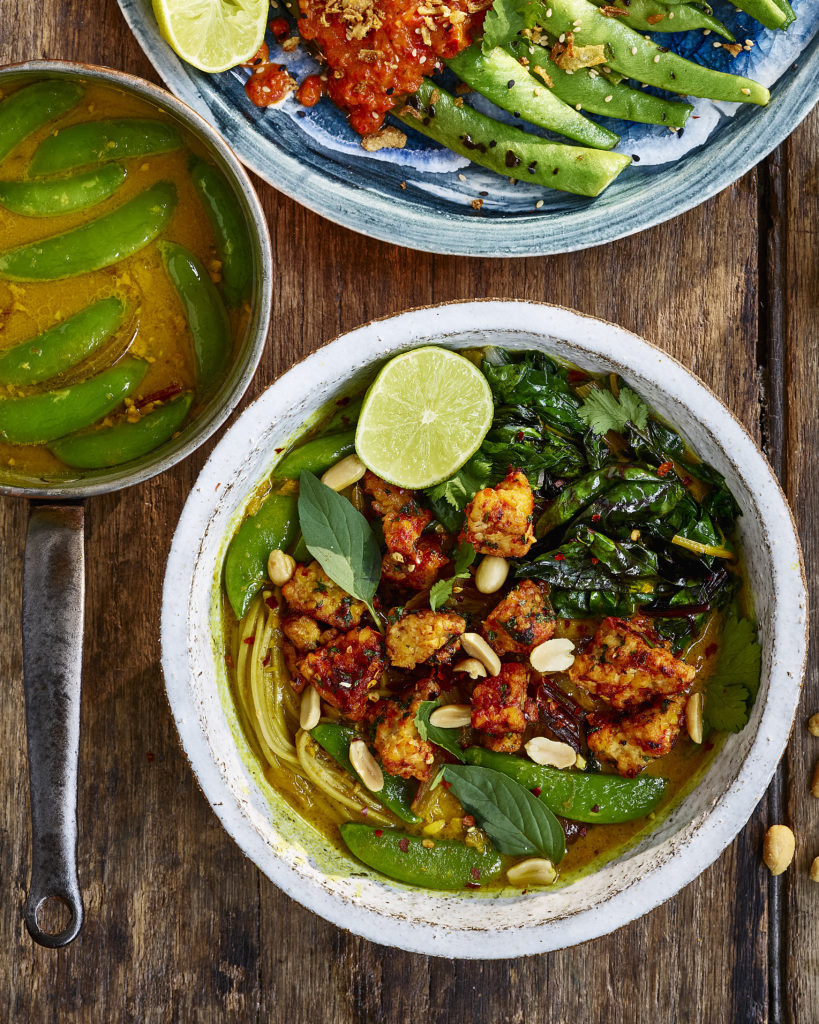 Ingredients
For the Curry Paste;
1 tsp Ground Cumin 
1 & 1/2 tsp Ground Coriander 
1 tsp Sea Salt
4 Garlic Cloves, peeled
1 Lemon Grass Stem, Woody part bashed and the rest cut small.
Thumb size Piece of Ginger
Juice of half a Lime
2 Yellow/Green Chillis 
3  tbs Ponzu 
2 tsp Turmeric 
2 tbs Maple 
Curry Ingredients 
2 tbs Sesame Oil
1 Large Red Onion, peeled cut into wedges 
2 cups/500ml Vegetable Stock 
1 Can Coconut Milk
1 tbs Miso Paste
1 tbs Tahini 
1 Bunch Chard (stem separated and chopped small) or Greens of your choice  
1 cup/200g Mange-tout or Sugar Snap Peas
Pan Roasted Chilli Coriander Tempeh 
2 tbs Sesame Oil 
1 block Tempeh, crumbled into small pieces 
1 tbs Tomato Puree/Ketchup
2 tsp Dried Mild Chilli Flakes/Gochugaru (Korean Chilli Flakes)
2 tbs Maple Syrup/Agave Nectar 
Handful Fresh Coriander, chopped fine 
3 tbs Soy Sauce/Ponzu
Serve with 
Noodles 
Fresh Thai Basil 
Fresh Coriander
Lime Wedges  
Roasted Peanuts (optional)
Add all the paste ingredients to a blender, and blitz to form a paste. The paste will make 3 curries in total, any left over paste can be stored in a sealed container in a fridge for up to 3 weeks. 
Place a medium sized saucepan over a low heat and add a little sesame oil, followed by the red onion then sauté for 3-4 minutes until the onion has softened and gone a little golden then stir in 3 heaped tablespoons of the curry paste. Cook out the paste for 2-3 minutes, before deglazing the pan with the vegetable stock – then stir well. Turn the heat down low & let the sauce bubble away for 15 minutes.
Meanwhile, place a non stick frying pan over a medium heat & when it's hot at the oil followed by the crumbled tempeh. Sauté the tempeh until golden then stir in the maple syrup, tomato puree, chilli flakes, coriander & soy sauce/punzu. Cook the mixture for 4-5 minutes, you want the tempeh to get crispy and caramelised. 
After 15 minutes of simmering the curry stir in the coconut milk, miso paste & tahini, then bring to a simmer.
Just before serving sauté your greens, I actually added my chard stems to the curry to cook + the mange tout 2 minutes before serving. 
I pour lots of the coconut curry over cooked noodles, then top with the tempeh & steamed greens, then garnish with fresh Thai basil, coriander, roasted peanuts & a wedge of lime. 
Share this recipe