Chocolate Banana Bundt Cake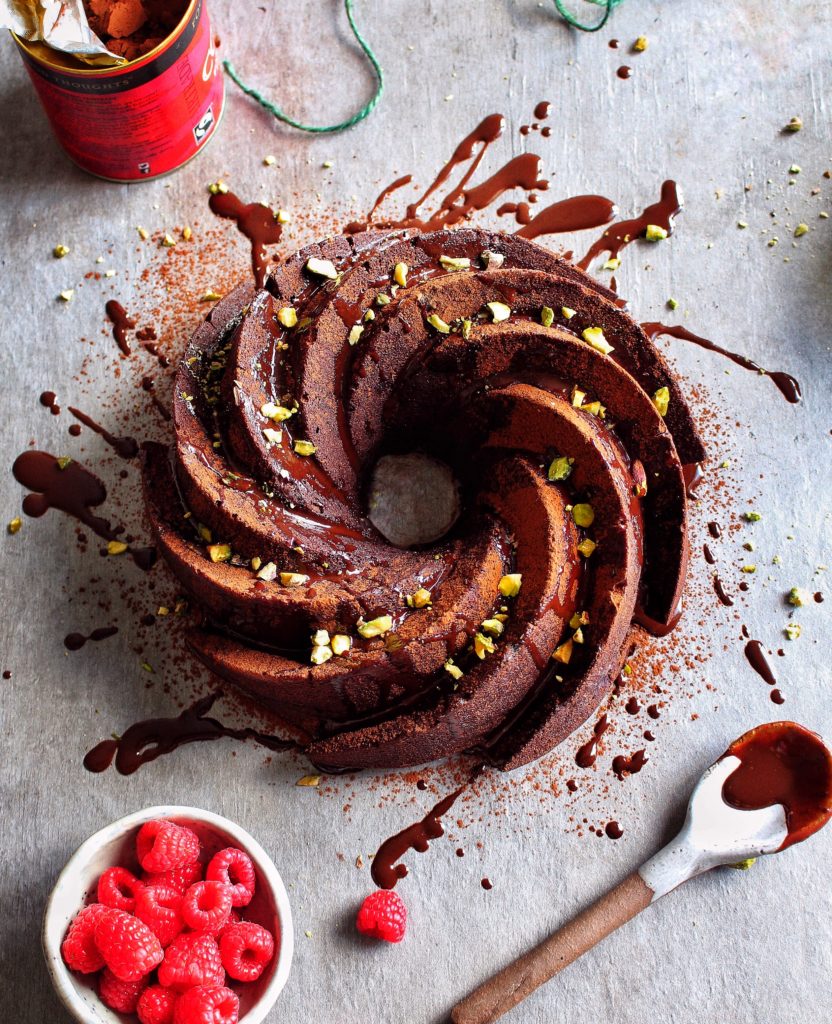 "You can cook this cake in any tin you like, I just love the shape of a Bundt tin! If you are using a Bundt tin, make sure you thoroughly grease the tin with vegan margarine. Its a really simple, yet beautiful rich chocolatey cake, that has an amazing fluffy texture. You can easily make this cake gluten free by just swapping the flour with a gluten free blend of your choice however you may need to slightly adjust the amount of baking powder to help it rise"
Ingredients
Below makes 1 medium Bundt cake or 1 large loaf cake.
2 tbs of Vegan Margarine for greasing.
Dry Ingredients;
2 & 1/2 cups/270g Self Raising Flour.
1/2 cup/30g Cocoa Powder.
1/2 a tsp of Bicarbonate of Soda.
1/2 a tsp of Baking Powder.
3/4 cup/125g Caster Sugar.
Wet Ingredients;
1 Medium Over Ripe Banana (plus 1 for topping).
1 cup/240ml Soya or Almond Milk.
1/2 cup/120ml Vegetable Oil.
1 tsp of Vanilla Essence.
Topping
Melted Dark Chocolate.
Fresh Raspberries.
Method
Pre-heat your oven to 180 degrees.
Grease you Bundt tin with vegan margarine, or line a loaf tin with greaseproof paper. In a large mixing bowl combine the dry ingredients, mix well.
In a separate bowl mash the banana then stir in the milk, oil & vanilla essence.
Pour the wet mixture into the dry mixture and fold. Do not over mix as it won't rise well when in the oven.
Pour the mixture into your tin. Give it a tap on the surface to pop any bubbles then place into the oven & bake in the oven for 25-30 minutes.
A good way of checking if its cooked through to the middle is to insert a metal skewer into the cake and if it comes out clean its cooked.
Once cooked carefully remove the cake from the tin, and allow to cool on a wire rack.
Serve with melted dark chocolate drizzled over the top, and fresh Raspberries.
Enjoy.
Share this recipe